*13Extras $960 Values! Pantogram Auto Digitizing Software, Brother iBroidery.com Monthly Designs, Great Notions 1000 and Pantogram 1000 Designs CD's, Creative DRAWings My Editor Sizer Software, Format and Thread Color Conversion Software, 6 of 1100 Yard Embroidery Threads, 15 OESD and Floriani Stabilizer Sample Pack with Kay Brooks 45 Minute Solutions DVD, Designs in Machine Embroidery Magazines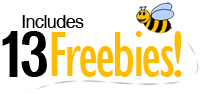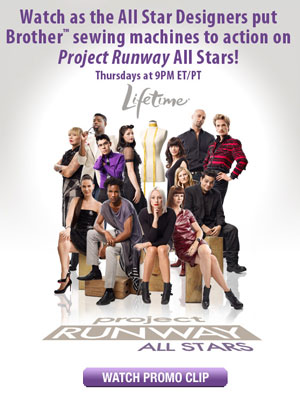 AllBrands is a Brother Authorized Dealer and ASC Authorized Service Center for any repairs including warranty parts, electrical and labor. We give unlimited technical support by email, fax and phone. We service machines in our stores and/or refer to your nearest ASC Brother Authorized Factory Service and Warranty Centers nationwide. Mass merchants do not have tech service or repair departments for your equipment. They are unable to help you directly, only referring any operational, mechanical or electronic questions back to the manufacturer instead of taking care of the problems themselves. Manufacturers and customers should expect that any problems you have will be taken care of by the dealer or merchant who sold you the equipment, not by just referring your questions back to the manufacturer.
An inspiration to modish mavens and fashionistas, the Project Runway Limited Edition LB6800 PRW sewing and embroidery combination machine brings new creative potential to a designer's palette. With 70 built-in embroidery designs, five monogramming fonts and 120 frame pattern combinations, the LB6800 PRW imparts style and panache to designer creations. Using the 67 built-in stitches, 98 stitch functions and 10 styles of one-step automatic buttonholes, this limited edition machine brings added dimension, color, texture, imagery and sophistication to apparel. The built-in embroidery card slot allows the use of thousands of optional Brother embroidery designs for greater differentiation tailored to a designer's unique vision.

Design it with Sewing
67 Built-in Stitches

98 Stitch Functions

10 One-stop Automatic Buttonholes

Advanced Needle Threader Saves Wear and Tear on Eyes/Fingers

Built-in Variety of Utility and Decorative Stitches

Automatic Push-Button Thread Cutter

Super Bright, LED-Lit Work Area

Super-Easy Bobbin Winding System

Embellish it with Embroidery

70 Built-in Embroidery Designs

5 Alphanumeric Fonts

120 Frame Pattern Combinations

Embroidery Rotation in 90˚, 10˚ and 1˚ Increments

Embroider Designs up to 4" x 4"

Built-in Memory Allows User to Save up to 12 Embroidery Designs

On-Screen Editing to Create the Perfect Embroidery Patterns

Built-in Card Slot Enables Use of 1000s of Optional Brother Embroidery Designs




Click HERE for more You Tube videos on Brother LB6800PRW Sewing and Embroidery Machine
US Warranty 25 years on parts, 5 years on electrical, 1 year on labor
Extended US Warranty: Extended Warranty Available
Non-US Warranty: 30 days parts and labor
Specifications
Click HERE for Brochure on Brother LB6800 Sewing and Embroidery Machine
Click HERE to Download Free Software Firmware Upgrades for the Main PC Board on Brother LB6800PRW
Click HERE for Instruction Book Operation Manual User Guide to Brother LB6800PRW
Click HERE for Quick Start Reference Guide to Brother LB6800PRW
Sewing Stitches
Stitch Attributes: Mirror, twin, multi-directional, side cutter, satin stitch regulator
Stitch Width: up to 7.0 mm
Stitch Length: up to 5.0 mm
Utility stitch functions: Yes
Reinforcement Function: Yes
Quilting stitch functions: Yes
Heirloom stitch functions: Yes
Built-in Decorative Stitches: Yes
Embroidery Pattern
Monogramming Fonts: 5
Frame Patterns: 10 frames, 12 patterns
Decorative Patterns: Yes
Media Recognition: Memory Cards
Needle/Thread Features
Needle Threading System: Advanced
Upper Thread Tension System for perfect stitches on any fabric: Manual
Needle Positions: 15
# of needles: Single needle machine
Bobbin: Top (horizontal)/Drop-in Quick Set™
Thread Sensors: Upper Thread and Bobbin Sensors
Thread Cutter Button: Push-Button Automatic
Bobbin winding system: Super Easy Bobbin Winding System
Machine Features
Maximum Sewing Speed (stitch per minute): 710
Free Arm: Yes
Presser Foot Attachment: Snap-on
Drop Feed Function: Yes
LCD Touch Control Panel: Backlit, Touch Screen 380 mm x 710 mm
Presser Foot Pressure: Auto
Maximum Embroidery Field: 4" x 4"
Screen/Software
On-Screen Editing: Yes
Display Control Panel: Backlit, Touch Screen 380 mm x 710 mm
Compatible with PE-Design/PED Basic: Yes
Design Memory: Yes (sewing/embroidery)
Carton Contents
Accessory Storage: Yes
In the box: 7 feet (buttonhole, overcasting, monogramming, zipper, zigzag, blind hem, and button fitting), seam ripper, 4 bobbins including clips, needle set, twin needle, cleaning brush, eyelet punch, screwdriver, touch pen, 3 spool caps, spool pin, spool net, foot controller, scissors, disc-shaped screwdriver, embroidery hoop, accessory case, and manual.
Warranty: 25 Year Limited Warranty
Click HERE for Answers to FAQ Frequently Asked Questions below on Brother LB6800 PRW
~How do I retrieve a specific embroidery pattern from the computer?
~Embroidery
~Where do I put the oil in my machine?
~How do I thread the needle?
~When I create an embroidery pattern design on PE-DESIGN(PE-DESIGN, PE-DESIGN Lite, or PED-Basic), what Design Page Size is my sewing machine?
What is Brother's connection to Project Runway

Brother is back as the Exclusive Sewing and Embroidery Licensee for Season Six of Project Runway. Tune in every week and watch contestants create runway fashions on Brother machines until the ultimate designer is officially chosen at New York Fashion Week. Don't miss the premiere of Project Runway: Thursday, August 20th at 10 EST/9 CDT on LIFETIME.
Don't forget to check out Brother's line of Project Runway Limited Edition sewing machines to create your own personal couture just like the designers on the show! With three models to choose from, Project Runway machines add style to your wardrobe with advanced features such as automatic buttonholes, a wide variety of built-in stitches, seven-point feed dogs and much more. Enjoy greater creative freedom with the new LB6770 PRW, the first Project Runway machine with embroidery capability. Whichever model suits you best, you'll be well on your way to making a bold fashion statement.
Bundle & Save
Get additional savings when you purchase any of these items along with this product.