National Brother Educators Jude Szczepanski and Toni Weresch will lead every attendee on a hands-on experience by creating, making and sewing a completed project that you will take home.
The "Dream It. Make it" hands-on Sewing & Embroidery Event is a fun and interactive experience designed to inspire you. They will showcase some of the exclusive industry-first features of the Dream Machine 2: working in My Design Center with the new patterns, closed and open shapes, embroidery outline feature, and the Innov-Eye technology camera in embroidery as well as sewing.
Each participant will make and take home a completed bag.
The participants will spend the morning embroidering their pieces for the bag and after lunch they will sew their bags together.
Register by Thursday, November 25th, and receive $100 worth of Anita Goodesign Embroidery Designs!
Mr. & Mrs. Mini Collection Embroidery Design CD and Dinosaurs, Sharks, and
Stuff Full Collection
Class Highlights:
6 Hours of Instruction

Sew on a Brother Top of the Line Machines

Instruction from Top National Educators

Hands-On instruction

Each attendee will take home completed Project

Lunch and snacks provided

Free Gifts and Prizes

Lots of Fun

Class is from 10AM to 5PM with doors opening at 9AM.
San Antonio 1604 Loop Retail store
10242 W Loop 1604 N #108
San Antonio, TX 78254


Other Images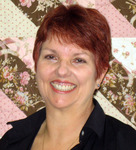 Jude Szczepanski: Jude has spent the majority of her working life in the advertising/marketing field. During that time, as well as working in a variety of studios, she has owned her own graphics/service bureau during the early days of computerization on up to working at the corporate headquarters of KeyBank, N.A. in Cleveland, Ohio. At Key she was the lead designer and then the Creative Director responsible for maintaining the brand through all of the possible customer touch points from TV commercials on down to the smallest disclosure handout. If the customer saw it, Jude and her team saw it first. As well as working on the creative end, Jude is also very skillful with people – up, down and across the corporation. Throughout her various careers, Jude has always had a passion for sewing which started in her youth at the neighborhood Singer store. Sewing made its way into Jude's senior project at Cooper School of Art onto various other soft sculpture pieces, costumes, quilts, and banners as well as writing quilt patterns and teaching project-based classes. Upon retiring from the stimulating industry of banking, Jude started working a retail store that had Brother Sewing Machines and then attended the Custom Home Furnishing Academy in Charlotte, NC where she specialized in fabricating custom fit slipcovers. What has maintained constant is Jude's love of sewing, talking about sewing and getting people excited about sewing. In 2003, Jude was finally ready for her very own "real" sewing machine and that is when she discovered the wonderful world of machine embroidery, and hasn't looked back. Her favorite projects are "in the hoop" but she is always just a stitch away from the next new thing. Currently, Jude works for Brother International as an educator.

Toni Weresch: Toni's love for embroidery started when the PE100 was introduced. She started with embroidery just for fun and it has expanded to a passion. She has worked at Sewing Dealerships for over ten years. One of the brands she was selling was Brother and she just really enjoyed helping the customers learn to use their machines to the fullest. Working for Brother has given her the opportunity to meet other people with the same passion all across the country.