Free, 6-hour, in-store, classes with purchase of each Bernina machine taught by certified a Bernina Instructor. Ask your in-store associate for details.

All in-store repairs done by certified technicians.

Suitable for any user, novice or pro, the Bernette London 5 sewing machine offers an extensive array of creative possibilities and can handle almost all types of material. In particular, it's integrated drop feed makes it a good choice if you enjoy freehand embroidery or quilting. The Bernette London 5's automatic needle threader makes it easy to get started, while the automatic tension keeps the stitches regular. The Bernette London 5 has 28 stitches, a twin needle for decorative stitching and a 1-step buttonhole for easy sewing of buttonholes. The reverse button is also useful when you need to reinforce a stitch. With a manual width adjustment and a thread cutter for neat finishing, the Bernette London 5 makes a good choice for anyone who wants to extend their sewing skills.

If you've ever tried to sew several layers of denim or heavy linen, you know that space under the presser foot is limited. Not so with the bernette London 5, since its two-level presser foot lift allows you to raise the presser foot extra high to easily accommodate heavy materials and thick layers of fabric underneath. This means that the bernette London 5 lets you tackle creative sewing projects that other entry-level machines simply can't handle.

East-to-Use Handwheel
The bernette London 5's handwheel for manual operation of the needle up/down postion and manual fabric feed is recessed so that it's flush with the surface of the housing – easy to operate, but never in the way. Because the handwheel is mounted flush with the housing, the bernette London 5's attractive design is preserved, and the handwheel is protected from damage. This detail is also an advantage when putting the bernette London 5 away after sewing, since it means the machine can be stored in a space-saving manner - a small but very handy difference!

Flip Top Lid
The bernette London 5 features a practical flip-top lid that protects the spool holder, thread tension dial, and bobbin winder from dust. This not only ensures that the bobbin winder, control dials and spool holder function flawlessly at all times, but also protects delicate parts from knocks and damage. What's more, this smart solution is also stylish looking, preserving the attractive closed blo:c design of the bernette London 5, and enables the machine to be stored in a space-saving manner. On the inside of the lid you'll find a chart with all of your bernette London 5's stitches – giving you all necessary information and controls at a glance.

Simple Stitch Selection
With the bernette London 5, stitch selection could hardly be easier: simply turn the pattern selector dial to find the right stitch in next to no time. The number of the chosen stitch appears in a red digital display on the front of the bernette London 5, letting you see at a glance which stitch is set. A very helpful detail, since the bernette London 5 offers a wide range of stitches. A full 28 different stitch patterns are available to help you turn your sewing ideas into reality: two quilting stitches, ten stretch stitches, nine different practical stitches, six decorative stitches – even an automatic buttonhole. Moreover, the feed dog drop feature means that even free-motion sewing is hassle-free.

Built-in Needle Threader
The bernette London 5's built-in needle threader ensures that the thread is inserted through the eye of the needle in next to no time. This saves time and effort with preparation, so you can start tackling the creative side of things that much sooner. No leafing through the manual to master a fussy threading process – your bernette London 5's built-in needle threader does most of the job for you. Sewing ease starts from the very first stitch, thanks to the bernette London 5's clever features.

Features

Stitch Width 5mm
A lot of utility stitches
Feed-dog drop
Hook system Front loading
Stitch Patterns 28
Buttonhole 1-step
Display LED
Utility Stitches 9
Quilting Stitches 2
US Warranty 25 years head, 5 years electronics, 1 years labor
Non-US Warranty: 30 days parts and labor
Specifications
60 Stitch patterns

9 Automatic buttonholes

1 Eyelet

Drop-in bobbin

LED stitch display

Built-in needle threader

Start/Stop function
Included Accessories
All Purpose Sole

Button Sewing Sole

Buttonhole Sole

Satin Stitch Sole

Overcasting Sole

Blind Hem Sole
Other Images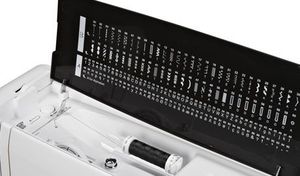 Flip-top lid and dust cover The bernette London 5 features a practical flip-top lid that protects the spool holder, thread tension dial, and bobbin winder from dust. This not only ensures that the bobbin winder, control dials and spool holder function flawlessly at all times, but also protects delicate parts from knocks and damage. What's more, this smart solution is also stylish looking, preserving the attractive closed blo:c design of the bernette London 5, and enables the machine to be stored in a space-saving manner. On the inside of the lid you'll find a chart with all of your bernette London 5's stitches – giving you all necessary information and controls at a glance.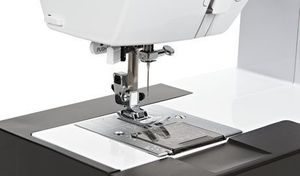 Two-level presser foot lift If you've ever tried to sew several layers of denim or heavy linen, you know that space under the presser foot is limited. Not so with the bernette London 5, since its two-level presser foot lift allows you to raise the presser foot extra high to easily accommodate heavy materials and thick layers of fabric underneath. This means that the bernette London 5 lets you tackle creative sewing projects that other entry-level machines simply can't handle.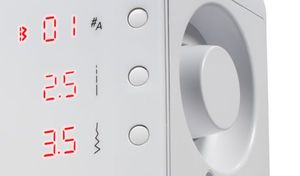 Recessed handwheel The bernette London 5's handwheel for manual operation of the needle up/down postion and manual fabric feed is recessed so that it's flush with the surface of the housing – easy to operate, but never in the way. Because the handwheel is mounted flush with the housing, the bernette London 5's attractive design is preserved, and the handwheel is protected from damage. This detail is also an advantage when putting the bernette London 5 away after sewing, since it means the machine can be stored in a space-saving manner - a small but very handy difference!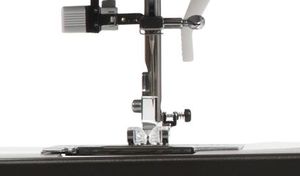 Built-in needle threader The bernette London 5's built-in needle threader ensures that the thread is inserted through the eye of the needle in next to no time. This saves time and effort with preparation, so you can start tackling the creative side of things that much sooner. No leafing through the manual to master a fussy threading process – your bernette London 5's built-in needle threader does most of the job for you. Sewing ease starts from the very first stitch, thanks to the bernette London 5's clever features.