*Save up to $130 more on Deluxe Carrying Cases, Extra 25 Bobbins, 100 Organ Needles, 12 Threads, 29 Piece Starter Kit, Sewing Table and Chair, Clauss 8" Dressmaker Metal Scissors made in Italy, 5 or 10 year Extended Parts and Labor Warranties, all under Recommended Accessories below.
If you're thinking about moving up to a better home sewing machine, the HZL-G110 will take you to the next level.
Box Feed System - Conventional household sewing machines use an elliptical movement. In a box feed system, the feed dog moves in a rectangular motion, allowing it to stay in contact with the material longer and over a larger area. You can now feed light or heavy materials without worry of clogging or stitch gathering! From lace to denim, you can sew it with confidence that your fabric won't shrink or shift.


180 Built-In Stitches - 1 full font and dozens of other utility and decorative stitches.


Automatic Needle Threader - Who wants to spend time threading needles? Let the machine do the tedious work of threading the eyes, so you don't have to strain yours.


100 Built in Stitches with 7 styles of 1-step buttonhole built in

Built in Alphabet Font for Lettering and Monogramming

Start Stop Button- When pressing this button the machine starts to sew without having to use the foot controller.

Reverse

Needle Up/Down - Set the machine to stop with the needle out of the fabric or with the needle in the fabric.

Automatic lock stitch button

Built in Memory Mode - Used to store the selected letters or stitch patterns into memory.

Adjustable stitch length and width

Extra high presser foot lift - Extra height to get thicker fabrics under the presser foot.

Snap on/off foot system

Top Drop in Bobbin

Built in Needle Threader

Heavy-duty metal frame for smooth, skip-free sewing and machine durability

Quick reference menu and stitch chart displayed on flip-up lid

On-board accessory storage

Extra-high presser foot lift with 2 heights up to 12mm

Variable speed control

Sews from 90 to 900 stitches per minute

7-point industrial steel feed-dog and "true" industrial box feed system feeds fabric smoothly and evenly

Drop feed with the flip of a lever

Programmable needle up/down position key

Manual needle up/down key

Right, left, center or 37 other needle positions

Automatic needle threader

Top-loading drop-in bobbin and clear bobbin case cover

Organized stitch pattern menus with push-button selection

Combine up to 70 patterns at one time to create unique trims, borders or labels

Combine decorative patterns and lettering

Pattern adjustment button

Precise sensor buttonhole system creates perfect, industrial-quality buttonholes

Large easy-to-read LCD screen

180 stitch patterns including 8 buttonholes, 1 alphabet and exclusive Juki one-point patterns

Built-in stretch, overcast, blanket, hand-look quilt and decorative stitches

Alphanumeric characters with punctuation to create monograms, labels and more

Adjustable stitch settings: 5mm maximum length and 7mm maximum width

Continuous sewing

Center, left or right zigzag stitch tapering

Advanced tension system handles decorative, metallic and specialty threads with ease

Automatic reverse sewing and lock stitching

Free-arm sewing


Juki HZL-G 110 and 210 Models Instruction Manual(.PDF)

US Warranty 5 Years Mechanical, 2 Years Electrical, 90 Days Adjustments on defects in material or workmanship.
Extended US Warranty: Extended Warranty Available
Non-US Warranty: 30 days parts and labor
Included Accessories
Regular Standard presser foot (on machine)

Buttonhole presser foot

Overcasting presser foot

T-Shape Screwdriver

Accessory storage tray

Needle Set

Manual Buttonhole Foot

4 Bobbins (1 in machine)

HAX1 needles (#11, #11 knit, #14, #16)

Seam Ripper Cleaning Brush

Spool Cap

Spool Cap Large

Foot Controller

Electric Power Cord

Hard Carrying Case

Detailed Instruction Manual

Machine user manual

Instructional DVD

Other Images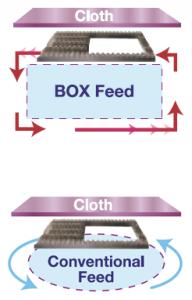 Box Feed Industrial Sewing Machine Technology
In order to provide beautiful seams and outstanding feed performance, JUKI adopted the box feed system. The conventional feed mechanism moves in an oval-shaped pattern. On the other hand, the box feed moves the feed dog in a box shaped pattern. This keeps the feed dog in contact with the material longer and helps eliminate material shrinking and shifting.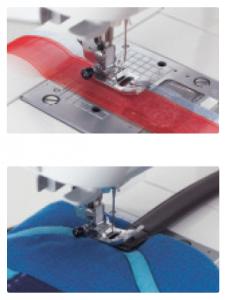 Thick or thin, delicate or sturdy, the HZL-G110 can handle all kinds of materials.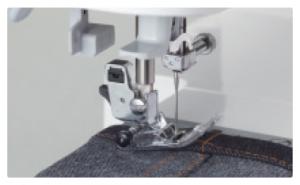 Powerful Feeding
The HZL-G series has powerful feeding thanks to the improved presser foot construction. Heavy material projects, such as hemming denim jeans, can be sewn with ease!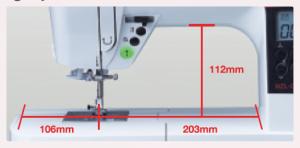 Wide Sewing Space
The HZL-G series has a wide underarm space. Open yourself up to larger projects and make smaller ones even easier to maneuver.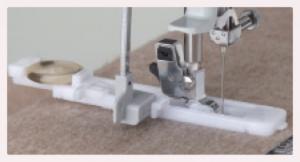 High Quality Buttonholes
The HZL-G110 sews beautiful buttonholes regardless of the type of material. 8 types of buttonholes are available for your needs.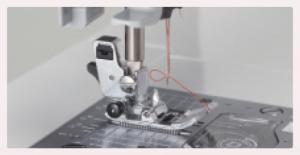 Automatic Needle Threader
The Automatic Needle Threader easily threads the needle without eyestrain and allows you to start sewing quickly.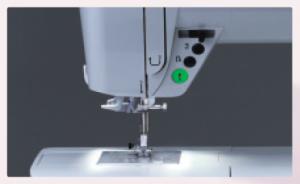 LED Lights
LED lights brighten the needle area for better material handling. LED lights will not heat up even during long operations.
180 Patterns, Including 1 Font of Letters
This is just a small selection, under half, of the 180 different stitches available to you on the HZL-G110. 8 unique buttonholes, 1 alphanumeric font, utility stitches and decorative stitches combine to offer you incredible sewing versatility.
Bundle & Save
Get additional savings when you purchase any of these items along with this product.