The Finest Frame For Quilting Groups Of Any Size. Invite your friends to finish your quilt of help make one for your favorite charity.

The Grace Company has done it again: this time refining the old square quilting frame and making it new and greatly improved!

Innovative Design Combined with Beautiful Styling
This traditional-style quilting frame has a lot of non-traditional features. Newly designed leg joints quickly fit together for a snug and sturdy fit. Each leg rests on four separate feet, eliminating annoying wobble. As with all our great products, this frames parts are designed and cut with computerized precision.

The frame feet and legs are made from extremely dense Baltic Birch plywood, so it remains sturdy even with heavy use. We also use laminated alder wood rails to help prevent warping . Our rails will stay much straighter than traditional pine rails and they are soft enough to allow thumb tacks to work great.

And, this frame looks nice. The legs are beautifully styled to give the frame a more eye-pleasing appearance. Everything fits together to form a charming, uniquely functional, group-quilting frame.

Easy to Assemble and Put Away
The GraciBee takes minutes to get ready for quilting and requires no tools. Each frame comes with four heavy duty "C" clamps. Taking the frame down and storing it away is surprisingly easy. It reduces to two handy carrying bundles, with ready-made handles, and takes up very little space. Holes are drilled in precise positions so that each part fits onto the storage handle bolts; so, the parts may be quickly stacked for storage. The maximum storing dimension for the frame is six feet in length.

Versatile Size Adjustments
With the help of the four steel rail-connecting sleeves,
you can create a quilting frame of many sizes. It will decrease to as little as 25 inches and extend all the way to 120 inches on any side. Quilters can choose any different size dimensions in two-foot increments. This allows much more freedom than quilting bees are used to!

Complete Instructions
The GraciBee is the first square quilting frame that comes with full step-by-step documentation of every aspect of using the frame. Beginning quilters will always be able to easily get professional results by following our methods.

Parts Guarantee
The GraciBee is guaranteed for life. With solid hardwood and laminated construction, our frames are built to last. All wooden parts come with a 100% guarantee against breakage.
US Warranty Lifetime warranty on defects in materials and workmanship.
Non-US Warranty: 30 days parts and labor
Specifications
The GracieBee Can be set up in 19 different sizes, ranging from 2'x2' to 8'x12'
4 each of the following: 2' rails, 4' rails, 6' rails, and rail connectors
All parts and tools included
Free box of quilters thumb tacks and one tack tool
All parts store together compactly for easy portability
The GracieBee traditional-style quilting frame has many non-traditional innovations. Leg joints easily slide together for a snug, sturdy, and balanced fit. Each leg rests on two separate feet, eliminating wobble. All parts fit together without the need for any extra tools to create a uniquely functional group quilting frame. When not in use, all of the pieces come together compactly for convenient storage or travel.
Sizes:
The GracieBee comes with 4 each of the following rail sizes: 2, 4 and 6 feet. With the 4 included rail connectors, these rails can be combined in frame sizes from 2'x2' up to 8'x12'.
Height: 30 inches.
Instructions for Gracie Bee Hand Quilting Frame
Other Images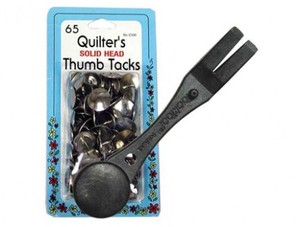 Free Tacks and Tack Tool Includes 64 free tacks and one free tack tool.

4 Sturdy Wood Legs. The GracieBee traditional-style quilting frame has many non-traditional innovations. Leg joints easily slide together for a snug, sturdy, and balanced fit. Each leg rests on two separate feet, eliminating wobble.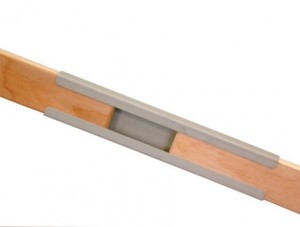 Easy Connectors. Easy installation without the need for extra hardware.

Easy Storage and Portability All parts come together compactly for easy storage and portability.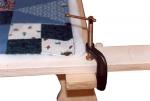 4 C-Clamps included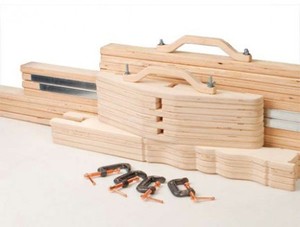 Comes with a set of free clamps and all neccessary hardware for assembly.
Louise V., Sedona, AZ
Dear Mr. Douthat, I am very happy with all, except I have not opened the box yet, as we are still trying to create room in our front bedroom for my sewing equipment. I really don't know what the quilting frame looks like or how to use it, as I just saw it on your website for the first time. Since it was not very expensive, I thought I would take a chance, sight unseen, to buy it.I would like to say I am very pleased with the amount of products you offer, and the extreme ease I had buying whatever I wanted! I am very sure I will be back buying more items, as the internet is one of my main modes of purchases. We are in a small town, my credit card is handy, and I can buy whatever I want with my very own money!