*Optional $200 Value! Only $70 for 10 Year Nationwide Extended Warranty Enhancement: Parts and Labor Repair, Power Surg, Transfer Owner, No Lemon, Replace or Buyout % Depreciation, for Non Commercial Use in the USA
Clean your soft and hard surfaces better the way professionals do, all with one machine! Use as water filter vacuum cleaner, steam cleaner, or injection & vacuum extraction.
Compact design creates a multi-purpose cleaner combing dry steam - water / detergent - and vacuum action. Dirt is trapped in the recovery tank thanks to the Ventury effect system. Combine the water filtration with HEPA filter trapping 99.9% of particles. Perfect for allergy and asthma sufferers! UL listed
The design and accessories make the Vapor Clean Gaia the first home use vapor cleaner and "true-steam" upholstery and light carpet / spot cleaner in the USA. Utilize the high temperature of steam with 180° heated water to clean carpet and upholsteries. Now you can maintain all of your home with one machine!
Simple one step operation will vacuum and steam clean all hard surface floors including hardwoods, marble, granite, slate, terrazzo, porcelain, vinyl, laminates and more.... leaving no soap residues. Bathroom and kitchen floors have never been so easy!
1700 Watts

293 F Internal Boiler Temperature

1.6 Liter Boiler

1.5 Liter Injector Capacity

Stainless Steel Boiler - AISI 304 18/10

Up to 60- PSI operating pressure - 4 Bar

Steam temperature at the exit: 240 - 260°F

21 lbs

High temperature steam with powerful extraction leaving hard surface floors dry in seconds

Heated water / solution exit temp 180° +

Extended Warranty
1 Year Parts & Labor
Lifetime Boiler

5 Levels of vacuum suction

Audible beeper notifies when:
Steam boiler running empty
Injector running low

Hose offers on/off switch for steam on handle

Separate on/off switch for vacuum on handle
US Warranty 1 year parts and 1 year labor on defects in materials and workmanship
Extended US Warranty: Extended Warranty Available
Non-US Warranty: 30 days parts and labor
Included Accessories
1 Flexible hose with on/off steam switch & on/off vacuum switch

2 Extension Wands

1 Multipurpose Floor tool for all hard surface floor cleaning

1 Transparent Floor tool for carpet extraction

1 Vacuum driven Turbo Brush with "Beater Bar"

1 Upholstery Tool

3 Incrementally sized squeegees

1 Detail nozzle with crevice tool'

1 Detail cleaning extension

2 Bristle brushes 1 large/1 small

1 Atomizer

3 Nylon Detail / 1 Stainless Detail cleaning brushes

1 Blower attachment

1 Filler Bottle
Other Images
Simple one step operation will vacuum and steam clean all hard surface floors.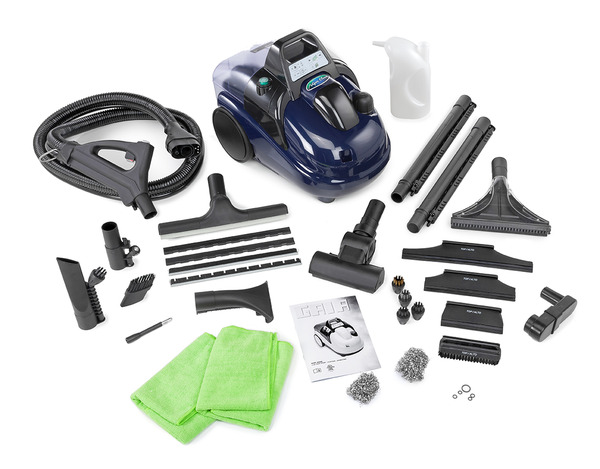 Loaded with accessories!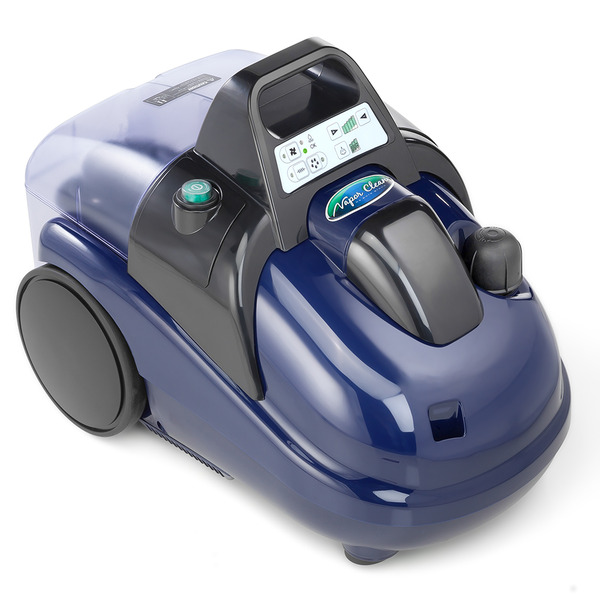 Now you can maintain all of your home with one machine!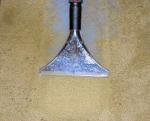 Reduce or kill allergens and then vacuum trapping all potential triggers that can cause asthma attacks and allergic reactions

Equipped with a water filtration system and hepa filter to complete a two-stage filtration system unmatched.

Electronic panel controls the 5 level vacuum, 3 level steam and 180° heated injector. Deep clean with Steam & Extract dirt simultaneously!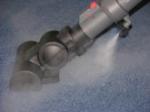 Micro Adaptor attached to Turbo Brush creates two areas of steam injection while deep cleaning carpets
What can I do if I experience a loss of vacuum pressure.

Check the fittings (elbows) inside recovery tank. Also, the recovery tank needs to be seated properly, tight, to the back of the machine. Lastly, make sure there is water in the recovery tank when using and the lid is securely fitted on top of recovery tank when using. Any of all of these things can result in loss of vacuum pressure.

Can the Vapor Clean GAIA be used as a regular vacuum cleaner in the home?
Hello John, The Gaia can be used as a vacuum only, also. It has the water filtration so no bags are needed. Hepa filter should not need to be replaced. It is located on the bottom of machine and should be cleaned after use. Service is naturally done at our location. Accessories can always be purchased, as we carry the complete line for each machine. When customer is using on hard floor surfaces, they will steam and vacuum. When using on carpeting, they can inject/extract. The injection is hot water and the extraction is the vacuum. Hope this helps!
Sincerely,Patty
Bundle & Save
Get additional savings when you purchase any of these items along with this product.