Bob Corey Associates "The World's Best-made Custom Extension table" for PR600-1000E and Babylock Multi Needle Embroidery Machines using Hoop Tech, Fast Frames, Quick Snap, Durkee, Never Mark & Brother Flat Hoops for Extra Support so that the machine does not have to fatigue its hoop mechanism on heavy sew outs. Can also be used on all other hoops for Brother PR's!
This Deluxe Table configuration is cut to allow the user to use the Fast frames GIGA hoop or any hoop available without the material dragging and snagging during sewout!
New Improved thickness, Won't give under heavy garment weights.

Twist on/off suction cup legs for those in a hurry to disassemble their table.

No holes in smooth acrylic table top surface.

Table Size is (20" by 28" approx.) 6mm thick table.

Made By US Veterans.
Specifications
High quality Acrylic construction.

reinforced double thick front to avoid any give in the table.


Designed to fit Brother PR600 & PR620, Babylock BND9, BMP6 and EMP6 Embroidery Machines.

Available in choice of colors:

Clear

Clear Green

Opaque White


20" x 28" x 6mm Acrylic Extension Table

No holes in table top surface

Twist on/ twist off suction cup legs


Other Images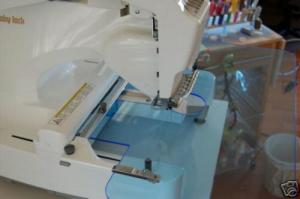 Clear Acrylic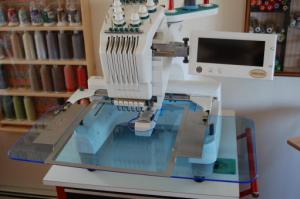 20x28"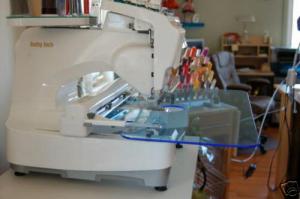 Keeps hoops from sagging.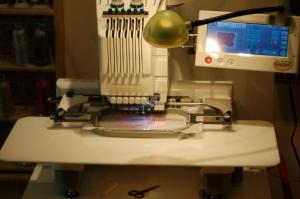 Better support for all you flat hoops!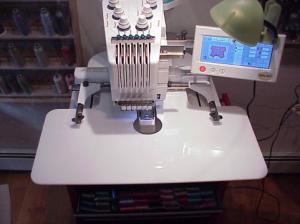 Even the smallest hoops.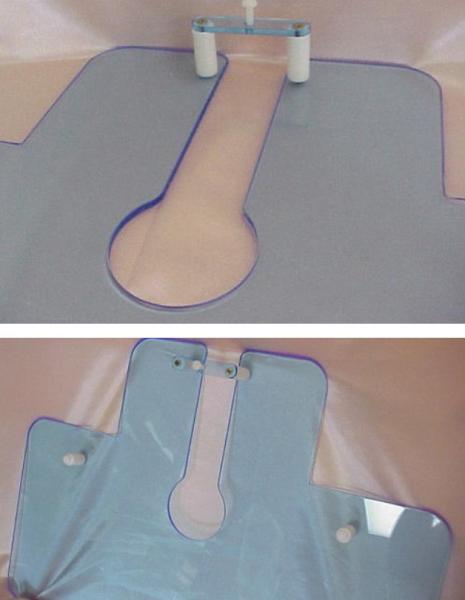 Assembly Instructions There are 2 legs that sit forward on the table They are received by the two holes in your machine just under the cover caps on the legs. Remove those caps. The adjustment bracket goes on the rear of the table. You can adjust the height and angle of your table by adjusting the nylon screw. We hope you enjoy this fine product. This table will allow you to support the largest frames possible, Fast frames etc.
Rina Daniel, Nixa , Mo
I ordered this extension table for my BND9 Babylock It was easy to install & works just as advertised.

Connie, Mancheste, NH
I purchased mine about 4 years ago and I love, love, love it!!!

Kathy, Kentucky
Great service!

Teresa, Illinois
My order was shipped very quickly and everything arrived safely. I will definitely use your company again .

Doug, Nebraska
I'll be back!

Janie , Texas
I got the clearview one and I love it. It works just like it is suppose too. It holds the frames up and takes the pressure off the arm.

Teresa, Pennsylvania
Very happy with my new table. Made all the difference in the world in my finished embroidery on items that needed that extra support while running my machine.

Kathleen, California
Thank you, I have purchased a few things from your site and have been exstreamly pleased with everything.

Anne, Texas
I was surprised at how quickly it shipped. Price was great!

Jeanne, New York
I am a return customer and have always been very happy with every aspect of our transactions. Keep up the good work.

Donald, New Jersey
Good service and turn around time.

Marie, Illinois
I lOVE THIS TABLE IT IS PERFECT. THANK YOU

Catherine, New York
Excellent response to an e-mail. question.

Elaine, Florida
Just what I was looking for and at a great price!

Ghislaine, Canada
I would like to bring to your attention the qualities of this merchant. I have placed 3 orders and they respond to all of my e-mails, answer all our questions and demands. Excellent before and after service. The shipping is very quick even if there is no charge. I sincerely recommand Allbrands!

Christy, Louisiana
Will definately continue doing business with your company.

Lynn, Arkansas
The person I spoke to on the initial call to place the order did not seem to know much about the product. I received follow up calls regarding my color choice and those calls were great - excellent customer service. I am very pleased with the extension support table and it was very easy to install. Thank you - I will return to this sight for future purchases.

Carolyn, Virginia
Everything arrived safe and in good order. I'm very pleased with the support table. Thank you!

Deanne, Nevada
Thank you for your speed and accuracy of my shipment. I really enjoy using this website. Thanks

Sharyn, Florida
Very satisfied!!!

Rose, Irving TX
Wonderful service, thank you.

Suzette, Gulf Breeze, FL
Thank you. I find the support tray easy to use and remove depending on the job.