Brother PC420 and PC210 are full size larger machines and have wider arm space between the needle and neck of the machine than either Brother Innov-is NS40 or NS80. PC420 and PC210 also have adjustable fabric pressure dial on top of the machine to adjust for fabric thickness. Only the PC420 top of the line model comes with knee lever for presser foot lift, built-in automatic thread trimmers, and My Custom Stitch on screen digitizing of additional 7mm wide stitches.
*Save up to $200 More on Deluxe Carrying Case, 100 bobbins, 100 Needles, Starter Kit, Arrow Gidget Table, and 5 or 10 Year Nationwide Extended Warranty Enhancement: Repair, Power Surg, Transfer Owner, No Lemon, Replace, or Buyout % Depreciation, Non Commercial Use in USA.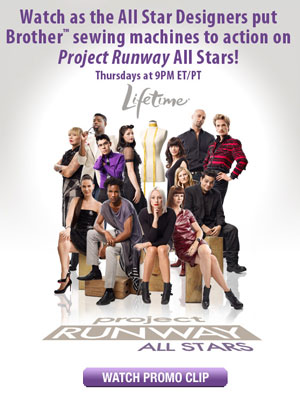 AllBrands is a Brother Authorized Dealer and ASC Authorized Service Center for warranty repairs. We also give unlimited tech support by email, fax and phone. Mass merchants do not have tech service or repair departments for your equipment. They are unable to help you directly, only referring any operational, mechanical or electronic questions back to Brother instead of taking care of the problems themselves. Brother and customers should expect that any problems will be taken care of by the dealer who sold you the equipment, not just by referring your requests back to the manufacturer.
Brother PC210 and PC420 Project Runway sewing machines have the Fabric Pressure Adjustment Dial to better feed fabric layers, and for free motion embroidery, quilting, & darning work when the feed dogs are lowered. Brother NS40 and NS80 models do not have Fabric Pressure Adjustment.
We consider the PC210 our "just right" computerized sewing machine. It's just right as a next step machine for beginners, a dependable machine for the occasional sewing session or a delightful introduction to sewing technology for those hobbyists returning to the sewing world. Experience the joy of creating with simple controls, beautiful stitching, quiet operation and advanced technology.
This Limited Edition Project Runway machine allows you to take your wardrobe into your own hands by creating hip, fashion-forward clothing like that seen on the runway. This computerized sewing machine is equipped with great tools for both beginners and experienced seamstresses alike inspired to create their own couture creations fit to pass the critical eye of the most discerning diva.The PC-210PRW makes sewing fun and exciting. With the touch of a button, the LED screen displays the stitch pattern number. The needle position change function allows you to move the needle to the left or center making it easy to sew fabric at the precise point you need a stitch. The Quick-Set™ Bobbin ensures fast and easy sewing without worry. All 50 stitches are available for reference whenever you need to make your next stitch. You'll soon be on your way to redoing your entire wardrobe with the PC210PRW!
50 Built-In Stitch Selection

6-Point Feed-Dogs

Accessory compartment

Extra-large sewing bed

F.A.S.T. automatic needle threading system

F.A.S.T. bobbin winding system

Front spool

Operation panel

Presser foot leveling button

Presser foot pressure adjustment

Quick-set bobbin

LED display

Direct setting key (Reinforcement/Needle position (Up/down) )

Presser foot leveling button

Presser foot pressure adjustment

Maximum Sewing Speed 850spm

Wider work space

2 LED lights
US Warranty 25 Years Head, 6 Years Electrical, 2 Years Parts, 2 Years Labor
Extended US Warranty: Extended Warranty Available
Non-US Warranty: 30 days parts and labor
Specifications
Sewing Stitches:
Stitch Attributes No

Stitch Width Up to 7.0mm

Utility stitch functions 16

Reinforcement/reverse Stitches Yes

Quilting stitch functions No

My Custom Stitch Feature (Create and save your own decorative stitches) No

Heirloom stitch functions No

Built-in Decorative Stitches 34

Needle/Thread Feature:

Needle Threading System - Manual

Upper Thread Tension System for perfect stitches on any fabric - Manual

Needle Positions 14

# of needles 1

Bobbin Quick-Set™ Bobbin

Thread Sensors No

Thread Cutter Button No

Display Control Panel: Monochrome LCD Display Panel

Carton Contents:

Accessory Storage Built-in

Carrying Case Hard case included

Wide Table Optional - SA537

In the box: Power cord, foot control, sewing notions, instruction manual

Other:

Warranty 25 year limited warranty

UPC Code 012502616900

Machine Dimensions 17.32" x 7.87" x 11.41"

Machine Weight 17 lbs

Shipping Dimensions 21.65" x 11.02" x 15.74"

Shipping Weight 24 lbs

UL/CSA Listed y⁄110


Bobbin winding system Fast and Simple System

Machine Features:

Maximum Sewing Speed (stitch per minute) 850

Free Arm Yes

Presser Foot Attachment Snap-on

Presser Foot Height Adjustment Preset

Presser Foot Pressure Programmable

Maximum Embroidery Field No

Cap Frame capability No




What is Brother's connection to Project Runway
Brother is back as the Exclusive Sewing and Embroidery Licensee for Season Six of Project Runway. Tune in every week and watch contestants create runway fashions on Brother machines until the ultimate designer is officially chosen at New York Fashion Week. Don't miss the premiere of Project Runway: Thursday, August 20th at 10 EST/9 CDT on LIFETIME.

Don't forget to check out Brother's line of Project Runway Limited Edition sewing machines to create your own personal couture just like the designers on the show! With three models to choose from, Project Runway machines add style to your wardrobe with advanced features such as automatic buttonholes, a wide variety of built-in stitches, seven-point feed dogs and much more. Enjoy greater creative freedom with the new LB6770 PRW, the first Project Runway machine with embroidery capability. Whichever model suits you best, you'll be well on your way to making a bold fashion statement.
Bundle & Save
Get additional savings when you purchase any of these items along with this product.