TO BOLDY GO WHERE CLEAN HAS NEVER GONE BEFORE!
The EnviroMate GO (E20) can steam clean multiple surfaces. This multi-purpose steam cleaning system is designed to take on the toughest cleaning jobs with ease. Cleans difficult to reach areas. Removes grease, ground-in-dirt, soap scum and mildew from tiles fixtures, and walls. Makes windows, glass surfaces and floors shine. Details cars, boats, motorcycles, and more!
WHEN THE DIRT GETS TOUGH THE TOUGH GET GO!
The New EnviroMate GO (E20) kills, bacteria, viruses, allergens, mold, mildew, dust mites and dangerous pathogens like E. Coli and Salmonella, leaving nothing behind but a safe, chemical-free surface. Steam deodorizes and sanitizes with heat and moisture and since the only ingredient required for the EnviroMate GO is water, cleaning your entire home has never been safer, healthier or more environmentally friendly.
SWISS ARMY KNIFE OF STEAM CLEANERS
The new EnviroMate GO (E20) is a powerful flexible and
efficient cleaning device that is the natural alternative for those who seek an alternative cleaning and sanitizing method to using harsh chemicals.
WHY CLEAN WITH STEAM?
Steam deodorizes and sanitizes with heat and moisture
and since the only ingredient required for the EnviroMate GO (E20) is water, cleaning your home or work place has never been safer, healthier or more environmentally friendly.
• 14-piece deluxe accessory kit
• 10 minute heat up time
• Detachable 9.6' steam hose
• 18/10 Stainless steel tank
• 1700W 2 heating elements
• 302º - 320º F boiler temperature
• 245º F tip temperature (distance 0.8")
Embrace the power of steam for your health, the health of your family and the environment. Chemical-free cleaning and sanitizing for all surfaces of the home (indoor and outdoor). There's a Reliable Enviromate for every need and budget.
Reliable Warranty Information
(.PDF)
US Warranty Lifetime Boiler Warranty
Extended US Warranty: Extended Warranty Available
Non-US Warranty: 30 days parts and labor
Specifications
Electrical: 110V/120V
Water capacity: 8.45 cups – 2L
Operating pressure: 72.5 PSI – 5 bar
Wattage: 1700W – 2 elements
Boiler temperature: 302°F – 320°F
Tip temperature: 245°F – 118°C
Tank construction: Stainless steel 18/10
Length of electrical cord: 16.3' – 5 m
Length of steam hose: 9.6' – 2.95 m
Net weight: 12.8 lb – 5.8 kg
Shipping weight: 25.3 lb – 11.5 kg
Product dimensions: 14" x 19" x 12"
Shipping dimensions: 15.75" x 20.8" x 17"
Country of origin:: Italy
Electrical approval cETLus
Warranty: Ltd 1 year, 5 years tank & shell
Other Images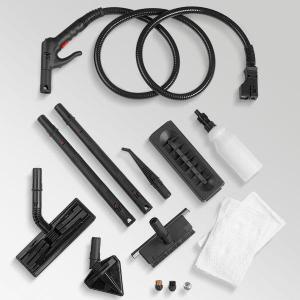 14-PIECE ACCESSORY KIT
Making the best steam cleaner includes using superior quality accessories. Everything you need to get started is included. Just add water!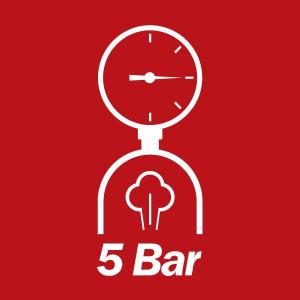 5 BAR PRESSURE
Steam cleaning is much easier when you have lots of steam pressure. The GO will give you consistent volumes of high-pressure steam.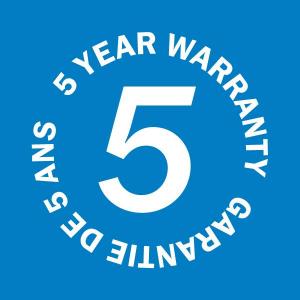 5 YEAR LIMITED WARRANTY
Aided by the stainless steel AISI 304 steam tank is covered by a 5 year limited warranty as is the ABS outer shell.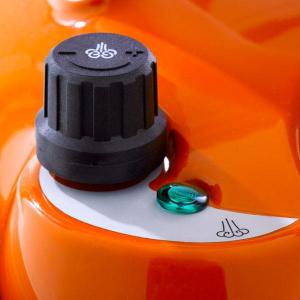 ADJUSTABLE STEAM PRESSURE
Some cleaning tasks will require more steam some will need less. The choice is yours with the GO.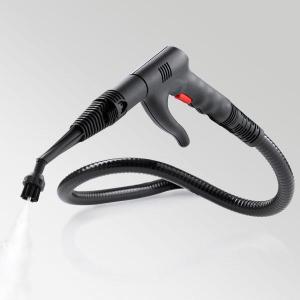 ERGONOMIC STEAM HANDLE
The GO's comfortable steam handle connects to a wide range of cleaning brushes. A built-in on/off switch provides safety when the unit is idle.
UPHOLSTERY BRUSH
The upholstery (triangular) brush is one of the many extraordinary cleaning devices for the GO.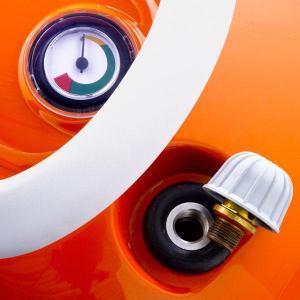 PRESSURE GAUGE
The pressure gauge indicates when the steam system is ready for use.
Steam Cleaner Product Comparisons
Feature

Steam Only
√
√
√
√
Steam and Vacuum
-
-
-
-
Accessories
Bundle & Save
Get additional savings when you purchase any of these items along with this product.