The enhanced GQ frame is the next step forward in machine quilting. This frame combines all of the great concepts from the previous model with exciting new features that greatly enhance the Quilter's experience. The GQ frame is QuiltMotionTM compatible, and works with all Grace accessories. You will love the frame's new features: New carriage (with SureTrackTM for increased control and ease-of-movement), 11⁄2 " professional steel rails (including Fabri-FastTM system), and other distinct innovations.The GQ frame is perfect for any sewing machine with up to an 18" throat space.
Grace GQ Replaces Grace Majestic Frame below:
Majestic's platform will accommodate quilting machines with arm space up to 18" throat space between the needle and the neck of the machine. Electronics controls can be added.
The Majestic frame is now our top of the line machine quilting frame, with all the same features as the Pinnacle and more. The Majestic frame is made of steel, enhancing the frame's durability and strength. The Majestic frame includes
SureTrack,
a dual-wheel track system enhancing stitch quality, accuracy, and motion. The Majestic comes standard with: durable steel rails, height adjustable legs, and a fourth rail to keep the batting off the floor. An optional 2 foot extension is available for purchase, taking the frame from 10 feet to 12 feet. Enhanced frame strength, adjustability, and carriage motion give your customers piece of mind as they create their quilting masterpieces.
Sets up in king (120") or crib (60") work areas

Fits machines with throats up to 18"

Steel construction to withstand extended heavy use

Dual wheel track system for improved carriage motion

Height adjustable legs

Leveling feet

Fourth rail included

Includes set of four bungee clamps

Easy to use hand-wheel for take up rail


US Warranty 5 years parts, 90 days labor on defects in materials and workmanship.
Non-US Warranty: 30 days parts and labor
Specifications
Grace GQ Frame Work Area Dimensions:
60" Crib
120" King
(plan for 3-4 inches of working space on each side of your fabric)
Grace GQ FrameBasic Features:
Sets up in 5' and 10'

Back Table & Lower Shelf Included

4 Bungee Cords Included

Steel Fabri-Fast Rails

4-rail Design

Grace GQ FrameAvailable Options TBA:

2' Extension

Idler Rail

Here is the shipping information for the main boxes:
Box 1: 82 lbs (34" x 32" x 7)
Box 2: 83 lbs (64" x 23" x 4)

Optional:

2 Ft Ext: 36 lbs (32" x 21" x 5")

Idler Rail: 14 lbs (62" x 4" x 4")
Other Images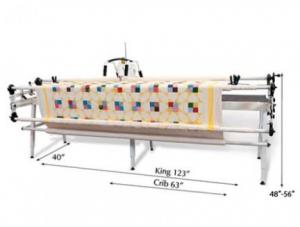 Physical Dimensions
These are the physical dimensions of the assembled frame.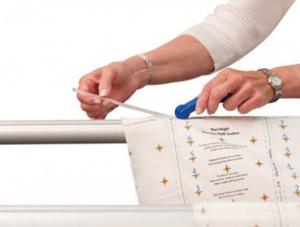 Fabri-Fast Rails
The rails on this frame include the Fabri-Fast fabric attachment system for easy fabric installation without the need for tacks, ties or tape. It's as easy as sliding the fabric into the rail slot with the provided Fabri-Fast tool. Fabric is held securely in the slot by a Fabri-Fast tube.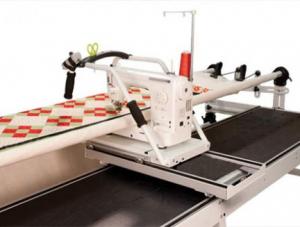 Professional Series Carriage
The Professional Series carriage has a smooth and precise movement that is perfect for intricate stitching.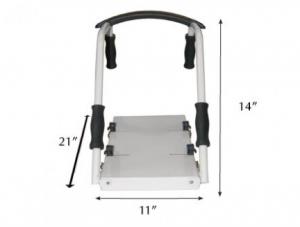 Sewing Machine Dimensions
Your sewing machine should be within these dimensions to fit the carriage.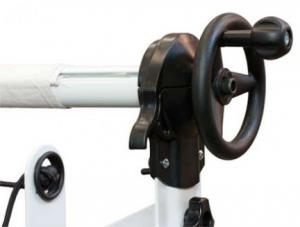 Take-Up Rail Hand-Wheel
Adjusting your take-up rail is easy with the convenient hand-wheel.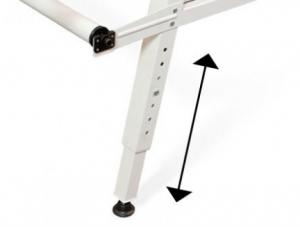 Height Adjustable Legs
The Majestic is the first frame to come standard with height adjustable legs. Work at the level that is most comfortable.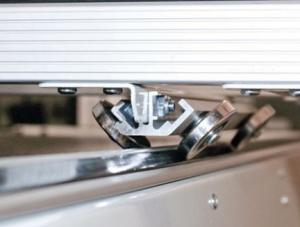 Dual-Wheel track
This dual-wheel track and ball-bearing system provides smoother movement and precision.