New Auto Shut Off Override for Sewers! Set lowest soleplate temperature for nylons. Get full steam generation! Stainless Steel Soleplate. Soft Touch Grip, Anti Calc Scale Plug
This combo includes:
The Reliable™ Velocity V100 1500W Compact Vapor Steam Generator Iron

The Reliable™ C60LB Longboard 18.9 x 47.5" Two-In-One Home Ironing Table


Reliable V100 Iron

Reliable™ presents the Digital Velocity Compact Vapor Generator. A revolutionary and patented technology. Velocity incorporates an internal steam generator that produces more continuous steam than conventional irons. This guarantees a professional finish to your garments.

Reliable C60LB Ironing Board

The Longboard is the world's first and only 2 in 1 home ironing table. It features a generous ironing surface for regular ironing and an extension piece for oversized pieces like table- cloths and linens. A snap to install, the extension's shape is also ideal for the dedicated quilter or knitter. Each Longboard comes with two cover pads. For peace of mind, there is a heat and fire resistant insert at the end of the oversized cover so you can rest your iron on it directly.

Like all RELIABLE™ products, the Longboard is built to last. A treated galvanized work surface is covered with a mesh screen ensuring maximum passage of steam. Each unit is also equipped with a catch tray and a support that holds a steam station or a stand-alone iron.


Large 18.9" x 47.5" working surface for regular ironing

Extra large 18.9" x 55" working surface for quilting, knitting and tablecloths

2 – Ironing cover/pad sets
19" x 55" pad & cover set with heat & fire resistant material for your iron to sit on at the end
19" x 47" high performance one-piece cotton cover set

Extra heavy-duty construction - chrome plated and treated

Height adjustable - 27.5" - 38"

Individually shrink wrapped and packed in a corrugated box with double polystyrene protection

End trap supports an iron or an iron steam generator
Manufacturer's US warranty 1 year parts, 90 days labor on defects in materials and workmanship.
Non-US Warranty: To view the warranty for this combo, please view specific warranty information on the individual product pages.
Specifications
Model: V100
Electrical: 110V
Compact Vapor Generator: Yes
Power: 1500W
Continuous maximum steam: 30 g/min
Maximum steam at point: Yes
Steam outlets: Professional Type
Stainless steel soleplate: Yes
Water capacity: 300ml/ 1.27 cups
Water spray: Yes
Soft touch grip: Yes
Non-drip: Yes
Renewable anti-scale system: Yes
Auto shut-off: Yes
Safety thermal fuses: 2
LCD Display: Yes
Water tank refilling indicator: Yes
360 degree swivel cord: Yes
ON/OFF pilot light: Information on LCD Display
Temperature pilot light: Information on LCD Display
Water filling indicator: Information on LCD Display
Cord length: 2.5m / 8.2'
Iron weight: 1.81 kg / 4 lbs
Shipping packaging units: 4
Unit box weight: 2.10 kg / 4.7 lbs
Unit box dimentions: 33x14.5x19.5 cm / 13"x6"x7.5"
Electrical Approval: ETL
UPC Code: 885885000013

Model: C60LB
Fabrication: Chrome plated
Anti-rust treated
Cover sets: 2
Catch tray: Included
Iron tray: Steam station or regular
Pressing dimensions: 18.9 x 55" (with extension)
Pressing dimensions: 18.9" x 47.25" (without extension)
Height Adjustable: 27.5" - 38"
Shipping dimensions: 19" x 51" x 3"
Weight: 30 lbs
Warranty: RELIABLE™ 1 Year Warranty






Other Images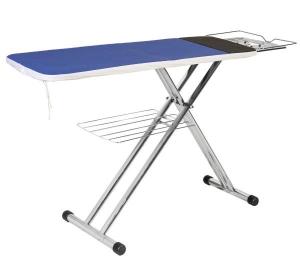 THe C60LB shown with extension board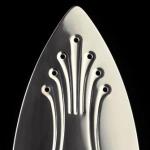 Revolutionary temperature control
The Digital Velocity doesn't produce steam with the soleplate heat like traditional irons, but generates it within the iron, so you can adjust the soleplate temperature to the exact needs of the fabric you are pressing. No need for damp towels and other tricks to achieve optimum results. No water sputtering and spitting. At last, steam and low temperature are compatible.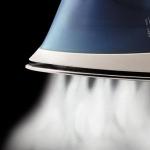 Concentrated steam gets the job done More holes won't make an iron more powerful but their arrangement and diameter will. The Velocity soleplate surface has an exclusive design with steam holes concentrated at the tip. This prepares fabric with a constant and abundant outflow of steam for quicker ironing. A flawless finish is achieved by grooves that help smooth and dry the garment.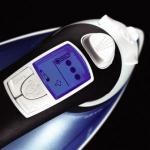 Advantages that can be seen ... The Velocity is equipped with an innovative digital control system with LCD display, which allows for easier, more accurate and safer regulation of the iron functions. The panel displays: -Temperature level selected and when effectively reached -Amount of steam selected -Auto shut-off indicator -Water tank refilling indicator -Anti-scaling system replacement indicator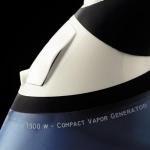 ... and heard The Velocity has an acoustic warning device that beeps when the desired temperature is reached, when the auto shut-off safety system is activated and each time you press a selection button.
"For almost 50USD less (than Rowenta Advancer)the Reliable Digital Velocity is a close second in performance, and it was best at smoothing wrinkles from silk and wool. While it lacks a steam-burst feature, it generates continuous, consistent steam." Good Housekeeping April 2009