*FREE Extra Cover Pad! Press pant legs up to 34" inseam length on one operation. Reliable Empressa is now the largest surface home ironing press on the market.
We are pleased to announce the introduction of our latest Empressa steam press, the S550 with advanced LED display.
The new LED display allows the user to see the exact temperature of the steam press, and the scrolling LED's let you know that the desired temperature is being reached.
Like its predecessor (S500), the pressing surface on the S550 is a whopping 34" X 11", over 10 times larger than most hand held irons. Pressing with the S550 can reduce ironing time by up to 70%.
NOTE: Effective immediately, all Reliable S550's will be shipped with a new all metal mesh pressing plate, instead of wood pressing board. Only Reliable uses an exclusive metal mesh plate for the bottom-pressing surface. We use metal because unlike wood, it will not warp. But most importantly, the steam coming from the head will no longer get trapped in the wood press plate. This reduces condensation, and along with an improved one-piece pad cover set with thick felt padding, greatly improves the pressing performance of the S550.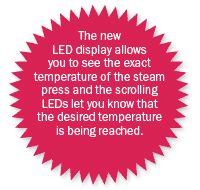 The revolutionary digital S550 will change the way you do your ironing. Imagine pressing your clothes without all the work!
Our ST3A stand comes with both Velcro and a metal bolt (not plastic) to secure either the S330 or the S550 presses to the stand.
The pressing surface on the S550 is over 10 times larger than most hand held irons. Pressing with the S500 can reduce ironing time by up to 70%
For dressmaker's, you can even use the S550 as a mini-fusing press. Its even heat and quick burst of steam is great for setting fusing on collars cuffs, jacket fronts etc.
Standard features include a powerful burst setting for stubborn wrinkles, digital temperature control, safety alarm with auto shut-off, and of course, our trusted reputation for building quality, long lasting equipment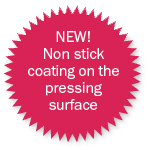 Digital temperature control

34" x 11" pressing surface

10x large pressing surface than regular iron

Safety alarm and auto shut-off

Powerful bursts of steam

Childproof safety lock

Hi-Tec™ woven press cover with pad

Accessory kit - pressing cushion, spray and water bottle

Best used for:
Home - clothing all types, linens
Light industrial use, uniforms, fusing fabric


ST3A Sit-down Stand Features


Press comfortably, using our new ST3A sit-down stand expressly made for our Empressa™ digital steam presses

The ST3A sits at a height of 28-1/2", ideal for long sessions on your steam press.

Avoid fatigue, and relax in your favorite chair. The ST3A even has a convenient laundry rack for your finished goods.


Solid build to hold your digital steam press

Pre-set 28'1/2" height for maximum stability and comfort

Laundry rack

Easy set-up

Safety strap to secure press

One year manufacturers limited warranty

Best Used For

Empressa™ digital steam presses

Will fit other brands as well

Note: Home Ironing Board Presses have 100 pounds pressure between upper iron plate and lower ironing board. Pressure is less at ends of the boards, depending on press width, fabrics and garments.
Clamping mechanisms are in the middle of the press and lose some pressure at the ends You can equalize the pressure using press cloths at one or both ends. We have few complaints in 38 years. It is not a problem on shorter boards like Elna. Miele and Singer rotary presses are best for equal pressure. John.Douthat@AllBrands.com, Owner and Tech.
Manufacturer's US warranty 1 year limited warranty on defects in materials and workmanship.
Non-US Warranty: To view the warranty for this combo, please view specific warranty information on the individual product pages.
Specifications
Model: S550
Electrical: 110V
Element: 1350W
Pressing surface: 34" x 11"
Maximum temperature: 330ºF
Water tank: 450ml
Temperature control: Digital control
Automatic shut-off: Standard
Automatic wake-up: Standard
Electrical approval: cETLus Listed
Weight - net: 28 lbs
Net dimensions: 34.75 x 23" x 9"
Shipping dimensions: 37" x 10" x 25"
Shipping weight: 39 lbs
Warranty: Reliable™ 1 Year Warranty

*As of Monday Feb. 22, 2010 all of our model ST3A stands will come with a metal bolt in the box. This bolt is 1/2" in diameter x 1" long x # 13 thread size. In order to secure the press to the metal stand, the user must first remove the plastic screw from the bottom of the steam press and then place the metal bolt through the stand, inside the same hole of the plastic screw and then tighten.