SEW A DESIGNER KNIT TOP WITH ANGELA WOLF: LEARN SEWING & SERGING TECHNIQUES FOR SEWING KNITS
DESCRIPTION:  Knit tops are a staple in all our wardrobes, why not sew and serge up your own! Join It's Sew Easy's Angela Wolf for a full day of sewing knits! Start by trying on samples of Angela Wolf's knit patterns The Rachel Twin-Set or Ruched-T to find your perfect size (sizes included are XXS – 5X). 
Angela will then walk you through tips for cutting and designing with knit fabrics.  Then you will serge up both the tank and jacket in an afternoon!  Learn sewing and serging techniques like inserting clear elastic to stabilize the shoulder, lettuce edge, gathering, and hemming.  Angela will share tips for serging success and you will leave with a knit top that will definitely become a staple in your wardrobe!  
STUDENT MUST SUPPLY :
Stop in store to pick up the knit pattern of your choice from the Angela Wolf Pattern Collection, this is included in the class fee. Students supplies needed: knit fabric for the coordinating pattern (see pattern for yardage details) 4 spools of serger thread in coordinating color, 2 spools of universal polyester thread in coordinating color, pins, scissors, measuring tape.
We are limited to 20 people for the class, so hurry while the seats are still open.
Lunch and snacks will be provided.
Hosted at our AllBrands Retail store, 11777 West Ave San Antonio, TX 78216
We will have door prize and everyone will receive a free gift for attending.
Angela Wolf featured in Schmetz Inspired to Sew Magazine
Other Images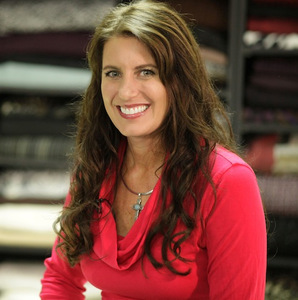 Angela Wolf is the anchor and sewing expert on the PBS series It's Sew Easy, host of Craftsy's YouTube sewing channel and spokesperson for Brother. She teaches online classes on Craftsy.com and Patternreview.com, with over 90,000 students from all over the world. Author of How to Start a Home-based Fashion Design Business, has contributed to both Threads and SewStylish magazines, and blogger for Brother's Blog Stitching Social. Angela started sewing at a young age and continued to design women's apparel throughout college. With an entrepreneurial spirit and passion for fashion and sewing, she launched and ran a successful custom apparel and alteration business for over 18 years. She has since launched a pattern collection Angela Wolf Pattern CollectionTM for the home sewer. Angela is also a blogger, spokesperson, brand ambassador, fashion designer, and consultant. She is the winner of 2008 Passion for Fashion, 2012 American Sewing Expo's teacher of year, and spends her time speaking and teaching all over the country. When she is not sewing, you will find her fishing on Lake Michigan or in the Florida Keys with her husband Winn, on the Win-n-Angel! www.AngelaWolf.com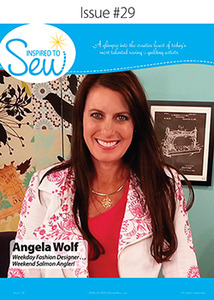 You've probably met Angela Wolf already on-line. Angela's sewing world is diverse and so is her personal life. Enjoy this glimpse into Angela's creative and competitive life filled with a zest for sewing and sports. As Angela would say, "It's Sew Easy to be Inspired to SEW!" Enjoy
Barbara S, Palestine TX
Eugenie was very good about getting back with me quickly.