Register Online and receive a gift certificate in the amount you paid for the class when you attend! Register for this event today, what have you got to lose?
Take your quilting to the next level with industry expert , and Brother National Educator Jerry Granata! Jerry is a 1st Prize Winner in his category for Fly Me To The Moon at the Houston Quilt Festival, and Jerry's inspired techniques have been featured on The Quilt Show with Alex Anderson and Ricky Tims, plus appearances on The Fons and Porter Love of Quilting Show! This is a 3 hour classroom lecture /demo presentation on the Dream Fabric Frame with the Dream Quilter 15 followed by a "try it" with attendees.
Jerry Granata will bring samples of quilts and techniques to show and inspire you, demonstrate the ease of use of the Dream Fabric Frame, and he will share a bunch of tips and tricks on his 40 years of quilting. Come and see for yourself this extremely convenient solution to get into long-arming. This Fabric management system will not take half of your living area away =).
Some of the topics we will be covering are:
• Experience how easily and smoothly the machine moves over the fabric.
• Learn and experience SureStitch™ stitch regulation.
• Experience the versatility by thread painting, free-motion couching, applique, needle felting and more!
• Get the latest tips and tricks and new project ideas from one of Brother's Educators.
• The Dream Fabric Frame handles everything from king size quilts to garments in a 3 foot by 5 foot area.
We will be featuring the Brother 15" Longarm Machine on the Dream Fabric Quilting Frame. Attendees will be given exclusive 10% discount on quilting accessories purchased during this event, as well as our best deal of the year on the Brother Dream Quilting Machine and Frame.
No need to bring anything but your own imagination and passion for embroidery and sewing!
Light lunch, snacks, and beverages will be provided.
When: Thursday, June 7, 10:00 a.m.- 1:00 p.m.
Where: AllBrands retail store in Baton Rouge, LA
---
MEET BROTHER NATIONAL EDUCATOR JERRY GRANATA




Go Tell It at the Quilt Show! interview with Jerry Granata: The Houston Quilt Show Interview: Jerry Granata talks to TQS about his award winning quilt, Fly Me to the Moon.The Quilt Show: Trailer 1503 - Jerry Granata
Jerry Granata has had a love of art since he was a child and it has taken him in many directions. He served 21 years in the Armed Forces of the United States as a U.S. Navy musician serving in such places as Naples, Italy; Seattle, Washington; Washington D.C; and Chicago, Illinois.

While in high school, he made costumes for the National Marionette Company—an experience that taught him that no fabric is off limits, even for quilting. The trick is in knowing how to tame it, and in this show, Jerry reveals the huge variety of unusual fabrics available to quilters (think leather, lamé, fake fur, upholstery), where to find them, which to use when, how to prepare them, work with them, and even quilt them. We wrap with a tour of our day's location, The Witte Museum in San Antonio, TX, where Jerry—for 21 years a professional musician with the United States Navy—provides the soundtrack on his RED saxophone.

His musical journey has given him the opportunity to perform as a pit musician in many theatres on Broadway in New York. He has also performed for several U.S. Presidents and Heads of State at the White House, as well as many celebrities such as Bob Hope, Brook Shields, Tony Bennett, Diana Ross, Styx, and many others.

His interest in the fine arts led him to studies in drawing, design, and oil painting. He has explored and enjoyed all sewing techniques including garment construction, costumes, embellishing, heirloom sewing, hand and machine embroidery, quilt piecing, appliqué, and free-motion quilting.

Jerry has appeared on The Quilt Show with Alex Anderson and Ricky Tims, and Fons & Porters Love of Quilting. He brings a passion for quilting, sewing, and teaching, with a dash of humor, to all levels from beginner to advanced. His diverse background can be found woven in his local, regional, national, and international award winning quilts.
Read More about Jerry Granata- Retired Navy Veteran, Artist, Quilter: How does a 21 year Naval Veteran become an award winning quilter?
Join us at the THE Dream Fabric Frame Event and see for yourself. Sign up today, space is limited.
Other Images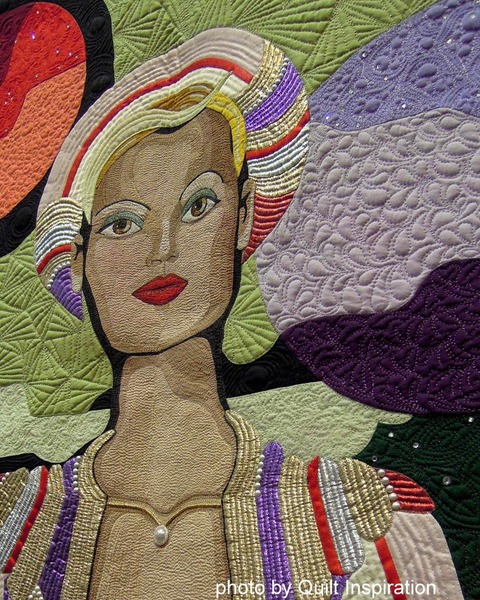 "Fly Me To The Moon" by Jerry Granata:
First place winner in the category of Innovative Quilts, Jerry writes, "I put the 'whole nine yards' of fabric in this retro-feel quilt including cotton, lame,satin, sheers, hand-painted, and ribbon.It was inspired by a painting by Juan Carlos Espejo." Jerry's stunning work is machine appliqued, machine pieced, and machine quilted.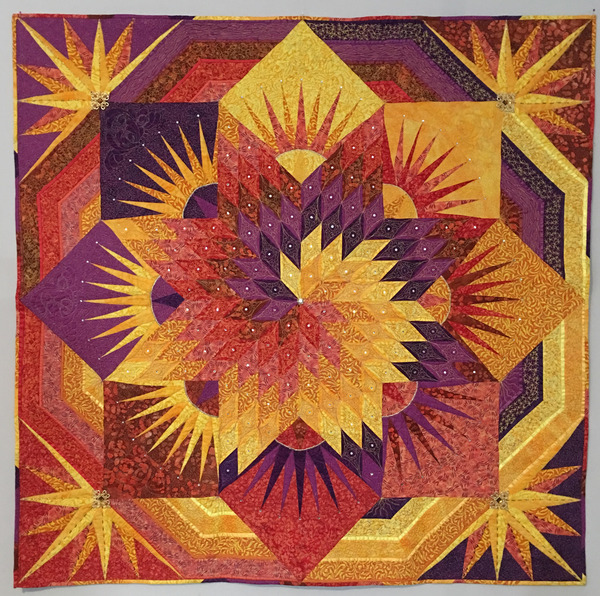 "Solar Storm" by Jerry Granata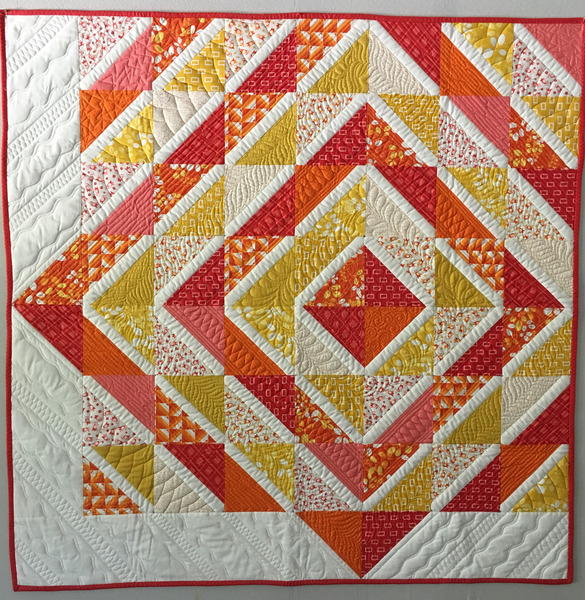 Another beautiful Quilt by Jerry Granata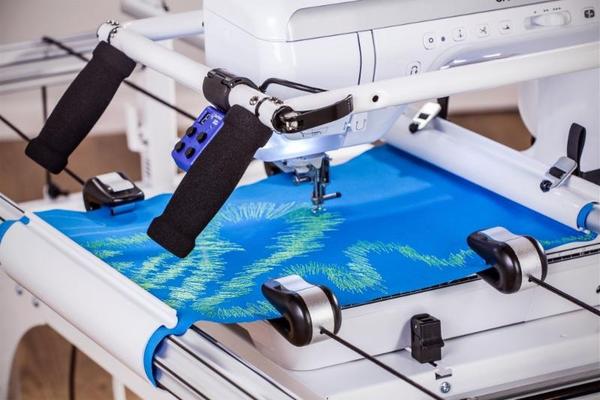 You're Invited. The Dream Fabric Frame