Dry steam vapor is the fastest, most effective, 100% environmentally safe method of cleaning available.
Sanitizes, cleans, and deodorizes in one simple operation.
Uses only tap water, no hazardous fumes or soapy residue.
Destroys germs, viruses, molds, and bacteria.
Reduces allergies and respiratory ailments.
Promotes improved indoor air quality.
Chemical free, environmentally safe.
Dry steam vapor cleans without surface degradation.
Thouroughly reaches hard-to-clean cracks, corners, and crevices.
Removes grease, ground-in-dirt, and spots better than solvents.
Removes soap scum and mildew from bathroom tile and fixtures.
De-greases kitchen floors, counters, and appliances.
Cleans and freshens carpets, upholstery, drapes, and blinds.
Makes windows and glass sparkle.
Details cars, boats, and RV's.
Quick and easy on hardwood floors.


US Warranty 3 years boiler, 1 year parts & labor
Extended US Warranty: Extended Warranty Available
Non-US Warranty: 30 days parts and labor
Specifications
120v/60Hz
Heating Power:1500 Watts
Tank Capacity: 1.8 + 1.5 qts.
Working Pressure: 66 psi max
Steam Temperature: 298 degrees F
Weight: 16 lbs.
Stainless-steel boiler
Features:
Self-monitoring dry steam generator with continuous fill, non-pressurized water reservoir
Pressure gauge for maximum efficiency
Flexible hose with volume control
Fingertip controls
Low water light with audible signal
Splash proof design
8 standard accessories
Warranty: 3 years boiler, 1 year parts and labor


View the PDF


Included Accessories
1 Large Floor Brush

1 Triangle Brush

1 Steam Nozzle

1 each Small and Medium Nylon Nozzle Brush

Window Squeegee Tool with two blades

2 Extension handles

Funnel

Instructional video and manual

Spanner Wrench for boiler drain

12 Terry Cloth Towels

1 Crevice Tool

Warranty card
Other Images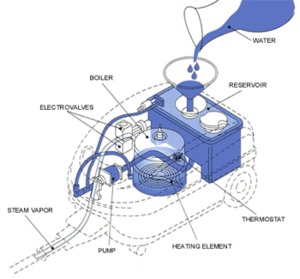 Continuous, no-wait water refill means you're never out of steam. Your system is always ready to work when you are! In a continuous-fill steam vapor system, a non-pressurized, non-heated water reservoir allows water to be added at any time. That means no downtime when the system needs water. No safety caps to worry about, no concern for adding water to a hot tank, no potential for overfilling the boiler. Plus, you get faster startup times. And, because water is injected into the boiler automatically as it is consumed, the independent boiler maintains steam even as water is added to the reservoir. As a result, this unique system has steam available, whenever you need it.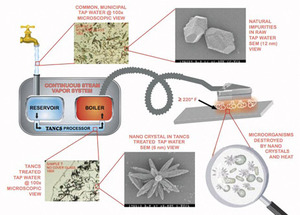 With Thermo Accelerated Nano Crystal Sanitation (TANCS®), our proprietary technology uses the naturally occurring minerals in tap water to form crystals. As these crystals pass through the boiler they gain energy from the heat. Then, when the water transforms into super-heated low-moisture steam, these energized crystals are accelerated along with the steam. This process helps disrupt the cell membrane, allowing lethal temperatures to quickly destroy the germs. This activity is confined to the surface being treated or cleaned and is lethal for germs and yet safe for you! With the TANCS® option, the system qualifies as a disinfection device for the US EPA*, in addition to extending the life of the entire system. Add TANCS® to your dry steam vapor system and add five years to your boiler warranty! TANCS® also prevents scale buildup in the boiler due to changes imparted to the minerals in the above process. No scaling maintains the heating efficiency within the boiler and extends the life of the system.
Bundle & Save
Get additional savings when you purchase any of these items along with this product.