Top Stitch Needles For Home Machines (HAx130N)
This special needle has a very long, almost double length, eye. It is made for Top-Stitching or Decorative stitching and will accept heavy or multiple threads. It can also be used for embroidery with heavy, metallic threads. It is available in chrome or PD/titanium finish.
Has an extra long eye. For use with topstitch, heavy, multiple or poor quality threads. Achieve perfectly straight stitch lines and even stitches when using a straight stitch plate. Available in sizes 70, 80, 90, 100, 110. 100 needles per box.
The SCHMETZ Topstitch needle has a nickel finishing. This needle has an enlarged eye and a special groove resulting in very straight stitches. It excels in stitching through layered fabrics and quilts. It is especially useful when working with heavy, multiple and even poor quality threads. The SCHMETZ Topstitch needle is available in bulk - 100 needles - in sizes 70, 80, 90, 100 & 110, all sizes are currently available for shipment from our warehouse.
Has an extra large eye and large grooves to accommodate top stitch thread. This needle helps stitch perfectly straight lines and even stitches. It comes in sizes 12/80, 14/90, and 16/100. It is helpful to use a straight stitch plate if you are expecting perfectly straight top stitching results. Choose the size based on the type and size of thread being used.
Needle Selection Guide
Needle Comparison Chart
Other Images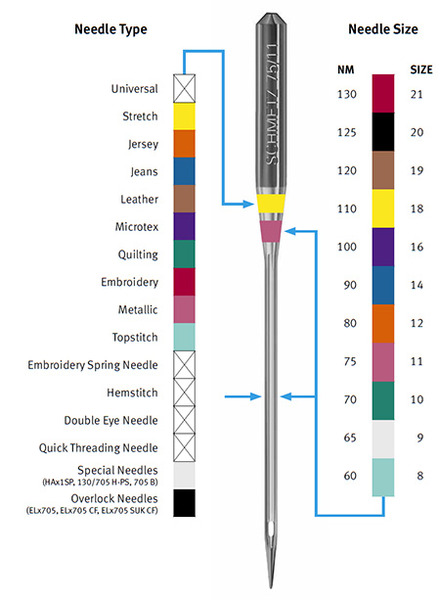 Schmetz color coded needles.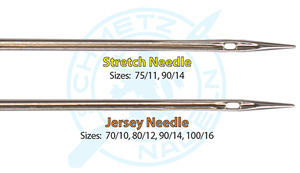 What's the Difference Between a SCHMETZ Stretch Needle and a Jersey Needle? ~A Stretch Needle has a shorter and narrower eye compared to a Jersey needle. ~The Stretch Needle scarf (that little indentation on the back side of the needle above the eye) is deeper. ~Both needles have a medium ballpoint. Use the SCHMETZ Stretch needle on elastic or highly elastic fabrics. Start with a Stretch Needle if the fabric blend includes or Spandex. If the stitch quality is not to your liking, then switch to the Jersey with elongated eye.