*Free Singer MSP7 Magic Steam Press Video, the only dvd available showing 8 minutes operation, 3 minutes pressing, advice that may apply to your brand and model steam press
EMPRESSA™ - S330 - The revolutionary digital S330 will change the way you do your ironing. Imagine pressing your clothes without all the work!
7 x larger pressing area than an iron!
The pressing surface on the S330 is over 7 times larger than most hand held irons. Pressing with the S330 can reduce ironing time by up to 50%.
Perfect for the dressmaker in the family.
For dressmaker's, you can even use the S330 as a mini-fusing press. Its even heat and quick burst of steam is great for setting fusing on collars cuffs, jacket fronts etc.
Features and performance:
Standard features include a powerful burst setting for stubborn wrinkles, digital temperature control, safety alarm with auto shut-off, and of course, our trusted reputation for building quality, long lasting equipment.
New updated design

Digital temperature control

25" x 10" pressing surface

7 x large pressing surface than regular iron

Safety alarm and auto shut-off

Powerful bursts of steam

Childproof safety lock

Hi-Tec™ woven press cover with pad

Accessory kit - pressing cushion, spray and water bottle



Reliable Warranty Information (.PDF)
US Warranty 1 year parts, 90 days labor on defects in materials and workmanship.
Non-US Warranty: 30 days parts and labor
Specifications
Model: Empressa™ S330
Electrical: 110V
Element: 1350W
Pressing surface: 25" x 10"
Maximum temperature: 330ºF
Water tank: 300ml
Temperature control: Digital control
Automatic shut-off: Standard
Automatic wake-up: Standard
Electrical approval: UL Listed
Weight: 21.5 lbs
Shipping dimensions: 10" x 27" x 22"
Shipping weight: 25 lbs


Other Images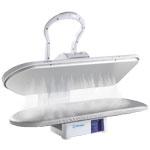 7x pressing surface, powerful bursts of steam.

The Empressa is more than just a regular steam press. It's the world's finest digital steam press for home use. The pressing area is an impressive 25" x 10"... big enough for the kind of real world ironing that most people do at home. Trousers, blouses, jackets, linens, you name it. The new S330 powerful burst of steam will blow the wrinkles out of the most stubborn fabrics. You simply won't believe how easy it is to get all of your ironing done in a fraction of the time.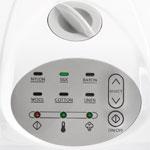 Digital temperature control.

There's temperature control, and then there's digital temperature control. On all Empressa steam presses, we use only the finest quality, and most accurate digital controllers. The reason is twofold, (1) accuracy and (2) durability. With a digital temperature control we are able to control the temperatures with a much greater degree of accuracy over a conventional thermostat. This ensures that when you choose the wool setting, the temperature the material sees is within a range that is safe for that fabric. Plus, todays digital controllers will also last longer than their analog versions... protecting your investment.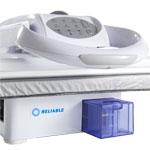 Extra large water capacity.

With all that steam power, we needed to make the water container larger on the new Empressa S330. With a full 300ml water tank, you won't need to refill the S330 very often.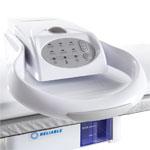 Easy to use contoured handle.

A key feature of the Empressa S330 is the new contoured handle with the steam activation switch in the center. With a rectangular handle, in order to activate the steam, you need to reach over with your thumb (which can be difficult for people with smaller hands) and press. On the new version, simply lower the handle, and gently squeeze. It's that simple. As an added bonus, the contoured handle gives the new Empressa S330 a modern, sleek look.
Angela, Louisiana
Regret that I didn't go with the larger surface board. Also, disappointed that the top part doesn't open up to 90 degrees, only about 45 deg. Constantly burning my hands b/c of that, when repositioning the garment.

Edgar, North Carolina
The lady that took the order was very, very helpful. Without her help. I could not have made the selection, and I know we made the best selection judgeing on my past steam board presses. Please give her my thanks again.