Juki's updated quilting and home deco machine. Powerful 1500 SPM machine, low vibration due to the aluminum die cast frame and with automatic thread cutting. LED lights and one pedal control for speed and trimming system complement this semi industrial sewing machine. Famous stitch quality with true drop feed used by many of the best quilters. This workhorse machine comes with a 1/5 inch quilting foot and even feed foot and extended bed table. Up to 12mm foot left, easily hems denim jeans.
Updated with LED lights and one pedal operation

1500 SPM for quilting apparel and home décor

Aluminum die cast arm and bed for low vibration operation

Extension table included for wide work area

Additional Features

* Light weight and portable
* Supplied with HA-type needles.
* Arm and bed of Juki TL2000Qi is contructed of aluminum die-casting.
* Large work area - wider handling area than conventional sewing machines.
* Longer arm and sewing bed for easy handling of quilts
* High sewing speeds up to 1,500 spm
* Basic sewing functions operated by foot pedal
* Automatic bobbin winder
* Small screwdriver
* T-screwdriver
* Lint brush
* Bobbins
* Spool cap
* Oiler
* Needle pack
* Straight stitch foot
* Power cord
* Foot control w/ thread trimmer. 1 Foot Pedal for Speed Control by Toe, Thread Trim by Heel
* Instruction manual
* Knee lever
* Extension table (see product image)

Instruction Manual(.PDF)

US Warranty 5 Years Mechanical, 2 Years Electrical, 90 Days Adjustments on defects in material or workmanship.
Non-US Warranty: 30 days parts and labor
Specifications
Dimensions: 17.8 x 8.6 x 13.8 inches
* Sewing Speed: Max. 1,500 r.p.m
* Stitch Length: Max. 6mm
* Lift of the Presser Foot:
- By Lever, Max. 9mm
- By Knee Lifter, Max. 12mm
* Needle: HAx1 (130/705H) #7-#18 (HLx5#9-#16)
* Dimensions: 17.8 x 8.6 x 13.8 inches
* Weight (Machine only): 11.5kg, 25.4 lbs
* Rated Voltage / Power Consumption: 120V / 1.4A, 100W
* Power Consumption of the Lamp: 12V, 3W
* Auxiliary Table (Dimensions): 590 x 277 (mm)
* Hook: Horizontal-axis Full-rotary Hook
Home Video of prior model Juki TL98Q speed and sound.
Click here for all You Tube Videos on Juki TL2000Qi
Included Accessories
-Oiler
-Screwdriver for bobbin tension
-Screwdriver for needle plate
Extra Bobbins

Extra Needles

Spool Thread Retention Cap

Cleaning Brush

Even Feed Walking Foot Attachment

1/5" Free Motion Quilting Foot

Soft Dust Cover

HZLF Foot Controller for Speed and Thread Trim

Instruction Book Operating Manual

Warranty Documentation
Comparison Chart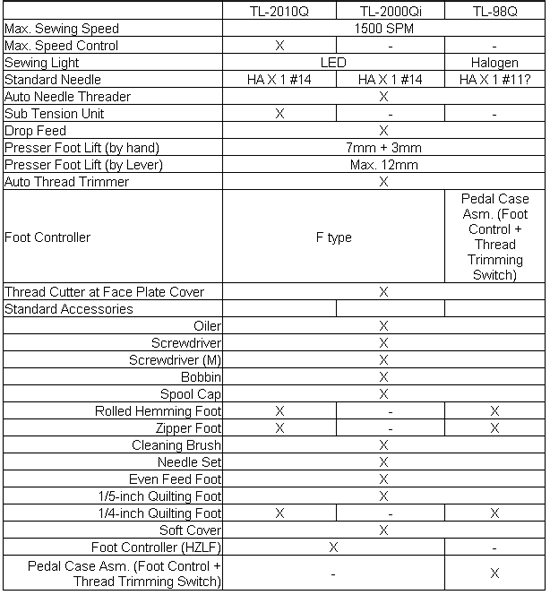 Juki has always had the reputation of being better made, quieter and more reliable (less service costs over life). Juki is industrial grade quality with heavier duty parts inside. Juki has 3 ways to automatically trim the threads...button on the machine, with the foot control, and by using an optional speed control box remotely if you ever put the machine on a longarm quilting frame. Janome DBX only has the thread trimmer button on the machine with no alternative method of thread trim activation. Juki also has a drop feed lever for free motion quilting that the Janome DBX does not have. You would have to add an optional feed dog cover plate kit to Janome, but it still decreases the amount of space between the foot and the needle plate with no drop feed, so you can't get as much fabric thickness under the foot. Juki also comes with the 12x18" extension work table and even feed walking foot. We have to add one to Janome
B Johnson, Livingston LA
John, Just a quick message to let you know that I used a section of test quilt to test the machine, and we watched for the problem on the threading and bobbin. Neither problem appeared. The group has redone the section of the quilt they had a problem with, and machine performed as it should have. No problems experienced. They also did an additional quilt and did not have any problem with that quilt. At this point I am assuming that it was a temporary malfunction having to do with the bobbin or threading of machine. I want to thank you for the assistance you provided, and compliment you on your attention to the problems that we experienced. I have been around a long time, and your response to a problem with your product is like the majority of companies used to provide, but seem to have forgotten what they are supposed to do. It is a pleasure and refreshing to find a company that still remembers how to provide service. Have a safe; happy 4th., and God Bless The USA. B. Johnson


Bundle & Save
Get additional savings when you purchase any of these items along with this product.