The Newly Designed GraceHoop offers the following features:
Adjusting Stand - Arm can be adjusted into 8 positions for the greatest height range possible. You can even quilt while standing.

New Swivel System - Lock in your hoop's angle and still rotate easily with the new dual control swivel system.

New Pivotal Arm - Entire arm can be pivoted away from you by simply loosening a single knob. No need to move the stand.

Ultimate Tension Control - Outer hoop now has adjustments on two corners to allow for thicker or thinner projects.

Fold n' Tote - New and improved folding capabilities. No parts need to be removed. Knobs are user-friendly for easy loosening and tightening motion.

Low Front Foot With Easy Carry Handle - Front foot stays low to easily slide under most sofas or chairs, making it possible to sit and bring your work to you. Foot also doubles as a handle that positions perfectly for easy carrying.

5 Year Warranty - New hoop has been carefully designed, tested and redesigned to meet the quality you have come to expect from Grace products and we stand behind them.
US Warranty 5 Years on Defects in Materials and Workmanship.
Non-US Warranty: 30 days parts and labor
Other Images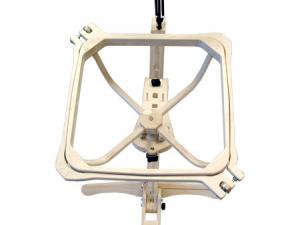 For years we have known that a square hoop would be more ideal for holding fabric than a round one. Because the weave in fabric is square, it lends itself naturally to square-hoop quilting, and makes it much easier to achieve even tension on all sides.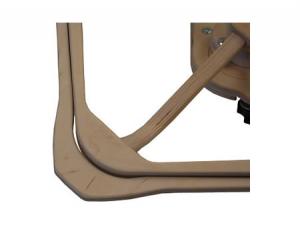 Straight edges make positioning and repositioning fabric simpler, and it is much easier to keep track of your work areas. The hoops amazing design won't pull your fabric on the diagonal; it naturally tensions the quilt across the woven grain of the fabric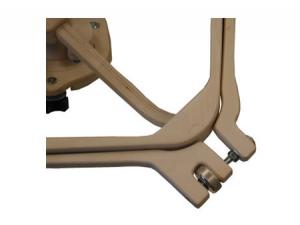 A tighten-and-release system built into the outer hoop allows the quilter to easily tighten it down so that it fits snugly around the fabric and inner hoop without a bolt sticking out to snag on fabric or clothing.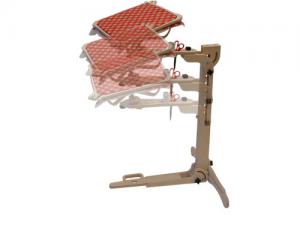 A new adjusting stand. The arm can be locked into eight different heights, giving you a range of about 29" to approx. 44". You can literally quilt standing, sitting on the floor, or any height in between (you can even quilt in bed!)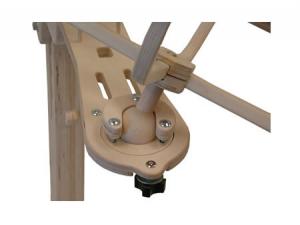 A new pivotal arm. The arm that holds the hoop can pivot away from you by loosening a single knob. You can quickly move your hoop out of the way (or closer toward you) without moving the entire stand!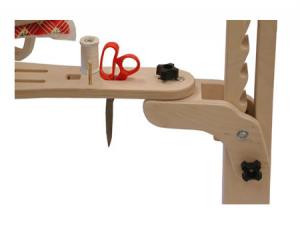 A new area for holding notions such as thread and scissors has been added to the GraceHoop arm. Now you can easily keep and reach the things you use the most in these convenient spaces especialy when working on small projects.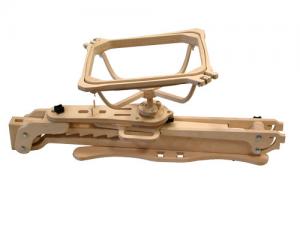 When you fold the hoop, this foot doubles as a handle that is positioned perfectly for easy toting. For your convenience the stand is also shipped in the folded position. All you have to do is unpack, attach the hoop and you can start quilting!
Mary, Montana
great service

William, Texas
Product is extremely well made, very impressive for these days.

David, Virginia
I can't thank you enough for the quick service. And I have to say again how much my wife loves that quilting frame. She has been working on it every night since she got it.

Janet, Arizona
The directions for opening were about the clearest we've seen in a product. The telephone support was excellent. Now, to try the hoop out!