*Free $500 Value 10 Year Extended Warranty, Repair Parts & Labor, Power Surg, Transfer Owner, No Lemon, Replace or Buy out % Depreciation, for Non Commercial Use USA

*OR, 4 Years $52.08/60 Months plus Tax, GE Capital Synchrony Bank No Interest Financing Equal Monthly Pay. Apply online for GE Capitol 48 Months Equal Monthly Pay FinancingGE will advise you of maximum amount of credit you can use towards purchase.

Includes AcuFeed Walking Foot, 626 Stitch, 3 Fonts 10 Styles 1-Step Buttonholes, Straight Stitch Hole and Zigzag Hole Needle Plate, 1000 SPM, Start Stop, Needle Position Up Down, Speed Limit Controls, Automatic Thread Trimmers, Knee Lifter for Presser Foot 1/2", 5 LED Lights, Extension Table, Hard Cover Carrying Case, Worldwide Voltage 110-240V

The Horizon Memory Craft 7700QCP unites years of Janome innovation in the most advanced and comprehensive sewing and quilting machine ever. 11" x 4.7" of work space makes it the largest machine in its class, and features like AcuFeed and the Superior Plus Feed System ensure accurate operation. Innovative needle plate markings give extra precision guidance and the Automatic Plate Converter allows push-button conversion to a Straight Stitch Needle Plate for quilt piecing and free motion work. The Horizon offers a range of advanced features to open up new possibilities for your creativity.


Built on the most popular Memory Craft model ever for quilting and sewing. But with a new generation of features. It's the machine you've been waiting for.

Janome has taken all the best and easiest to use features from all there models and packed them into this one unbelievable sewing and quilting machine. The sheer length of the arm space is impressive at 11 inches... Ideal for large quilts, bridal dresses and those bigger home furnishing projects. And it's powerful... reaching speeds of up to 1,000 stitches per minute. Nevertheless even at those speeds stitch quality is a priority. With a built in Acu-Feed system for precise fabric handling and an automatic needle plate converter to enhance straight stitch performance... rest assured this machine offers spectacular stitch quality.

Shadow free lighting is provided by 5 bright white lights whilst quick and easy stitch selection can be made on the large touch screen or with the jog dial. Choose from over 600 stitches, alphabets and numbers including some great fun play stitches. Memorize a combination of these... the Janome Memory Craft Horizon 7700 QCP will calculate the length of the combined patterns just to make sure they fit into the available space.

Other special features include an automatic needle threader, a speed controller to set the maximum sewing speed and a stop/start button if you choose not to use the foot control. It also has a needle up/down button which programs the needle to either finish in the up position or in the fabric... great for pivoting an corners! It has a lock stitch button to ensure every stitch pattern is locked off at the end and even an automatic thread cutter to trim your threads.


US Warranty 25 Years Mechanical Parts, 2 Years Electrical Parts, 1 Year Service Labor on defects in material or workmanship.
Extended US Warranty: Free 10-Year Warranty
Non-US Warranty: 30 days parts and labor
Specifications
Features:
Free arm / flat bed convertible

250 stitches including 11 buttonholes

3 Monogramming fonts

11" x 4.7" of work space

Superior Plus Feed System

Drop Feed Dog

Automatic Plate Converter (APC)

AcuFeed™: Layered Fabric Feeding System

Built-in, One-hand™ needle threader
`Horizontal full rotary hook
`5 white LED lamps
`LCD touchscreen

Automatic thread tension control (roller type)

Speed control slider

Needle up/down selection

Extra high presser foot lift

Automatic Thread cutter

Adjustable Knee lifter

Sewing speeds up to 1,000 stitches per minute

Maximum stitch width: 7mm

Maximum stitch length: 5mm

Jog dial

7-piece feed dog system

Semi-hard cover and acrylic extension table included

Specifications
`Computerized sewing machine

Horizontal full rotary hook

Free arm / flat bed convertible

Size: W519mm x H316mm x D230mm

Weight: 12 kg

Workspace: W280 x H120mm

Sewing Speed: 60 - 1,000 spm (foot controller)

Sewing Speed: 60 - 700 spm (Start/Stop Button)
`Touch panel LCD screen

Multi language

Automatic thread tension control

Speed control slider

Needle up/down

Foot pressure adjustment: 7 levels

7 piece feed dog
`Drop feed dog

SFS+ feeding system

AcuFeed device

Automatic plate converter (APC)
`Presser foot lifter safety device

Automatic thread cutter

Built-in needle threader

5 white LED lamps

Adjustable knee lifter

250 stitches including 11 buttonholes

3 monogramming fonts

Maximum zig zag width: 7mm

Maximum stitch length: 5mm

20 memory banks

Customizable machine settings

Semi-hard cover

Extension table included
 
If you have been asking yourself, "What sewing machine should I purchase?", "What brand of sewing machine is good for beginner?", "What is a good sewing machine?", "Where should I buy a sewing machine?", "How do you know what sewing machine to purchase?", then you should watch this video.

Included Accessories
Semi-hard cover.

Standard Straight Stitch Zigzag Foot A

Standard Foot (Acufeed)

Zipper Foot E

¼" Seam Foot

3-Way Cording Foot H

Automatic Button Hole Foot

Blind Hem Stitch Foot G

Border Guide Foot

Button Sewing Foot T

Convertible free motion quilting foot QB-H

Dual feed foot AD.

Open toe satin stitch foot F2.

Overcasting foot C.

Overedge foot M.

Rolled hem foot D.

Satin stitch foot F.

Bobbins x 5 (Plastic)

Cloth Guide

Convertible Free Motion Quilting Foot

Acrylic Extension Table (Perspex)

Foot Control

Lint Brush

Knee Lifter (Adjustable)

Needles

Overcast Foot

Overedge Foot

Power Lead

Quilting Guide

Satin Stitch Foot

Satin Stitch Foot (Open Toe)

Screwdriver (Winged)

Screwdriver (3 Pronged)

Seam Ripper

Spare Spool Pin

Spool Cap (Large)

Spool Caps (Small)

Spool Felt


Other Images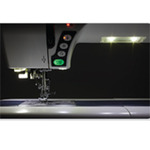 Shadow Free Sewing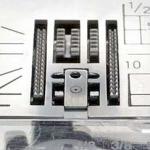 APC Automatic Plate Converter inserts a straight stitch needle plate hole in center needle position to prevent fabric from flagging up and down on the needle and insuring stitch quality.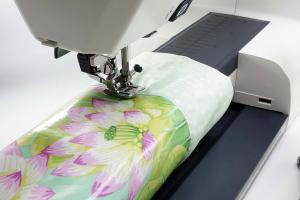 Extra Long Free Arm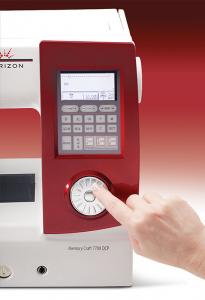 Jog Dial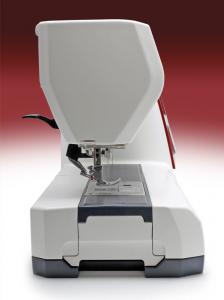 AcuFeed™ System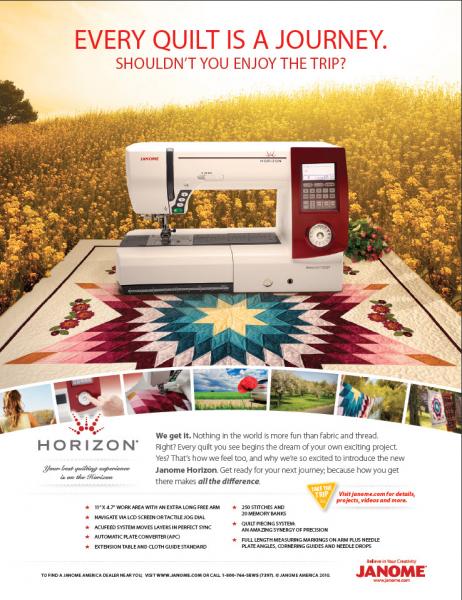 Every Quilt is a Journey!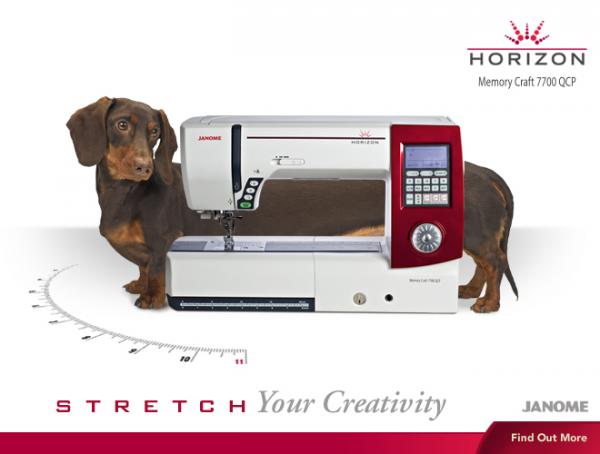 Foot Long, Hot Dog!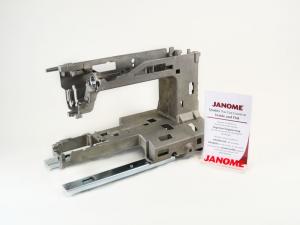 Quality You Can Count On, Inside and Out: Cast Metal Frame