Get started with these sewing basics. 14 piece sewing kit includes 1 of each: magnetic pincushion with 60ct pins, 100ct glass head pins, 60" tape measure, seam ripper, 9-1/2" titanium black tailor scissors, thread snips, 10ct craft clips, 20ct safety pins, sewing gauge, water erasable pen, iron vanishing pen, 45mm rotary cutter, 12" x 18" cutting mat, and 12" x 16" ruler.
Bundle includes the following:
9-1/2" Titanium Black Tailor Scissor

Clipper Scissor-Green Handle

Patented Magnetic Pin Catcher with Storage Drawer-Blue color

Heart Shape Safety Pins 20pc

Seam Gauge Ruler with Sliding Marker

Tape Measure PVC 60"L

Water Vanish Pen + Eraser-Blue color

Iron Vanish Pen-Red color

Seam Ripper with Ball 90mm Length-Blue color

45mm Rotary Cutter Ergonomic Handle

Fabric Clips 10pc 3.5x1.8cm

Colored Glass Pearl Head Pins 100pc head diameter 3.2mm total 40.5mm x 0.6mm diameter

Quilting Ruler Rectangular (150x300x3mm) high clearance acrylic, scratch resistant

Folding Cutting Mat-Green color (450x300x3mm) 2.5mm PVC Folding Mat
US Warranty 5 Years Mechanical, 1 Year Electrical, 90 Days Service Labor on defects in material and workmanship.
Non-US Warranty: 30 days parts and labor
Other Images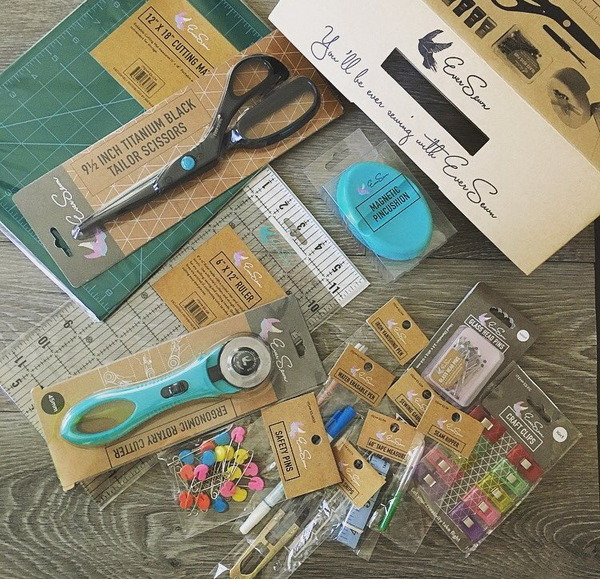 Big Ever Sewn Starter Kit for Sewing, 14 Piece Set: Scissors, Notions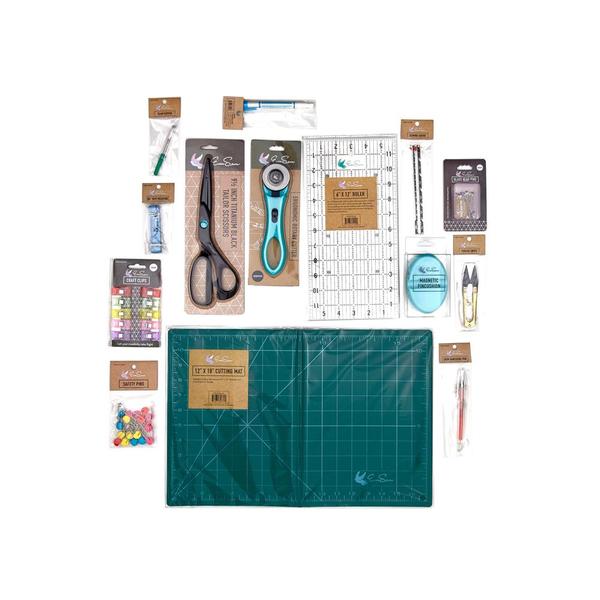 From Ever Sewn, this all-in-one kit features everything you need to get started with sewing in one tidy package! With an attractive and simple design, this kit features a variety of sewing and quilting tools in a craft paper brown box. You will receive one ergonomic 45mm rotary cutter, one pair of 9.5" titanium black tailor's scissors, a 10 count pack of craft clips, a pair of industrial thread snips, a package of safety pins, a mini seam ripper, a water soluble marking pen, a sewing gauge, a 60" laminated tape measure with inches and metric, a magnetic pin cushion, a package of glass head pins, an iron vanishing marking pen, a 6" x 12" clear acrylic ruler with clear black and aqua markings, and a one-sided foldable 12" x 18" rotary cutting mat. Makes a perfect gift for the brand new sewist in your life, or even to add some great sewing tools into your bag of tricks!