Do you love taking your featherweight to classes and retreats? You will love this table package including a Large 18x24 Sew Steady Acrylic Extension Table, 20x26 Large Travel and Storage Bag, and Spinner Tray. (thread not included)

The Sew Steady table is built-to-order to fit your specific machine. Please allow 2-5 weeks before shipping and expect a delivery time of 5-7 days. It is well worth the wait!
Other Images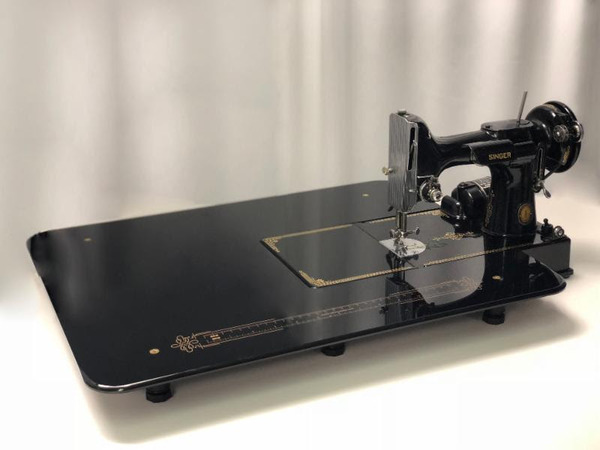 Inspired by the sewing machine that never goes out of style, our Classic Featherweight Table is made exclusively for the Black and Gold Singer Featherweight 221. Black acrylic is printed with gold details, including a 16" ruler on the front edge. This 17-3/4" x 22-1/2" Table also comes with our Sew Steady Polish Kit.
Janet V, Cadiz KY
All brands always exceeds my expectations with their prices and speed of shipping. Thank you!

Mildred C, Lenexa KS
The box arrived without any damage, items inside were secured. I did find trouble unzipping the travel bag all the way. It became stuck on the last short end. Even after several attempts, it appeared permanent and did not want to do any further damage. Please let me know if I am to return just the bag in the original box. I did talk to the gal at your office and was told she thought a new bag would be mailed and not to return the first bag.

Mary D, Chico CA
Very pleased with my purchase and how quickly it was available.

Faricha L, Troy TX
Thank you so much for your wonderful selection and great sales! Also, I will shop with you again due to you having the best prices! Fast shipping and love the follow up!

Carol M, Hooksett NH
I was so excited to receive an email to say it was already being shipped. One being a Christmas gift. Thank you so much I would recommend this company to everyone which I have. she brought one also thanks again. Carol M