Integrated Dual Feed Walking Foot, 163 stitches, 2 lettering fonts, 7 buttonholes, start/stop button, speed limit control, needle positioning up or down, knee lever for presser foot lift, automatic thread trimmers, extension table, wind bobbin while sewing, flatbed sewing machine, up to 7mm zigzag width.
*6 Months Synchrony No Interest Financing, Equal Monthly Pay plus applicable taxes. Transaction Code 106. Apply Online Here Synchrony will advise you of your maximum amount of credit that you can use towards purchase.
*Popular Consumer Magazine "Type Electronic, Brand & Model, Janome Memory Craft 6600P, Price $1500, Overall Score 79" a CR Recommended Sewing Machine, May 2010.The Ultimate In Precision And Control For Sewing, Quilting, and Home Decor
Janome 6600 has all the electronic Start/Stop, Needle Up/Down, Speed Limit Control and Thread Trimmer control buttons on board.

The Memory Craft 6600 Professional has the speed and precision critical to advanced sewing. The 6600 contains loads of features created especially for quilters, including the AcuFeed system. AcuFeed: Layered Fabric Feeding System ensures your sewing and quilting are even, smooth and precise on all types of fabric. The AcuFeed foot is integrated with a unique seven-point feed dog system, so your fabric is guided perfectly from the top and the bottom. AcuFeed is a unique and innovative feature - once you try it you'll wonder how you ever lived without it!
It's the first Janome with the AcuFeed: Layered Fabric Feeding System. It has the speed and professional features to take you to the next level of sewing.

Precision & Control
The AcuFeed: Layered Fabric Feeding System perfectly guides your fabric from both the top and bottom. Only Janome integrates a built-in walking foot with a unique seven-point feed dog structure to insure your sewing and quilting is even, smooth and precise on all types of fabrics and in all kinds of applications.

Look At These Exciting New Features

Start/Stop button

Favorite stitch settings default

Dual sewing lights

Enhanced screen clarity

More stitch details

Plus You Get All These Favorites

The largest arm and bed space of any household machine: 9" x 5"

Stitching speed of up to 1000 spm

Automatic thread cutter

Independent bobbin winder

Knee lifter

Hundreds of beautiful decorative and quilting stitches plus two lettering fonts and seven buttonhole styles

Extension table included

163 Stitches in 4 modes

7 one-step, sensor buttonholes

Block and script monogram stitches (60 characters)

AcuFeed: Built-in layered fabric feeding system

Enhanced backlit LCD screen with more stitch details

Start/stop button

Favorite stitch settings default

Maximum sewing speed: 1000spm/Straight; 700spm/Zigzag

Automatic thread cutter, with memory capability

Speed control lever

Arm and bed space: 9" x 5" (225mm x 120mm)

Visible pressure gauge

Jam-proof, magnetic, top-loading, full-rotary hook system

Independent motor for bobbin winding

External feed balancing dial

7-point feed dog

Front access feed dog up/down control

Adjustable stitch width from 0 to 7mm

Adjustable stitch length from 0 to 5mm

Individual stitch editing

Combination stitch editing

Elongation

Turn over memory

Recall memory bank

Resumption set/last stitch recall

Auto-lock, Lock-a-matic, and needle up/down quick command keys

Vertical thread delivery system with dual thread guide bar

Built-in needle threader

71 needle drop positions (including 15 left to right needle positions)

Extra-high presser foot lift

Twin needle guard

Knee lifter

Extended seam allowance guide

Beep indicator shut-off

14 standard feet

Large extension table

10 languages available on-screen

Electronic foot control

Sewing light

Soft dust cover

Weight: 26.5lbs. (12 kg)

Stitches


MC6600P Brochure.pdf

Extended US Warranty: Extended Warranty Available
Specifications
Horizontal Full Rotary Hook Model

Machine Body: Arm & Bed Partially Modified

Folding Handle (Short)

Machine Size: W 19.5 x H 11.8 x D 8.6 inches

Arm Space: W 8.8 x H 4.7 Inches

Machine Weight: 24 lb

Electronic Foot Control and Start/Stop Button

Maximum Speed: Straight: 1,000 spm; Zigzag: 700 spm;
Start/Stop button: 700 spm

Auto Thread Cutter

7 pcs. Feed Dog

Upper Feeding System

404 Total Stitches Including Buttonhole and Monograms

150 Total Built-in Stitches Including 7 Buttonholes

Monogram: 67 Alphabet & Number; 60 European in 2 Fonts (Block & Script)

Feed Balance on S.S. & BH

Adjustable Zigzag Width

Maximum Zigzag Width: 7 mm

Adjustable Stitch Length

Maximum Stitch Length: 5 mm Forward & 5 mm Reverse

Stitch Selection: Ten-Key, Direct & Quilting Modes

Stitch Indication on LCD, Improved Screen Layout

Tension Dial: Manual Beehive Type

Bobbin Winder: Independent Motor

Lever Drop Feed Device

Snap on Presser Foot

Foot Pressure Adjustment: Adjusting Screw with Indicator

Built-in Needle Threader

Thread Cutter on Face Plate

Bobbin Winder Thread Cutter

Pop-up Hook Cover Plate

Slited Thread Take up Lever

Industrial Spool Stand

Dual White LED Lamps

Start/Stop button

Speed Control Slider

Needle Up/Down Key

Lock Stitch Key

Reverse Feed Key

Auto Stop at End of Buttonhole

Memory Function: Memorable Between the Modes

Turn-over Stitch & Reduction of Monogram

Editing (All At Once/Individually)

Memory Recall/Previous Setting Recall: 5 Memory Banks

Customized Setting Function: Width & length of BH & Direct Selection Mode

Buzzer Sound Level Adjustment: 4 Levels

9 Language Selection

Elongation

Auto Thread Cutter Key

Help Key

Knee Lifter

Presser Foot Lifter at the Back of Presser Bar (with Sensor); Two Step

Extension Table: W 600 x D 400 mm

Dust Cover (#846806)

3 Feet for Upper Feeding System

Optional Needle Plate (SS) for 7 Piece Feed Dog



If you have been asking yourself, "What sewing machine should I purchase?", "What brand of sewing machine is good for beginner?", "What is a good sewing machine?", "Where should I buy a sewing machine?", "How do you know what sewing machine to purchase?", then you should watch this video.

Included Accessories
Standard Accessories:
7mm Zigzag Foot A (comes attached to the machine)

Overedge Foot C

Rolled Hem Foot D

Zipper Foot E

Satin Stitch Foot F

Blind Hem Foot G

Cording Foot H

Overcasting Foot M

Automatic Buttonhole Foot R

Screwdrivers (2 sizes)

Set of Needles

Lint Brush

Seam Ripper

Spool Holder (Large)

Spool Holder (Small)

Bobbins

Quilting Bar

Basting/Darning Foot P-2

1/4" Seam Foot O

Open Toe Satin Stitch Foot F-2

Cloth Guide with Screw

Quick Reference Chart

Instruction Book

Power Supply Cord

Foot Control

Accessory Box

Knee Lifter

Dual Feed Foo

Extension Table
Other Images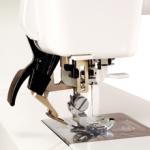 AcuFeed: Layered Fabric Feeding System
It perfectly guides your fabric from both the top and the bottom. Only Janome truly integrates its innovative AcuFeed foot with a unique seven-point feed dog system
163 Stitches with On-Screen Manipulation
ensuring all fabrics move smoothly – even thick layers of quilting fabric and batting.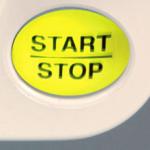 Start/Stop Button
Choose from dozens of decorative and quilting stitches. With its enhanced screen clarity and additional screen detail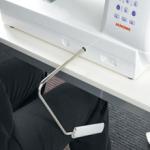 Knee Lift
all the stitches are easier to choose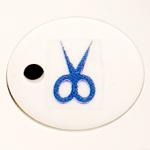 Automatic Thread Cutter
customize and save into memory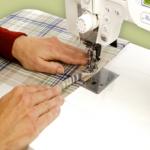 Wide Open Spaces
When you're doing those long seams or you've dropped the feed doges to do free motion quilting over a large area
Bundle & Save
Get additional savings when you purchase any of these items along with this product.