Includes

INCLUDED: Reliable MSK-3314N-CF7-40H 2Needle 3-4Thread Serger SS Semi Submerged* Table Stand

INCLUDED: Reliable i25 Steam Boiler Stand on Caster Wheels for i700 Steam Boiler, Made in ITALY
Includes:
Reliable™ MSK-8900M Single Needle Drop Feed Sewing Machine
Reliable™ MSK-755 Full Size Industrial Blind Hem Stitch Sewing Machine
Reliable™ MSK-3314N-CF7-40H 2-Needle 3-4 Thread High Speed Mock Safety Stitch Industrial Serger
Reliable™ i500 Steam Boiler
Reliable™ i700 Stainless Steel Steam Boiler
Reliable™ i24 Stand on Wheels
Reliable™ i25 Boiler Stand with Wheels
Reliable™ 624HA Professional Heated Vacuum Pressing Table with Standard Swing Arm & Sleeve Buck
MSK-8900M Features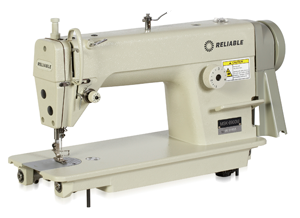 Stitch Dial Regulator provides a simple adjustment (0-5 mm) for the length of the stitch.


Reverse Lever Mechanism allows you to create perfect back tacks with ease.


SewQuiet SQ5000 is included, powering your machine with Reliable's industry-leading, energy-efficient, smooth-running and all-around best DC servomotor. 75% more energy efficient than traditional clutch motors, it's also super quiet while providing the dependable power your work requires.


Each MSK-8900M is individually sewn-off and tested before it leaves our factory. Great care is taken in preparing each and every machine so when you plug it in you know it will sew right out of the box.


The MSK-8900M comes complete with everything you need to get started; tool kit, drawer, a high quality commercial stand with variable speed foot controller, instructions and a trouble shooting guide to help first time users.


Model: MSK-8900M

Motor (included): SewQuiet SQ5000 DC Servo motor

Maximum sewing speed: 5,000 rpm

Stitch length: 0-5 mm

Needle bar stroke: 31.8 mm

Pressure foot lift: By hand 6 mm, By knee 13 mm

Needle system #: 16 x 257

Feed dog: 3 rows each

Hook type: Rotary - auto lubricated

Lubrication: Automatic

Stitch Dial Regulator: Yes

Reverse Lever: Yes

Warranty: RELIABLE™ 1 Year Warranty

Best used for:

Pants, skirts, dresses

Drapery

Woven and knitted fabric

Any light - medium weight sewing tasks

Download MSK-8900M Instructions Here (.pdf)


MSK-755 Features


The MSK-755 industrial blindstitch sewing machine with skip-stitch function is easy to use and is ideal for garment manufacturer's, drapery workrooms and alteration shops.


The skip stitch feature with 1:1 - 2:1 dial is essential for sewing lightweight fabric such as sheers.


The MSK-755 is also equipped with a dial to adjust the needle penetration from light to heavier weight material.


True skip stitch function with chain-off finger* (*required for drapery sheers and other light work)


Simple to use - easy to operate

Adjustable stitch penetration for various types of fabric

Automatic tension release for easier removal of the fabric

Adjustable thread tension

Swing-away plate for for sewing flat pieces (drapery)

Warranty: RELIABLE™ 1 Year

Best used for:

Pants

Skirts

Dresses

Drapery


MSK-3314N-CF7-40H Features


The MSK-3314-CF7-40 is easy to thread and easy to use. It produces a soft seam, even at high speeds. It's ideally suited for light to medium weight fabric, both knits and woven goods.


Differential feed

Stitch length regulator

Fully automatic lubrication

6,500 rpm

North American made semi-submerged table (20" x 48") and K-leg stand, plus 1/2h.p. motor included

Warranty: RELIABLE™ 1 Year

Best used for:

Ladies men's and children's wear

General serging applications

Woven and knit fabric

Light to medium weight fabrics


i700 Features


Steam Boiler
Stunning design, coupled with outstanding performance separate the stainless steel i700 boiler from the rest of the competition.

Ideal for use in a tailoring shop, sewing workroom, or in a factory environment, the i700 is an extremely versatile boiler. All of the convenience features are standard to make your job easier: a 9 liter water capacity in a stainless steel tank, blow down function, back up replacement element, low water level indicator, quick disconnect for the steam and electrical connection, and of course, Reliable™'s trusted reputation for building quality, long lasting equipment.


Electric Iron
The i30/120V, 3.9 pound industrial iron, has a diecast aluminum plate with 32 steam chambers. There is no condensation even with an extra long steam hose.

Hook it up to our i700 boiler, or with any ironing system that uses a solenoid steam release valve.

The i30/120V comes complete with a 7 foot length high performance silicone steam hose, high temperature iron rest and of course, Reliable™'s trusted reputation for building quality, long lasting equipment.


The i700 requires the iron i30/120V.

Made in Italy


Professional quality components – built to last
Reliable understands that the quality of a boiler/iron is only as good (no matter how nice it looks) as what is inside it. This is why we use 12-gauge wiring throughout, a ceramic (not plastic) terminal block, Teddington pressure control and an all stainless steel steam tank to eliminate the chance of rust.


Automatic shut-off – with light indicator
A sensor on the element automatically detects when the water level is low, and shuts itself off. A light will come on, telling you it is time to refill the tank.


Regular tap water
The i700 is easy to use and to operate. Simply fill it up with regular tap water, plug it in, and in 20 minutes you will have beautiful dry steam.


Convenient – one step cleaning process
The easy one step cleaning process helps you keep the steam vessel free of hard minerals that would otherwise damage the boiler.


Built-in spare element
The i700 is the only commercial boiler with a spare element built into every unit. If for any reason the element stops working (if it is run without water for example) simply switch the wiring to the spare element and you are back in business.


Pressure gauge feature
All Reliable™ Steamer boilers have a built-in pressure gauge so you don't have to guess what the operating pressure is. This is an important safety feature, and one you will not want to live without once you have used it.


60 P.S.I. operating pressure = DRY STEAM
Others promise dry steam, but our i700 delivers the driest steam in the industry with a regular operating pressure of 60 P.S.I.


Professional steam iron
The unique iron that comes with the i700 has a labyrinth system that separates the water from the steam, guaranteeing dry steam.

Product Brochure - PDF


i24 Features


Convenient & durable stand on wheels to hold the i300 or i500

i25 Features


Convenient & durable stand to hold i700 Reliable™ Boiler

On wheels for fast and easy mobility or storage

624HA Features

The combination of strong vacuum, build quality, performance and value separates the 624HA from the competition.

Our 600 series vacuum pressing tables are equipped with the industries strongest (for fast drying time) and fastest (no waiting for the motor to rev up) 0.8 h.p. vacuum motors.

Standard features include an exhaust chimney for the hot air, high-quality pad and nylon cover to ensure strong vacuum, and a built-in heating element to assist drying and ensure long life.

The 614HA vacuum table comes complete with a swing arm and sleeve buck for those looking for maximum flexibility.


0.8 h.p. vacuum motor

Sleeve buck and swing arm included

Built-in heating element

Long-life pad and nylon cover, iron pad

Useable from either side of table (right or left side)

Catch tray for longer garments

Best used for:
Skirts, blouses, dresses and shirts
Children's clothing
General touch-up work

For Reference Only: Installation and Operating Instructions for US Blindstitch Machines
Manufacturer's US warranty 1 year parts, 90 days labor on defects in materials and workmanship.
Non-US Warranty: To view the warranty for this combo, please view specific warranty information on the individual product pages.
Specifications
MSK-8900M Specifications
Model: MSK-8900M
Maximum sewing speed: 5,000 RPM
Stitch length: 0-5 mm
Needle bar stroke: 31.8 mm
Pressure foot lift: By hand 6 mm, By knee 13 mm
Needle system: # 16 x 257
Feed dog: 3 rows each
Hook type: Rotary - auto lubricated
Lubrication: Automatic
Stitch dial regulator: Yes
Reverse Lever: Yes
Warranty RELIABLE™: 1 Year Warranty


MSK-755 Specifications
Model: MSK-755
Maximum sewing speed: 2,500 rpm
Stitch length: 0-8 mm
Cylinder diameter: 58 mm
Pressure foot lift: By knee 8 mm
Needle system: # 29BL (LW6T)
Lubrication: Manual
Skip stitch function: 1:1 - 2:1 true skip stitch
Dimensions - head: 17" x 19" x 13"
Weight - net: 45 lbs
Shipping dimensions: 40" x 50" x 14"
Shipping weight: 200 lbs
Warranty: RELIABLE™ 1 Year Warranty


MSK-3314N-CF7-40H Specifications
Model: MSK-3314-CF7-40H
Maximum sewing speed up to: 6,500 rpm
Stitch length regulator up to: 3.6 mm
Needle gauge: 2.0 mm between needles
Overedging stitch width: 4.0 mm
Differential feed ratio: 1:08-1:19
Needle bar stroke: 25.5 mm
Needle system: # B27
By hand: 6.5 mm
Lubrication: Fully Automatic
Dimensions - head: 15" x 18" x 20"
Weight - head: 70 lbs
Dimensions with stand: 40" x 50" x 51"
Shipping weight w/stand: 200 lbs
Warranty RELIABLE™: 1 Year Warranty


i500 Specifications
Model: i500
Electrical: 120V
Water capacity: 2.5 Liter (.66 U.S. gallons)
Operating pressure: Up to 3.44 bar (50 P.S.I.)
Elements: 1 - 700 watt
Power consumption: 12 Amps
Tank construction: Stainless steel
Low water indicator: Standard
Steam connector type: Quick release
Electrical approval: Entela
Standard PG036/6 steam gun
Weight: 20 lbs (9 kg) with iron
Note: We are pleased to announce that the Reliable i500 Ironing Station has been updated. The new model features a RESET button that protects the heating element and will prevent it from burning out and comes with an updated, modern stainless steel exterior. And of course our exclusive Lifetime boiler tank warranty. The new i500 replaces the old model shown in the picture on this page..


i700 Specifications
Model: i700
Electrical: 120V
Water capacity: 9 liter (2.37 U.S. gallons)
Operating pressure: 4 bar (60 P.S.I.)
Elements: 2 - 1,200W each(1 spare)
Power consumption: 12 Amps
Tank construction: Stainless steel
Low water indicator: Standard
Blow down valve: Standard
Steam connector type: Quick release
Electrical approval: Entela
Weight-net: 31 Lbs


624HA Specifications
Model: 624HA
Electrical: 110V
Heated pressing surface: Standard
Functions: Vacuum only
Power consumption: 10 amps
Pressing dimensions: 43" x 13.8"
Pedal: Left or right hand use
Iron rest: Standard
Swing arm and buck: Standard
Shipping dimensions: 16" x 60" x 24"
Weight: 175 Lbs
Warranty: RELIABLE™ 1 Year Warranty