We are pleased to announce the introduction of our latest Empressa steam press, the S550 with advanced LED display.
The new LED display allows the user to see the exact temperature of the steam press, and the scrolling LED's let you know that the desired temperature is being reached.
Like its predecessor (S500), the pressing surface on the S550 is a whopping 34" X 11", over 10 times larger than most hand held irons. Pressing with the S550 can reduce ironing time by up to 70%.
NOTE: Effective immediately, all Reliable S550's will be shipped with a new all metal mesh pressing plate, instead of wood pressing board. Only Reliable uses an exclusive metal mesh plate for the bottom-pressing surface. We use metal because unlike wood, it will not warp. But most importantly, the steam coming from the head will no longer get trapped in the wood press plate. This reduces condensation, and along with an improved one-piece pad cover set with thick felt padding, greatly improves the pressing performance of the S550.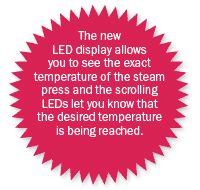 The revolutionary digital S550 will change the way you do your ironing. Imagine pressing your clothes without all the work!
The pressing surface on the S550 is over 10 times larger than most hand held irons. Pressing with the S550 can reduce ironing time by up to 70%
For dressmaker's, you can even use the S550 as a mini-fusing press. Its even heat and quick burst of steam is great for setting fusing on collars cuffs, jacket fronts etc.
Standard features include a powerful burst setting for stubborn wrinkles, digital temperature control, safety alarm with auto shut-off, and of course, our trusted reputation for building quality, long lasting equipment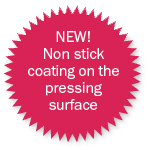 Digital temperature control

34" x 11" pressing surface

10x large pressing surface than regular iron

Safety alarm and auto shut-off

Powerful bursts of steam

Childproof safety lock

Hi-Tec™ woven press cover with pad

Accessory kit - pressing cushion, spray and water bottle

Best used for:
Home - clothing all types, linens, uniforms, fusing fabric

Uses a metal mesh plate which is extremely important when you get into the larger presses (particle board will warp over time).



Reliable Warranty Information (.PDF)

Note: Home Ironing Board Presses have 100 pounds pressure between upper iron plate and lower ironing board. Pressure is less at ends of the boards, depending on press width, fabrics and garments.
Clamping mechanisms are in the middle of the press and lose some pressure at the ends You can equalize the pressure using press cloths at one or both ends. We have few complaints in 38 years. It is not a problem on shorter boards like Elna. Miele and Singer rotary presses are best for equal pressure. John.Douthat@AllBrands.com, Owner and Tech.
US Warranty 1 year parts, 90 days labor on defects in materials and workmanship.
Non-US Warranty: 30 days parts and labor
Specifications
Model: S550

Electrical: 110V

Element: 1350W

Pressing surface: 34" x 11"

Maximum temperature: 330ºF

Water tank: 450ml

Temperature control: Digital control

Automatic shut-off: Standard

Automatic wake-up: Standard

Electrical approval: cETLus Listed

Weight - net: 28 lbs

Net dimensions: 34.75 x 23" x 9"

Shipping dimensions: 37" x 10" x 25"

Shipping weight: 39 lbs

Warranty: Reliable™ 1 Year Warranty
Included Accessories
Power Cord

Cotton Cover

Pressing Pad

Water Container

Hold Down Bolt

Instruction Book

Warranty Information
Other Images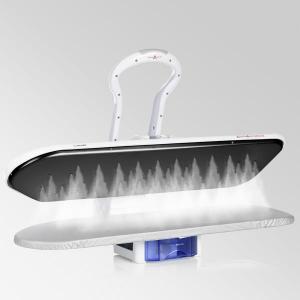 10x PRESSING SURFACE
With a pressing surface that is 10x larger than a conventional iron, the 34" x 11" steam head produces more steam than any other steam press.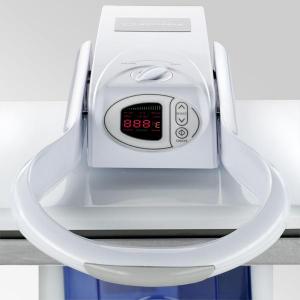 DIGITAL LED ACCURACY
The S500 has an easy to use digital LED thermostat that does a great job ensuring that the fabric temperature you set is the temperature that the fabric will see.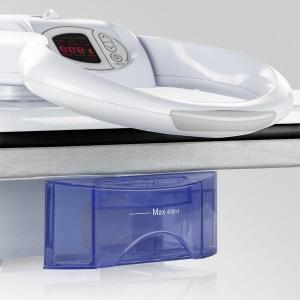 LARGE WATER CAPACITY
The S550 has an extra large 450ml water tank, so you'll spend less time refilling.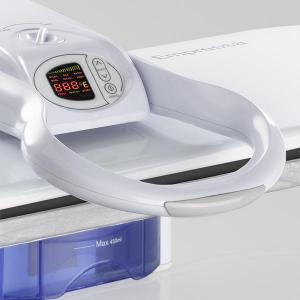 ERGONOMIC HANDLE
The S550 uses an easy to grip ergonomic handle, with the steam button in the centre. When the handle is lowered, a gentle squeeze will activate the steam.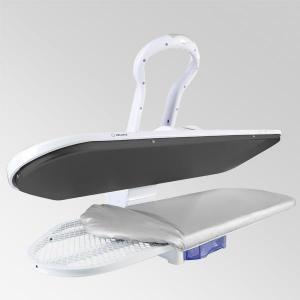 METAL MESH SCREEN PLATE
To guarantee against warpage, we use an exclusive metal mesh screen bottom pressing plate instead of conventional pressboard.
Essie, Colorado
All parts of the order were delivered faster than I expected.

Mike, Alberta, Canada
I'd been sending my shirts out because I like the quality of the dry-cleaned look. Shocked at how rapidly dry-cleaning reduced the life of my shirts, my expectation of the S550 was a device that would produce dry-clean quality pressing in a fraction of the time of pressing with a hand-held steam iron. Short version of things is that even as I became proficient at using the S550, it was still taking me 7-minutes to press a shirt completely; same as a hand-held (but better quality results), but still too long for me. I already had an upright garment steamer; what I didn't like about it was the poor results on cuffs, collars and the button-hole strips. So I now use the S550 for pressing cuffs, collars and the button-hole strips and the upright steamer for the rest of the shirt; this way, I can complete a shirt in 3 - 4 minutes. To be fair, upon closer look, dry clean shops use one press for the large shirt panels, a separate press for sleeves and collars and often hand-press the yolks/shoulders. Putting aside my failed expectations of the S550, as the machine alone goes, it appears to be of high-quality for a consumer-grade steam press. Specifically: • it heats up to 400° in about 20 minutes • Delivers well-distributed steam • The digital panel is easy to use What could be better: • The steamer plate (top) only opens 45° making it difficult to handle a garment without burning your hand. I wish it opened 90°. • Also because of this, it makes positioning the garment very difficult. This is why it takes so long to press a shirt. Would I recommend this press? It depends on your needs. In hind-sight, just for pressing cuffs, sleeves, and button-hole strips I would still buy a steam press, but I would buy the smallest, cheapest one I could find.

Lena, Canada
Thank you very much! Excellent service!!!

Mary Alice, Michigan
So far everything that I have purchased from you has been shipped expeditiously and has been as promised. Your prices are in line with other on-line vendors.

Jose, California
Great service....

Jose, Texas
Thank you

Helga, Texas
I have previously purchased from AllBrands with total satisfaction. It is a pleasure doing business with a company like Allbrands.

Doyle, Alabama
Love doing buisness with you guys. Order came quickly. I was impressed.

Martha, Indian Wells, CA
I WAS INTERESTED IN AN ELNA PRESS, BUT IT WASN'T AVAILABLE TO BUY THRU THE INTERNET. YOUR SALES MANAGER RECOMMENDED THE EMPRESSA AND I AM THROUGHLY DELIGHTED WITH IT. THANK YOU FOR THE QUICK RESPONSE. I WILL CERTAINLY CONTINUE TO USE YOUR COMPANY.


Bundle & Save
Get additional savings when you purchase any of these items along with this product.