220V Option backordered until mid May 2017
Energy saving task lamp for desks, tables, sewing cabinets, embroidery machines and many other applications. Replaces the Uberlight single bulb Halogen Uber 7000 models
*Note: to use this dual voltage ÜberLight with 220V power source, just cut the 110V flat prong plugs off the end of the power cord and replace with a local plug.
If you own or operate a sewing machine, are a bench technician, a hobbyist, craftsperson or simply anyone who depends on quality lighting to be able to see your work, we are pleased to introduce you to the next generation in task lighting from ÜberLight. The quality of the light from its 28 LED bulbs is nothing short of astonishing. And the best part is that the 8000 series is 99% energy efficient and has a bulb life expectancy of up to 60,000 hours.
A revolution in lighting. The überlight 8000 series is a new generation LED task light from Reliable Corporation.
28 LED bulbs and advanced circuitry
Our 8000 series light fixture uses 28 LED (light emitting diode) bulbs, and advanced circuitry to produce a beautiful "white" natural light that is very easy on the eyes and reproduces colors as they truly are.
60% less heat than halogen bulbs
For tasks that require a concentrated amount of light, without generating heat (60% less compared to halogen), and impervious to vibrations (there is no filament like incandescent or halogen bulbs), the 8000 series is the perfect choice.
Up to 60,000 hours of use
LEDs are simply the most efficient lighting source in the world. They are the most energy efficient, they produce the least amount of heat, and they last the longest. Plus the light they produce is as bright as it is brilliant. Nothing else even comes close.
99% energy efficient
The life expectancy of our LED bulbs is up to 60,000 hours. Compared to traditional bulbs, our 8000 series is up to 99% energy efficient.
Portability with c-clamp
The 2000TL 8000C is easy to install and set-up, and is suitable for any 110V or 220V electrical outlet.
Life expectancy of up to 60,000 hours

28 bulbs

Works on 120V

Tabletop mounting with c-clamp

Superior quality - flexible tubing

Heavy-duty swivel joint

Neck is about 26" long (66 cm)

Reliable Warranty Information (.PDF)
US Warranty 1 year limited warranty on defects in materials and workmanship.
Extended US Warranty: Extended Warranty Available
Non-US Warranty: 30 days parts and labor
Specifications
Model: 2000TL Replaces Same 8000C

Electrical: 120V

Type: Table mount with c-clamp

Number of bulbs: 28

Diameter of fixture head: 72 mm

Bulb brightness: 2500 - 3000 mcd

Heat generated: 10ºC vs. 60ºC for halogen

Power consumption: 0.2W

Bulb life expectancy: 60,000 hours

Electrical cord: UL Listed

Box dimensions: 43.5 x 23 x 7.5 cm

Master carton: 46 x 43.5 x 35 cm

Shipping weight: 1.6 kg

Master carton weight: 16.5 kg

Warranty: Reliable™ 1 Year Warranty

Other Images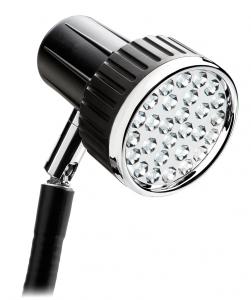 Reliable ÜberLight 2000TL Task Lamp 28 LED Bulbs Table Clamp 110V/220V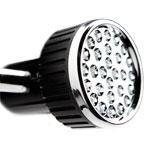 Specially made fixture head to reduce glare.
Having great light is one thing. Having great light shining in someone's eyes as they are walking by is something altogether different. When designing the fixture head on the 8000 series, the main challenge was dealing with the phenomenal quantity of light that the 28 LED bulbs produce. Our solution was a unique honeycomb lens cover that insets the bulbs by 5 mm so there is no chance of the light shining in a passerby's eyes.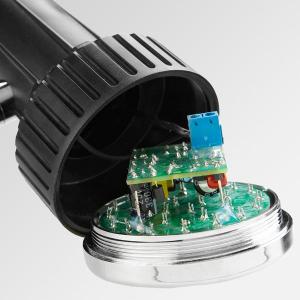 AC > DC circuit board replaces transformer.
Each ÜberLight 8000 series light has our AC > DC current converter that takes the AC from the 28 LED bulbs, and converts it to DC wall current. Unlike halogen lights, there are no transformers required on the 8000 series lights.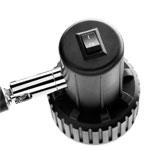 On/off switch mounted on head.
To turn the light on and off, there is an on/off switch mounted on the rear of the fixture head.
Equipped with moveable c-clamp.
The ÜberLight 8000C is secured to a surface of your choosing with the supplied c-clamp. To install or remove takes seconds. The clamp is made from commercial grade metal, so it can be moved around without compromising its strength.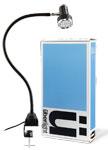 UPS ready shipping box.
Each ÜberLight 8000 series light is shipped in a strong, UPS ready shipping box.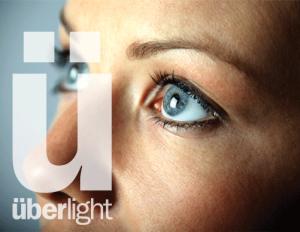 Uberlight Logo
Bruce, Australia
We are particularly impressed with the light. Thanks

Garry, Iowa
lights, 1 didn't work. Your CSR was very good and the malfunctioning light was replaced in just a few days, arriving just 1 day after the bad light was picked up. Very happy with the service and the product.

Christina, Ohio
The light is magnificent, the customer service stellar and am continue to be delighted with AllBrands. Thank you!

Christina, Ohio
I wanted to post a review of the light I purchased but I do not see the "full spectrum" Uberlight listed. Nevertheless, it is a magnificent light. My stars, I had no idea my sewing machines' lights were so dim until I turned on this sturdy lamp. Goes beautifully with the Juki TL-98Q I purchased from you. My thanks to you all for stellar customer service and always having the best prices.

Shantelle, Colorado
Wonderful service as always!

Larry, Kansas
I have purchased form Allbrands previously. Will continue to do so in the future.

Karen, New Jersey
Through a referral from an online forum, I was recommended to purchase the LED light. The price was best all around. The product arrived 4 days later. I'm very very happy with the quality of the product. The gooseneck was very strong for craft use. Better than $160 LED light. Overall, very pleased w/ the purchase and will definitely buy from you guys again.

Kris, Michigan
The item shipped very fast and was of a higher quality than I expected. Originally I was not sure of the price as it seemed high. Then I received the item and physicaly saw the quality of the item. It was well worth the money.

Susan, Texas
Absolutely great service. Shipped as promised and received in great condition. LOVE this light!


Bundle & Save
Get additional savings when you purchase any of these items along with this product.