*Bonus Extra C6A Cordminder Iron Cord Holder, Galvanized Steel Mesh Top, Tubular Steel Legs, 30 to 38" Height Adjustments, Garment Holding Tray Underneath, Iron Rest Rack at One End, Big Super Board Extension Expands Ironing Board to 18.9"x55"
Extra heavy-duty tube framed construction. Made the way ironing boards used to be made – making it more stable & easier to use than any other ironing table currently available
2-In-1 Home Ironing System
The Longboard is the world's first and only 2 in 1 home ironing table. It features a generous ironing surface for regular ironing and an extension piece for oversized pieces like tablecloths and linens. A snap to install, the extension's shape is also ideal for the dedicated quilter or knitter.
What comes with?
Each Longboard comes with two cover pads. For peace of mind, there is a heat and fire resistant insert at the end of the oversized cover so you can rest your iron on it directly.
An ironing table that is built to last.
Like all Reliable™ products, the Longboard is built to last. A treated galvanized work surface is covered with a mesh screen ensuring maximum passage of steam. Each unit is also equipped with a catch tray and a support that holds a steam station or a stand-alone iron. You may be buying one ironing table to last you a generation... maybe even a lifetime. Why not buy it once, and buy the best?
Large 18.9" x 47.25" working surface for regular ironing

Extra large 18.9" x 55" working surface for quilting, knitting and tablecloths

2 – Ironing cover/pad sets

19" x 55" pad & cover set with heat & fire resistant material for your iron to sit on at the end

19" x 47" high performance one-piece cotton cover set with 500g felt padding

Extra heavy-duty construction

White hard coat finish with rust prevention treatment

Height adjustable - 30" - 38"

High performance cotton ironing board cover

Individually shrink wrapped and packed in a corrugated box with double polystyrene protection

End trap supports an iron or an iron steam generator

Reliable Warranty Information (.PDF)
US Warranty 10 years on materials and workmanship
Non-US Warranty: 30 days parts and labor
Specifications
Model: Longboard - C60LB

Fabrication: white hard coat finish, anti-rust treated

Cover sets: 2

Catch tray: Included

Iron tray: Steam station or regular

Height adjustment: 30" - 38"

Pressing dimensions: 18.9 x 55" (with extension)

Pressing dimensions: 18.9" x 47.25" (w/out ext.)

Folded dimensions: 18.9" x 3" x 67" (with ext.)

Folded dimensions: 18.9" x 3" x 60" (w/out ext.)

Shipping dimensions: 20" x 65" x 4"

Weight: 31 lbs
Other Images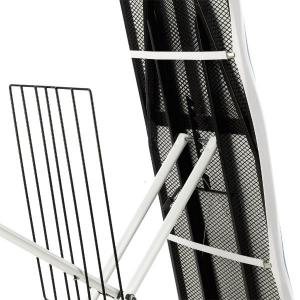 Extra secure fit.
The new Longboard C60LB features a new double strap system to ensure the entire length of your Longboard cover is flat and secure.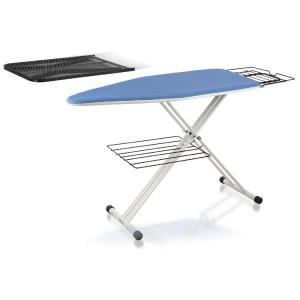 Unique 2-in-1 design.
The Longboards™ sliding extension table allows for a quick change from the regular table to the Longboard™ table... allowing you the flexibility to use the board the way you want to.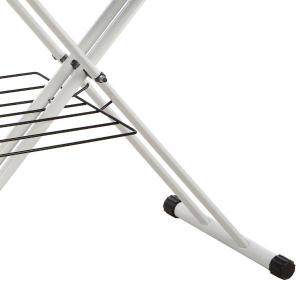 Double wishbone legs for added strength.
We start with the best frame you can buy. But a truly great ironing board also has to have double wishbone legs for the best possible stability. The legs on the Longboard™ have been carefully crafted using the finest quality steel, and finished with a lead-free, high coat white finish that will continue to look great for many years.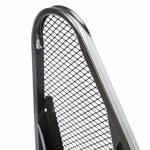 Tube frame construction.
An ironing board's quality is decided first and foremost by the way the frame is made. At Reliable Corporation we use tube frame construction for our Board™ and Longboard™ tables. Why? It's simple. While it takes longer to manufacturer, and literally has to be made by hand, a tube frame table produces the most stable ironing board you can buy. A stable ironing board will be easier to use, and will last for many, many years. It's worth the investment in quality.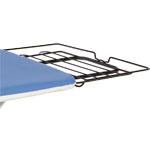 Iron or ironing station... the choice is yours.
The Longboard™ comes with an iron tray that can be used for an iron or an ironing station. To ensure longevity, we rivet the tray directly to the underside of the table so it can easily handle the weight of an ironing station with water.
Lauren, California
i finally found a real ironing board to replace my 25+ year old (american) board.... unfortunately, the ironing boards i found locally were like toys and very low quality. :-( on the other hand, italians take ironing seriously.... i should know, i have an italian mother in law and a lot of linens to press properly. thanks!

Geraldine, California
My new board arrived in fast time. Thank you so much for the fast service. I do love that ironing board.