The Diamond Club provides members with collections geared towards embroidery. These collections range from vintage looks to tile scenes, and can be used to embellish clothing, home decor, and much more.
What do you get when you join the Anita Goodesign Diamond Club?
1. 10 Free Collections & 1 Premium or 2 Special Editions or 2 Full Collections
2. FOUR Exclusive Bonus Collections every year
3. A Starter Kit that includes:
15 Past Bonus Collections, 767 Bonus Collection, Steve Wilson Private Collection, Membership Pin
Learn how to make new and unique projects every month with easy to follow tutorials and project photos.
Get the latest news, FREE design downloads and promotions with your own exclusive "members only" web access!
You can SAVE over 63% on Anita Goodesign collections TODAY by becoming a member!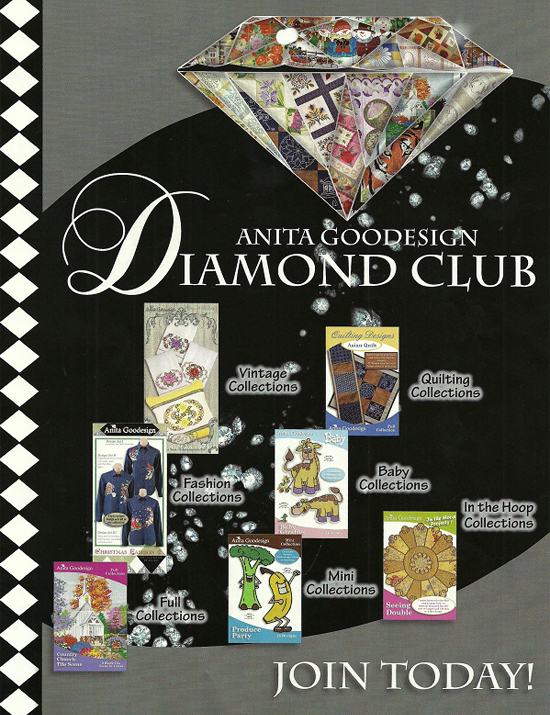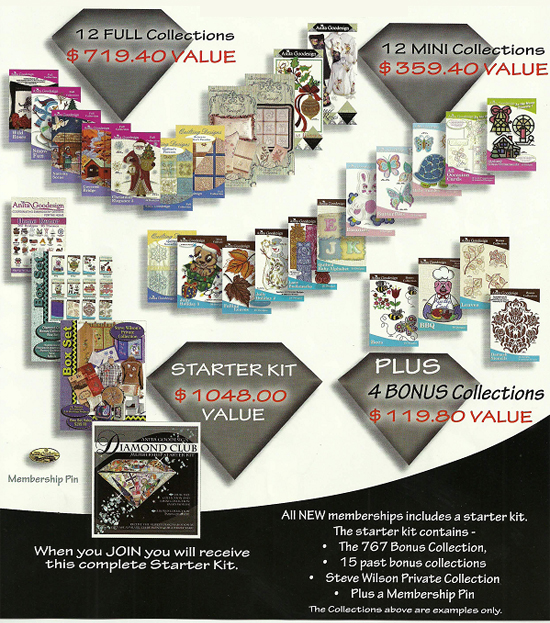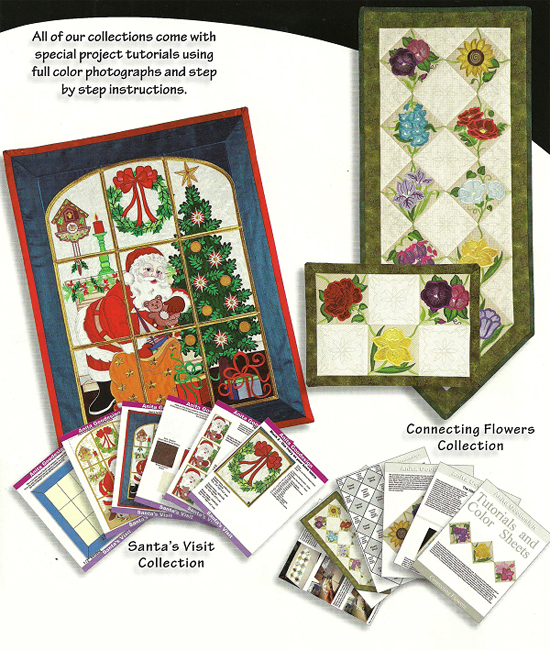 Anita Goodesign is the leading design company in the home embroidery and quilting industry, offering the absolute best in embroidery, quilting, easy in-the-hoop projects, and educational programs.
Every month, we release at least 6 brand new collections. Two are embroidery-based design collections, two are quilting collections, and two are fun, in-the-hoop projects. The 6 monthly releases are categorized as Full or Mini collections depending on the number of designs in each. Full collections contain 20 to 40 designs. Don't worry, even our Mini collections include over a dozen designs! In addition to our 6 monthly releases we create larger collections throughout the year. Whether it's a Special, Premium, or Premium Plus, these feature full color printed tutorials – many contain over 200 designs! In addition, many of these larger collections include multiple techniques. This allows you to enjoy embroidery, quilting, and easy-to-make projects all from one collection! What would the use be in producing these beautiful designs and not providing detailed instructions to help you complete them? Each of our design collections comes with easy to understand tutorials, including photos and step-by-step directions to guide you through each project. Whether you are a beginner or an expert, discover just how great they are for yourself!
We create cutting edge embroidery designs and are constantly exploring new ways to push our designs and projects further. Our monthly embroidery collections explore a range of techniques, including organza as applique and adding burlap into tabletop candleholders. Tired of wasting time, money, and fabric with traditional quilting methods? We have made it much easier with our monthly quilting collections. Our quilting has all of your stippling and free motion patterns already built into the design so that your entire block is completed in the hoop! With our Mix and Match line, you have over 100 quilting collections to choose from to mix and match, allowing your creativity to soar! Our monthly project collections are fun and practical. They feature exciting, in-the-hoop projects, showing you how to create a range of useful to whimsical projects, including handle wraps for kitchen appliances, quilted purses, lined zippered bags, and a magical princess dream house
Are you wondering how you can receive all of these monthly releases and more at tremendous savings? Join an Anita Goodesign club today! Whether you enjoy embroidery or quilting, or simply want it all, we have a club that is right for you! Our club programs have been around for over 10 years, and our goal has always been to make them better. Our Diamond Club, Quilting Club, and Platinum Club offer some of our monthly releases at a great discount. But we didn't want to stop there! We wanted to make the best club program available, so we asked our customers what they wanted. They said, "We want it all!" And that's exactly what you get with our All Access Club!
US Warranty 30 days replacement if defective.
Non-US Warranty: 30 days parts and labor
Included Accessories
WHAT'S INCLUDED
1 Full Collection and 1 Mini Collection per month
1 Bonus Collection per quarter
120+ retired design collections included in the membership kit