Juki MO-6743 3 Needles DCx27 Size 11, 6 Thread Positions, 6.5mm Presser Foot Lift, 0.8-4mm Stitch Length, 4.8-6.8mm Needle Gauge Stitch Width, 0.7-1.2 Differential Feed Ratio, Power Stand 7000SPM, Auto Oil, 100 Needles
*100 Extra Organ Japan B27, DCx27 PD Perfect Durability Titanium Coated Sewing Machine Needles 100 Per Box, Packs of 10 Each for Juki MO & Industrial Overlock Sergers
Juki MO-6743 machine comes with a needle-thread take-up mechanism as well as a looper thread take-up mechanism. Upgraded responsiveness from light- to heavy-weight materials with a lower applied tension.
The machine incorporates various mechanisms as standard, such as a differential-feed micro-adjustment mechanism and an external adjustment mechanism for adjusting the feed dog inclination as well as increasing the differential feed ratio, which can be easily adjusted to finish seams that perfectly match the material to be used.
Creates attractive and accurate seams
This model produces a stable seam from the sewing start to the sewing end, with optimum thread feeding for a wide variety of different materials and threads.
Clean sewing finishes
The needle bar mechanism, the upper looper mechanism and the feed mechanism are all fully-closed. This eliminates the problem of oil leaks, and thus protects the material being sewn against staining from oil. It also prevents dust and other foreign articles from getting into the mechanisms.
Does not damage the material
The light presser foot pressure and improvements to the feed path mean that the materials is fed gently, so that no feed marks or damage are left on the material.
">
Click HERE for Complete Color Brochure on Juki MO6700 Series Models MO6704 through MO6743
Click HERE for Brochure on Juki MO6700 Series Sergers MO6704, MO6714, MO6716
Click HERE for Parts List on Juki MO6704, MO6714, MO6716
US Warranty 90 Days labor on defects in materials and workmanship.
Non-US Warranty: 30 days parts and labor
Specifications
The Juki MO6743S serger does not have 2 thread flatlock (flat seamer) nor 2 or 3 thread needle cover hem stitches. MO6743S does has 3, 4, 5 and 6 thread serger stitch configurations for 3 or 4 thread overlock, 2 thread chainstitch, and the combination 5, or 6 thread safety stitch using all 3 needle positions and all 3 loopers threaded with 6 spools at the same time.
Juki MO655 and MO735 portables do have the 2 thread flatlock because it has the 2 thread adapter. There are no 2 thread adapters for flatlock stitch on industrial overlock sergers, only on portable sergers.
All other Juki industrial serger power stand serger models are just 3 thread overlock, or just 3 thread overlock with 4 thread seams, or just 3 thread overlock with 2 thread chainstitch for 5 thread safety stitches.
Juki MO6743 is the only model which combines the stitch configuration features of Juki MO6704 with MO6714 with MO6716 all in one machine, with an extra thread and spool position for exclusive 6 thread safety stitches. John Douthat, Owner Tech, AllBrands
Needle System:
DCx27 #11
Presser Lifting Amount (mm):
6.5
Bottom Differential Feed Ratio:
1:0.7, 1:2
Stitch Length:
4mm
Number of Feed Dog Rows:
3
Overedging:
3.2
Max Sewing Speed (RPM):
7,000
Stitch type:
3-needle overlock/saftey stitch machine
Stitch style in the U.S.A.:
514
Max. sewing speed:
7,000rpm
Stitch length:
0.8, 4mm
Needle gauge (mm):
2.0, 2.4, 3.2
Overedging width (mm):
3.2, 4.0, 4.8
Differential feed ratio:
For gathering 1:2(Max. 1:4), For stretching 1:0.7(Max. 1:0.6)
Needle bar stroke:
24.5mm
Inclination angle of the needle:
20°
Needle mechanism:
Needle bar method and upper/lower bushing
Needle:
DC27(excluding some subclass model)
Max. lift of the presser foot:
7mm(excluding some subclass model)
Max. presser foot pressure:
63.7N (6.5kg)
Stitch adjusting method:
By push-button
Differential-feed adjusting method:
By lever (with micro-adjustment)
Weight of the machine head:
28kg
Lubrication:
Automatic
Lubricating oil:
JUKI Machine Oil 18 (equivalent to ISO VG18)
Micro-lifter:
Provided as standard
Please review our Freight LTL Shipping Policies
Ships Ground Freight only.
Other Images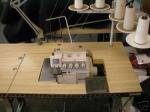 Submerged Serger Power Stand Table Included.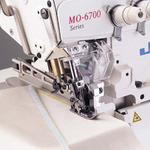 The machine ensures both beautiful and upgraded seam quality at higher speeds Since the machine comes with a needle-thread take-up mechanism as well as a looper thread take-up mechanism, to offer upgraded responsiveness from light- to heavy-weight materials with a lower applied tension, it achieves well-tensed soft-feeling seams that flexibly correspond to the elasticity of the material at the maximum sewing speed of up to 7,000SPM stitches per minute.
The maximum speed on any portable serger is 1500 Stitches Per Minute. All power stand models run 5000-7000SPM. You can add a DC Servo Motor that has Speed Limit Control to slow down the maximum speed to whatever you are comfortable with. We recommend Juki MO6743 hybrid serger for applications that require all the stitch configurations from 3 and 4 thread for stretch fabrics, to wider 5 thread safety stitch for all wovens, heavier fabrics, crotch and underarm seams for strength. Otherwise you have to choose between a 3/4 thread serger for knits, and a 5 thread serger for wovens, requiring 2 machines! Juki 6743 is the only industrial hybrid serger that has the stitch configurations of MO735 portable, without cover hem stitches which would also require a second machine in the industrial line.
Bundle & Save
Get additional savings when you purchase any of these items along with this product.