Cutting little bitty fabric pieces precisely in a matter of seconds is no problem for the AccuQuilt GO! Baby Fabric Cutter. This baby is up to 90% faster than scissors or a rotary cutter and is a whole lot safer and easier on your hands and wrists, too. The GO! Baby lets you cut up to six layers of fabric at once, absolutely perfectly, every time. You'll love how easy it is. All you need to get started is a cutting die or two, a cutting mat and your favorite fabrics. Perfect for beginners!

•Consistent, accurate cuts - up to 6 layers at a time. The Accuquilt Go! Baby Fabric cutter is fast, accurate, safe and easy to use for quilters and fabric crafters
•90% faster than traditional cutting
•Lightweight - only 8 pounds (12" W x 4-1/2" L x 8-1/4" H)
•Compatible with more than 60% of GO! dies
•Create perfect applique in the turn of a handle
•Reduce fabric waste
•No cut fingers or sore backs
•Create endless design options
•Minimal space needed for storage
•Portable - no electricity or batteries needed

Most GO! Dies will Work with your GO! Baby Fabric Cutter

The GO! Baby Fabric Cutter does not work with 10" x 10" or 10" x 24" GO! dies.
US Warranty 1 year limited warranty on defects in materials and workmanship.
Extended US Warranty: Extended Warranty Available
Non-US Warranty: 30 days parts and labor
Specifications
To conserve fabric, cover only the shape you want to cut--not the entire die board. For asymmetrical shapes, place fabric pattern side up if you want the shape to look exactly like the shape on the die. Place fabric pattern side down if you want the shape to be a mirror image of the shape on the die.



Comparing AccuQuilt Fabric Die Cutters - Studio, GO, and GO! Baby. Ebony Love of Quilt Possible! explains the similarities and differences between AccuQuilt's three die cutters- the Studio, GO!, and GO! Baby. See more videos and tips at http://quiltpossible.com. There's also a comparison chart on the site to help you decide which cutter is right for you.


Reasons to Love the GO! Baby

•Up to 90% faster than rotary cutters or scissors.
•Consistent, accurate and stable cutting of precise shapes with no slipping rulers or measuring to reduce fabric waste.
•Lightweight (only 8 lbs.) and portable, it folds to store and closes with a magnetic latch. The easy-lift carrying handle make is easy to take to classes, guild meetings, retreats and quilting bees.
•Comfortable roller handle grip is easy and safe; eliminating arthritis, wrist, backaches, shoulder and elbow pain caused by using a rotary cutter.
•Wide selection of GO! Baby dies allow the creation of unlimited projects - the possibilities are endless!
•The design is innovative and easy to clean with a high gloss exterior surface and a neutral, light-colored work surface.

*GO! Baby Fabric Chart: Chart below is the recommend number of fabric layers; actual number of fabric layers will vary depending on fabric type and thickness.

Fabric Layers
Cotton 4-6
Batik 4-6
Fleece 1-2
Flannel 1-2
Denim 1
Leather 1

Care & Maintenance: For best results, always keep your GO! Baby cutter clean and lint free. To clean the cutter inside and out, use a soft dry cloth. Avoid abrasives, solvents and spray cleaners. If necessary, wipe with a damp cloth, then polish with a dry cloth. Use canned air to clear lint from roller area. The GO! Baby fabric cutter does not have replacement parts.

Limited One-Year Warranty: We promise your personal AccuQuilt GO! Baby cutter will be free from defects in material or workmanship when used as directed. If you experience a manufacturing defect within one year after purchase, AccuQuilt will repair or replace the cutter at no charge. Improper use, excessive wear and tear caused by commercial use and/or damage caused by the user will void the warranty. This warranty covers only the cutting unit--not mats or dies. To receive a replacement unit, return the cutter to the place you purchased it.

Help & Guides (with links) [Click to View or Download]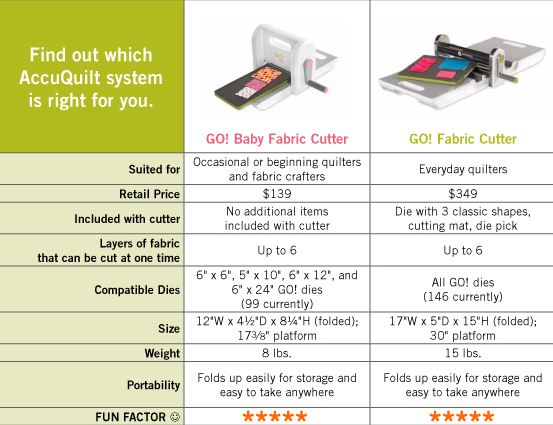 Product Reviews from AccuQuilt website:
The GO is great! I have never made a quilt before, but I am signed up to take a beginners class in a couple of weeks. After playing around and making a couple of squares, I knew that I would not last long if I had to cut all of that fabric. To start off with, I'm not a very accurate cutter, even with a rotary cutter..add the time involved to cut out the fabric...and I probably would have given up. I went to my local quilt store that is an Accuquilt rep to see the product in person - Call me skeptical, but I don't believe everything I see on the internet ....anyways, it works as good as they say! I'm looking forward to the class and all my new creations. By kim hackett on 08/05/2009
EXCELLENT & TIME SAVER I am so glad I finally invested in this product. I bought the complete go starter set and I just love all the dies that came in the set. Get out there and invest in your future heirlooms. By SewCalGal on 07/09/2009
I'm sold on AccuQuilt Go Cutter I was a bit skeptical on the AccuQuilt Go Cutter, thinking it may not be an appropriate tool for me. I just didn't think I needed anything more than my trusty rulers and rotary cutter. But after using AccuQuilt cutter and seeing how fast, accurate, reliable and easy it is to use, I'm convinced it is a "must have". It is sew easy you can even have a non-quilter cut your fabric for you and get accurate pieces every time. SewCalGal www.sewcalgal.blogspot.com By Deborah Russell on 06/21/2009
Okay but not great! It's fun to use but the accuracy with a few of the dies is missing. I've followed all recommended procedures but still the cutting is less than perfect. By vicki l childs on 03/31/2009
Great item, Great customer service. I purchased the go system and the big set of dies about 2 weeks ago, The shipping was super fast. And the go is quality. And the cuts are exact. I hope to see more dies, especially the applique dies, and would like to have different size strips other than the 2 1/2. How about one with three different strip sizes. Thanks for the very fast service. By Gayle Matloff on 03/31/2009
Love My GO I'm so thrilled with my GO Cutter I can't begin to tell you how much easier it is to cut things precise. I bought a few of the dies and my favorite so far is the 2 1/2 inch strip set I just love it. I'm doing a log cabin quilt for my sister for Christmas and I was just dreading the cutting process but with my new die it took me about 1 hour opposed to several hours. Can't wait for more dies to come out. Thank you so much AccuQuilt. By Teres Douglas on 03/24/2009
GO! and Sew! I am very glad that I purchased the go and several of the dies! This product saves me valuable time and has greatly improved my accuracy. Using the go to cut my fabric and placing it in a "project bag" with the pattern and all of the needed extras helps me to be more prepared to piece and I can switch from one project to another with ease. Saves time, very accurate, and a great tool for any quilter. I GO! GO! GO! then I SEW, SEW, SEW!!!! By Susie Collins on 03/25/2009
What a joy to use What a joy to use. I have wanted a die cutter for a very long time. But the Accuquilt studio cutter was just to big and did more than I needed. When I saw the Accuquilt Go I was over the moon. The size and portability is just perfect. I am able to cut out the blocks for a quilt in more than half the time it takes with a rotary cutter... I can't wait to see what new dies will be available. Thank you for making quilting even more enjoyable. By Sue Bugg on 03/23/2009
The GO! convinced my husband!!!! I had been wanting the GO! since you had started advertising, but didn't think I'd ever get one..... Hubby was a gem and took me to the Dallas Quilt show and HE was sold on the machine when he saw what it could do!! I've already cut out 2 quilts, enticed my mom to buy more material and have convinced a friend's husband to buy HER a machine!! I am so thrilled to have the accurate cuts and the ease of use. Am looking forward to having more dies, and would love to have a 2 1/2" die with a LOT of blocks on it (just a suggestion.... :), it's really tedious for cutting a lot of the small blocks!) Thanks for having such a great product. By Kendra Sparks on 03/23/2009
Love it Fast and easy. Makes me want to quilt all the time. Forget cutting by hand. By Cecilia Young on 03/22/2009
Go! Cutter I received the Go! Cutter as a Christmas present from my husband. I have problems cutting accurately and he knew I was interested in the cutter. Since receiving the Go! cutter, I am able to have "accurate" patches to work with and it has made my quilting so much easier. I really enjoy using it and would recommend it to everyone. In fact, I have been telling everyone about it! The Go! Cutter has made my quilting easier and more fun! By Beverly Smith on 03/24/2009
Ready,set, GO! For someone who loves to sew/quilt but dreads the cutting part, the AccuQuilt Go is a dream come true. It allows one more time for creating and less time with the drudgery part of sewing/quilting. The ease of transportation of this unit is just icing on the cake. By Teres Douglas on 03/19/2009
GO! GO! GO!!!!! I am very glad that I purchased the go and several of the dies! This product saves me valuable time and has greatly improved my accuracy. Using the go to cut my fabric and placing it in a "project bag" with the pattern and all of the needed extras helps me to be more prepared to piece and I can switch from one project to another with ease. Saves time, very accurate, and a great tool for any quilter. I GO! GO! GO! then I SEW, SEW, SEW!!!!
By Nancy Watson on 03/19/2009 Retired Culinary Instructor/Serious Hobby Piecer I first saw the Accuquilt Studio at a large quilt show in OK City. I watched the video many,many times, gaining much enthusiasm before finally using the "Studio" in a local shop. I fell in love with it!! I had already decided that cutting out the pieces wasn't for me since mine never come out accurately. I was ready to hire a lady to do my cutting----that's how serious I was. I asked for the "Go" for Christmas. I am enjoying it very much with the few cutters that I have and hope to add more. However,I have not been able to make the strips without a slight curve in them, which has been frustrating since 2 1/2"strips are used so much. Since Oct., I have made 11 large quilts,3 wall hangings, and 2 table runners. They are beautiful! I still hope to adopt your motto---buy one for home and one for the road in order to have continued success. By Victoria Williamson on 03/19/2009
I love my Accuquilt Go! I love my Accuquilt Go! My husband got it for me for Valentine's Day. I did not want a new sewing machine so he figured this would be a great addition to my collection of quilting materials. Now I do not have to buy anymore rulers because the cutter makes perfect cuts not to mention the time saving factor. He also has mentioned that for all my future birthdays and holidays he will just go to our quilt store and purchase a new die cutter! A gift for all seasons !!!!!!!! The Accuquilt Go is perfect for transporting to friends houses or classes. I believe this will help change the future of quilting as we have known. I also work at the Purple Mountain Quilt Shop in Monterey, TN. Having the Studio Cutter really is great for making kits in minutes. No Fuss, No Worry, Done in a Jiffy! Mrs. Victoria Williamson 1244 Davidson Drive Monterey, Tn. 38574 By Judy on 03/18/2009
Accuquilt Queen I love the Go, it is so much fun that I just can't stop making quilts. I have made a project out of every die that I have and I have all but 2. People at work call me the Accuquilt Queen. Can't wait to see what dies you come up with next. It's compact, fast, and very accurate. How can you not go for the GO. By Jacqueline Carr on 03/18/2009
Breeze to use I can't believe how easy it is to use, and how perfectly the fabrics are cut. I keep it under my cutting table, and bring it out whenever I have strips, squares or triangles to cut. Don't know what I did without it. By Betty Hairfield on 03/18/2009
GO! Fabric Cutter I sold my third machine the other day. I'm having a time of my life. First thing i did was to make up the pattern that came with the die. My customers loved the colors i chose and how the machine work . One customer bought the machine and assorted dies that went with the basic 12 inch blocks. She didn't want to wait until she got home to use her machine so, I let her use my demo model and she rolled and cut and had the biggest smile on her face the whole time she was there. Next to my Studio machine this machines makes life so much easier for all those left over scraps that is to big to throw away but is just right for all those scrappy quilts we want to make. I cut up and store away for a future scrappy quilt that is precut and ready to sew. By Susan Gail Wood on 03/12/2009
A really fabulous addition to your sewing room I got the Go! for my birthday and Christmas and I am just delighted. My fabric scrap stash is now cut into squares and triangles and I can make scrappy little quilts in no time at all. I've noticed that new dies have been added since I bought mine and I'm very pleased. A great way to cut things fast. The Go! is easy to use and stores away very nicely. Takes up very little room. By SHEILA WALKER on 03/12/2009
I Love my Go Not only do I love my Go, but my brothers and I purchased one for my mother along with all the dies. My favorite dies are the 2 1/2" strip cutter and the 5" square. So many patterns today use these. A suggestion - Make more strip dies in various sizes from 1 1/2" to 5 or 6". We can always turn the fabric sideways to make squares. By Sheila Bynum on 03/12/2009
It's Just Wonderful!! I debated for several weeks about purchasing the GO, but so very happy with my decision to "GO" for it. The GO meets all of my needs with ease in cutting my quilt blocks. The exact cuts make for the very best in sewing blocks together. I would recommend the Go to anyone! By Sheba Smith on 03/12/2009
Go Fabric Cutter This is the best thing to happen to quilting since the thread!! I love it. It is so easy to use and the shapes are perfect everything. No more "slight slipage" of the ruler for me. And on top of all that, it is just fun to use! You'll want to cut every piece of fabric you have. By Pamela Heinecke on 03/12/2009
Quilter, Quilting Business Owner I have only tried this system in a demo at a show, but my husband and I are working on a plan to buy both the studio model and the Go! We plan to offer our services to area shops to cut their sample quilts for them, as well as cutting for their customers and mine. It should be a great source of extra income. I am disabled with arthritis and this system will change my life when it comes to getting the cutting done as quickly and accuately as possible. I can't wait to add this system to my studio. It will boost my career and my ability to do quilts of my own that my disability prevents me from doing now. Thank you for such a great product. By Marilyn Strain on 03/12/2009
GO! Fabric Cutter The Accuquilt GO! is amazing...every piece was cut so precise and all the points fit together perfectly. The best quilts I've ever made...thanks to the GO! By Lois Adams on 03/12/2009
The Best Thing That I could have ever Purchased I can't believe how much it saves on cutting without the slip of the ruler and rotery cutter and the vvvvv's are now gone in my 21/2 inch strips realy worth it.
Bundle & Save
Get additional savings when you purchase any of these items along with this product.