This sturdy crafting and cutting table provides a large work area to maximize space for your projects. Raise or lower the cutting surface with the height adjustable legs to work at your desired level. Folding leaves let you minimize or maximize workspace as needed, and rolling wheel feet come standard.
All-purpose cutting and crafting table

Legs adjust to your ideal working height

Includes shelves for convenient storage

Eight sturdy metal legs

Folding side leaves

TrueCut Crafting Table - All-purpose cutting and crafting table with legs that adjust to your ideal working height. Includes under-storage shelves, eight sturdy metal legs, and folding side leaves.
Dimensions of the Grace TrueCut table

Cutting Table Top Dimensions With leaves up: 50" x 37.4" (Large enough to fit two 24" x 36" mats)

Table Top Dimensions With leaves down: 17.25" x 37.4"

Height: Maximum 38"; Minimum 32"
Specifications
Table Top Dimensions

With leaves up: 50" x 37.4"
With leaves down: 17.25" x 37.4"
(Large enough to fit two 24"x36" mats)

Height
Maximum 38"
Minimum 32"
Other Images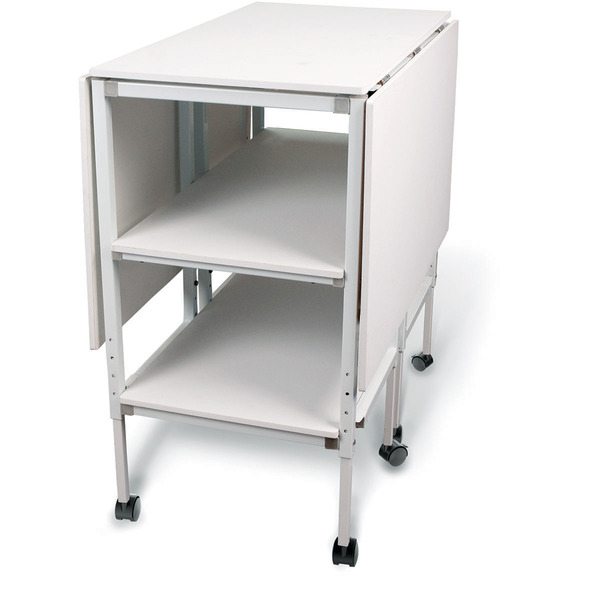 Folding Side Leaves. Use just as much work space as you need! Put the sides down to save space when the table is not in use.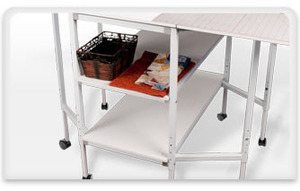 Space-Saving Storage. Convenient storage shelves are included to hold everything you need for your projects.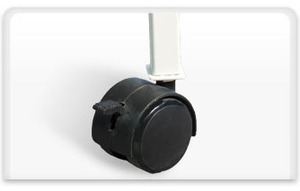 Locking Caster Wheels. Moving the table is easy thanks to the smooth rolling wheels. Lock them in place when you are ready to start working.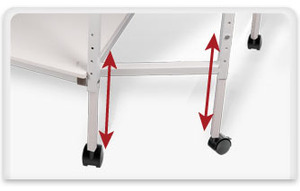 Work At Your Ideal Height. Height-adjustable legs let you work at the level that is most comfortable to you!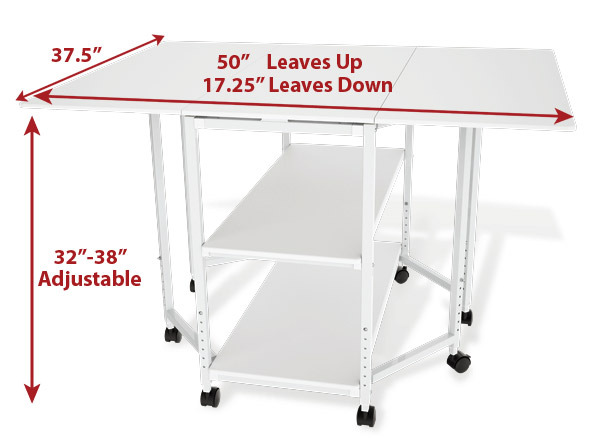 Large enough to fit two 34"x26" cutting mats with leaves up.
Kate E, Wyckoff NJ
You might let the Grace Crafting table people know that the instructions they included for assembly are not even close to the reality. For example, they describe using 4 "short" supports and 2 "long" supports for the shelves but there were 6 short supports. They say they have supplied 2 different length screws; there was only one type of long screw and finally, the wrench supplied did not fit all the nuts. Luckily I have a full tool box and found the assembly easy and the table great for the purpose I bought it for.

Edward Z, Odenton MD
The packaging was the most professional work ever seen. It withstood many crushed areas for being manhandled on its way from Colorado to Maryland on on the outer layer of the two boxes but had no damage inside. Very, very well protected and it is very much appreciated. The unit was assembled without any issues and it is built like a rock that will last forever. Thank you so much for selling and delivering high quality products at a reasonable price.

Judy, Overland Park, KS
Very sturdy cutting table at a great price. Shipped and arrived as estimated by Allbrands. Easy to put together. Tools needed included except for the one wrench needed to adjust table height (which is what most will do). Two sturdy legs under each leaf makes this table wobble free. It does not bow down in one corner as so many of the cutting tables do when they have just one leg for support. Absolutely no wobble with the table at all, as steady as a rock. Highly recommend table, highly recommend to purchase from allbrands.

Karen, Vermont
I always have an excellent experience with All Brands.