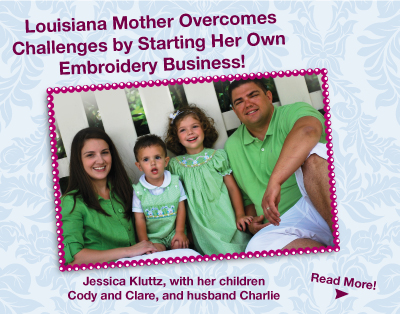 *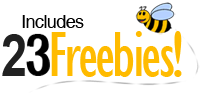 A true pinnacle of perfection, the Entrepreneur® Pro PR1000e 10-needle home embroidery machine truly is the "Perfect 10."
Perfect for embroidery enthusiasts, hobbyists and crafters. Perfect for home-based entrepreneurs. And simply perfect for anyone looking to step up their productivity and creativity.
LED lights below each spool on the thread stand are color coded to match 10 of up to 300 thread colors shown on the screen!
The PR1000e comes equipped with some of the most powerful design and editing capabilities ever built into a multi-needle embroidery machine. Just when you think you've reached the limits of creative freedom, look again—the PR1000e likely has more to offer.
The Entrepreneur® Pro PR1000e is the result of more than 100 years of Brother™ innovation, and combines the best features of our best-in-class machines. Embrace the next dimension in embroidery as you experience optimum performance in the perfect multi-needle machine for all your embroidery needs.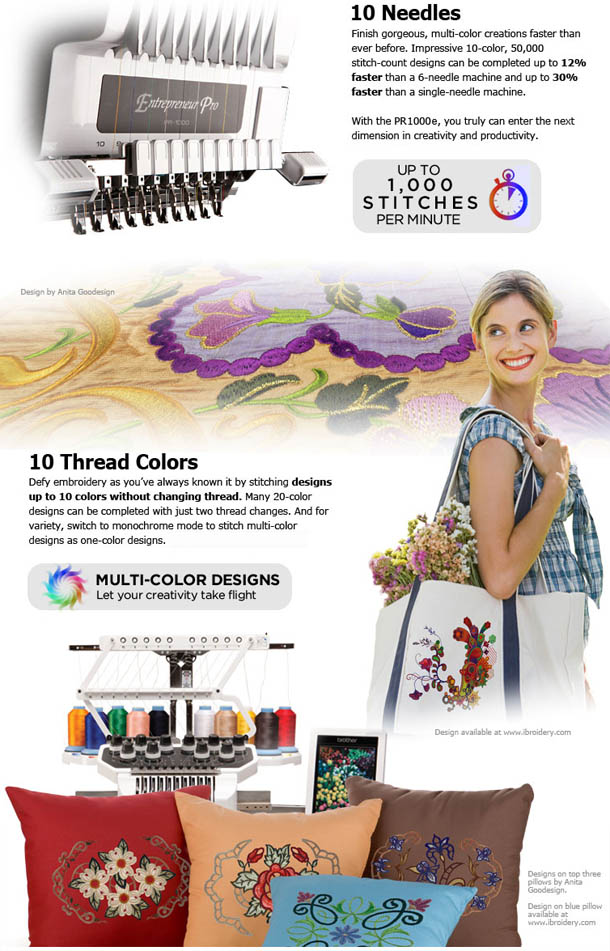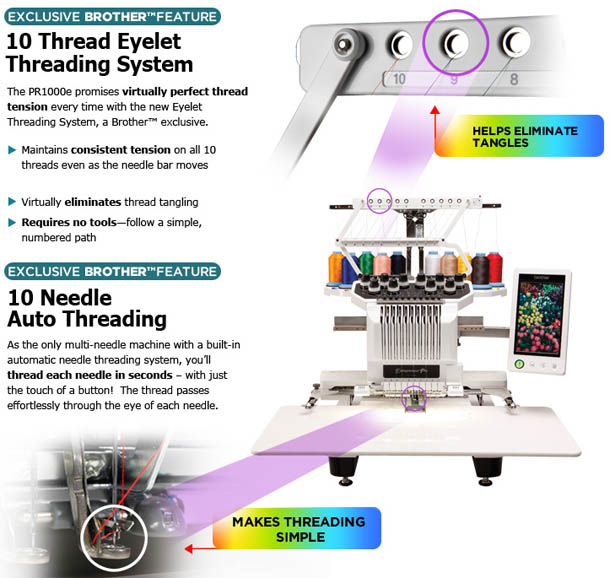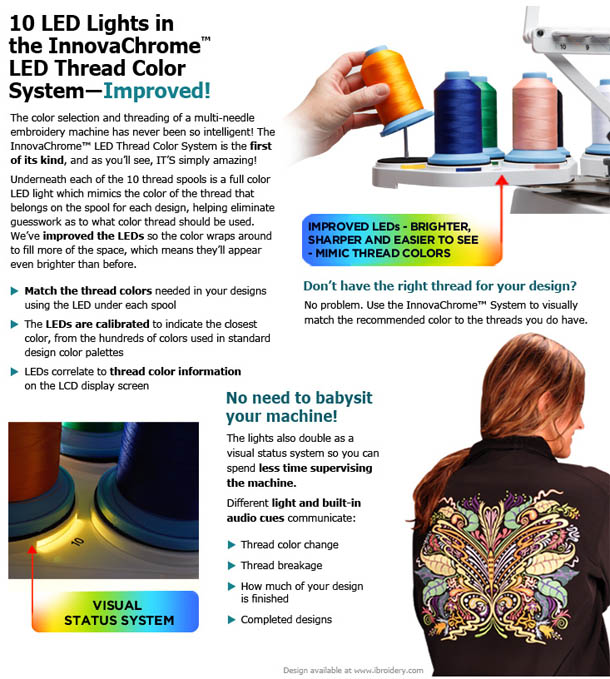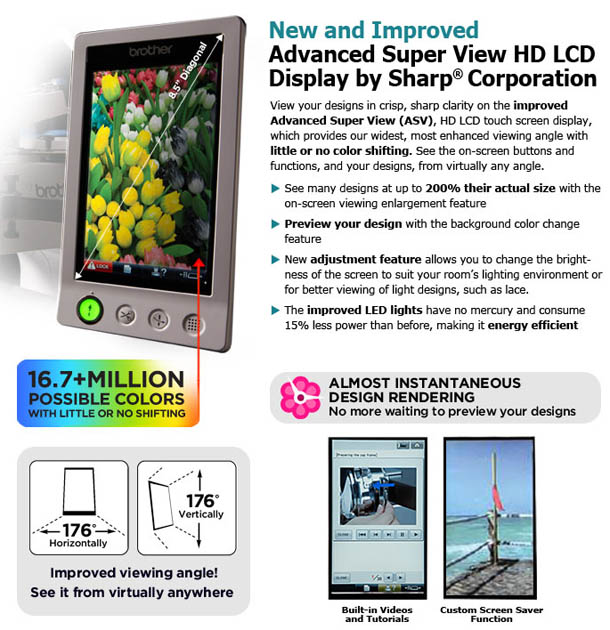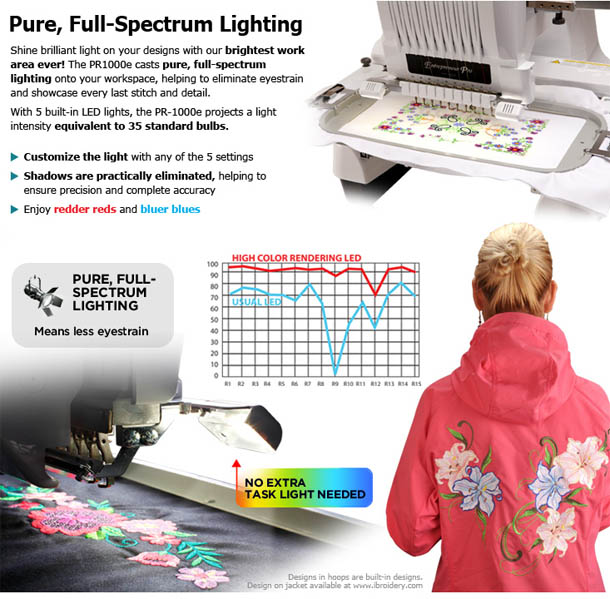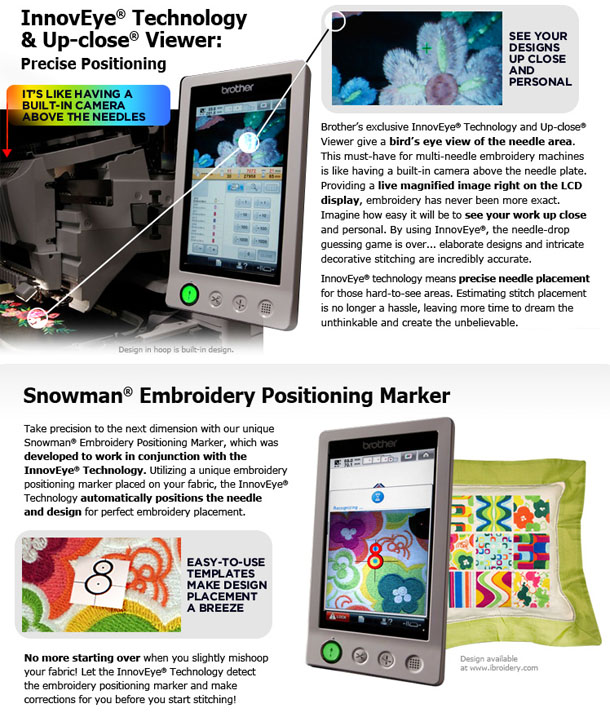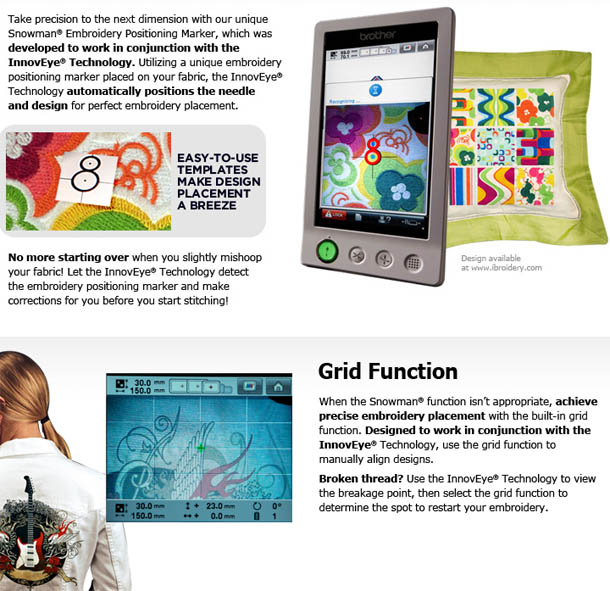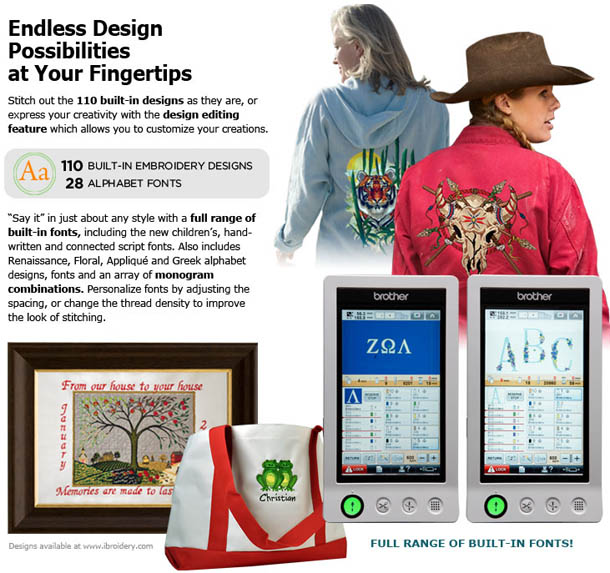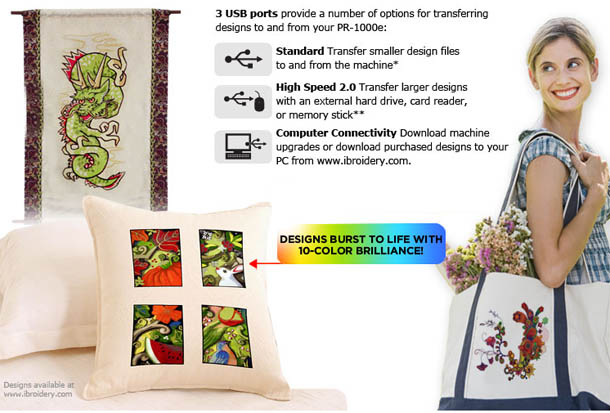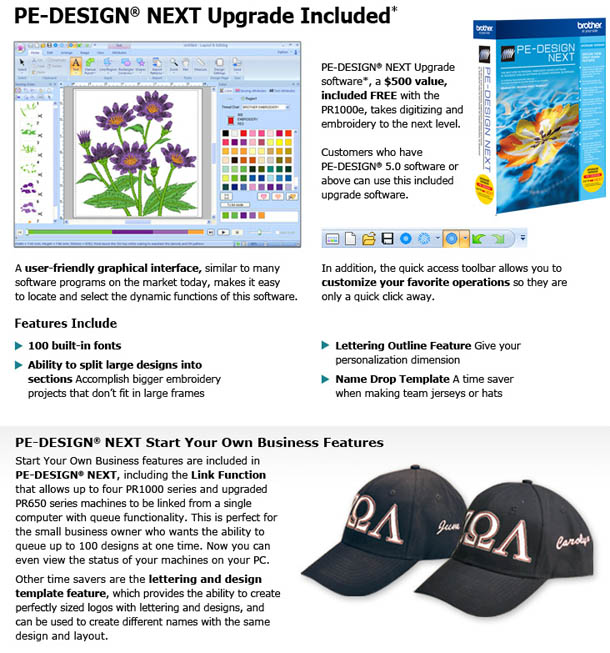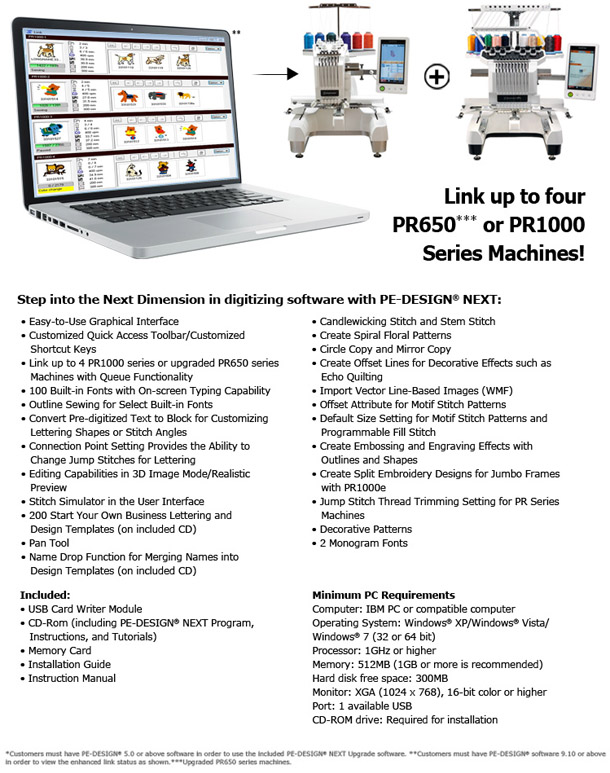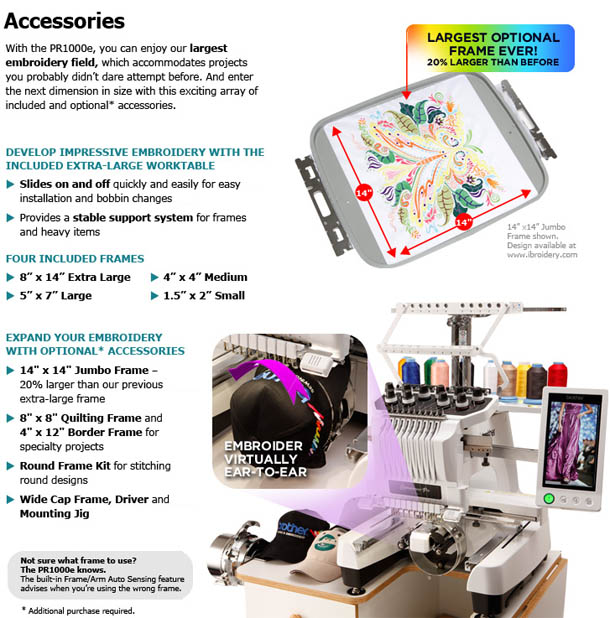 Click HERE to See PR1000 Videos on You Tube
Specifications
LCD PANEL FEATURES
Display: Color 4.4"x7.3" ASV HD LCD display with enhanced 176° viewing angle and 16.7 + million colors
Adjustable screen brightness setting: √
On-screen tutorials, with videos & diagrams: √
Zoom function: Zoom to view many designs up to 200% actual size
On-screen editing: Rotate, mirror image, move, copy, enlarge/reduce, letter spacing, thread density, and group/ungroup edit functions
Preview designs before stitching: √
Screen saver: 5 built-in images included; personalized functionality
Adjustable design icon size setting: √
WORKSPACE FEATURES
Runway® lighting: 5 LED lights, equivalent to 35 standard bulbs
5 customizable brightness settings
Workspace table: Extra-large table (included)
THREAD AND NEEDLE FEATURES
Number of needles: 10
Number of spools: 10
Auto needle threading: √
Numbered threading guides: √
Eyelet threading system for consistent thread tension: √
Thread anchor: √
INNOVACHROME™ LED THREAD COLOR SYSTEM
Number of LED lights with on/off modes: 10
Correct thread color indication: Improved LEDs with brighter, more uniform colors, able to display more than 300 colors for visual indication of correct thread color
Light and audio cues, with on/off modes: √
Light and audio cues to alert thread change: √
Light and audio cues to alert thread breakage: √
Light and audio cues to alert finished design: √
SPEED FEATURES
Sewing speed - frames: 400 to 1000 spm
Sewing speed - caps: 400 to 600 spm
Speed adjustment: Adjust individual needle speed from 400 to 1000 spm (frames); 400 to 600 spm (caps)
BUILT-IN DESIGNS AND FONTS
Built-in Brother exclusive designs: 110
Built-in alphabet fonts: 28 size-adjustable embroidery lettering fonts
Built-in alphabet designs: Renaissance, Floral, Appliqué and Greek
Monogramming font styles: 3
Coordinating Accents: 15
Frame Designs: 10
DESIGN EDITING FEATURES
On-screen editing: √
Color palette: 300 colors
DESIGN POSITIONING FEATURES
InnovEye® Technology: It's like having a built-in camera above the needle, providing a bird's eye view of the needle area
Snowman® Embroidery Positioning Marker: Works in conjunction with the InnovEye® Technology for precise positioning
Grid function: View grid and design on LCD display for precise alignment
PE-DESIGN® NEXT UPGRADE SOFTWARE - INCLUDED
Included PE-DESIGN® NEXT Upgrade software*: Provides additional editing capabilities
MULTIPLE MACHINE LINKING FEATURES (WITH INCLUDED PE-DESIGN® NEXT UPGRADE SOFTWARE*)
Link machines to one computer: Link up to four PR1000 series or upgraded PR650 series machines to one computer
Allocate and queue designs: √
Queue up to 100 designs: √
Status monitoring on computer screen: √
Minimize thread changes: √
MEMORY AND MEDIA RECOGNITION FEATURES
Built-in memory: 1.7MB; save up to 500,000 stitches to memory
USB ports: 3 ports; 1 high speed port, 1 port for machine peripherals, 1 port for computer connectivity and upgrades
INCLUDED FRAMES AND ACCESSORIES
Upgrade your PR1000 Main PC board to version 3.01
Included Accessories
1.5" x 2" frame

4" x 4" frame

5" x 7" frame

8" x 14" frame

Arm A Embroidery frame holder (for included frames)

Arm B Embroidery frame holder (for optional jumbo, border and quilting frames)

Extra-large worktable

Accessories kit (Includes needle sets, prewound bobbins, screwdrivers, spool mats, spool caps, USB cable, embroidery sheet grids and more)

Click HERE for PE Design Next Trial Version in English and 7 Languages
Click HERE for Warranty Terms on Brother PR650E Embroidery Machine
NEW! FREE Software downloads for Brother PR1000 and PR1000e to improve the accuracy of detecting thread trimming errors. For the owners of these models.
a. Version 3.01 – for PR1000 or PR1000E machines WITH the Premium Upgrade Kit 1.
b. Version 2.03 – for for PR1000 or PR1000E machines WITHOUT the Premium Upgrade Kit 1.
c.
Go to Brother Support site and click on Downloads and Drivers
d. NOTE: software updates like these are automatically sent to owners who have registered their machines with Brother. Just another reason for PR1000 and PR1000E owners to activate their warranties.