Navigation
Product Description
Product Comparison Chart
Product Videos & Tutorials
Product Accessories
---
*Free $100 Value: 5 Year Nationwide Extended Warranty Enhancement: Repair Parts and Labor, Power Surg, Transfer Owner, No Lemon, Replace or Buyout %Depreciation for Non Commercial Site Use in the USA
Silhouette Cameo Manufacturer Warranty is only one year! - John Douthat, Owner and Tech
---
Silhouette Cameo – How This Machine Simplifies Your Needs!
The Silhouette Cameo is an electronic cutting machine that is great for light-duty, creative use. Just like a home printer, it plugs directly into your PC or Mac with a USB cable, However, instead of printing it uses a small blade to cut paper, cardstock, vinyl, fabric and more up to 12in wide and 10 feet long. The machine also boasts a quiet motor and the ability to register and cut printed materials as well as cut fonts installed on your computer. The Silhouette Cameo is an essential tool for all your handmade projects. Use the Silhouette Cameo for vinyl lettering, scrapbooking, gift and favor boxes, school projects, custom apparel, card making, rhinestone templates and fabric ink stencils. No expensive cartridges to buy and store - only purchase the individual designs you want.
---
What Can the Silhouette Make?
• Scrapbook pages
• Cards
• Custom apparel
• Vinyl décor
• Etched glass
• Sketch designs
• Temporary tattoos
• Paper crafts
What Can it Cut?
• Paper and cardstock
• Adhesive vinyl
• Fabric
• Heat transfer material
• Rhinestone templates
• Specialty media

---
Print & Cut
The Silhouette is also equipped with an optical sensor to allow precise cutting of printed designs. Open your favorite clip art in the Silhouette software, arrange it how you like, then print it out on your home printer. The software will print small registration marks on the page which will allow the Silhouette to align the cutting blade perfectly with your printed artwork. With the Silhouette, the possibilities are endless.
Return to Top
---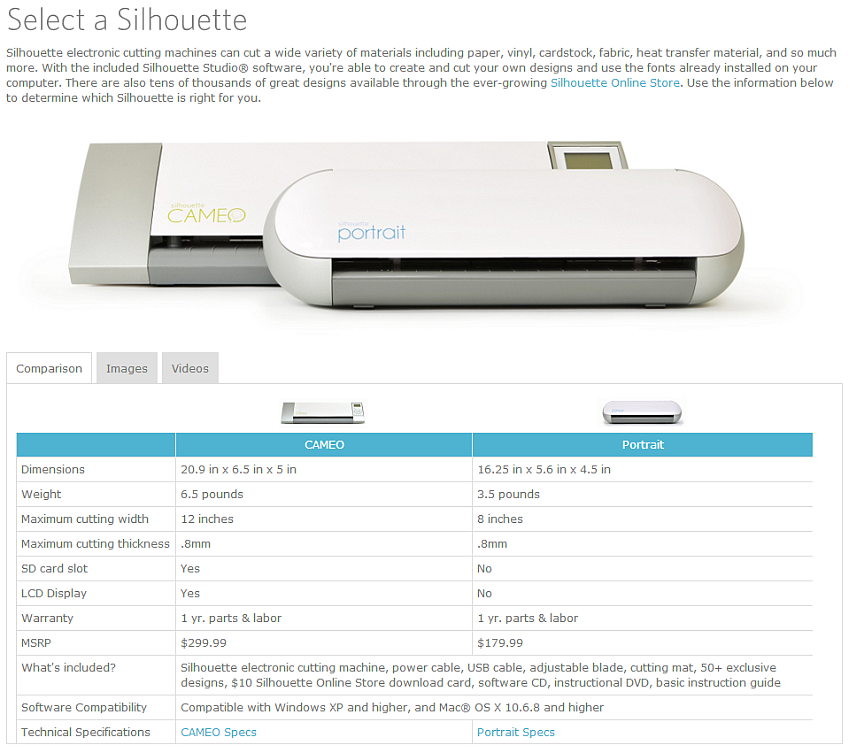 Return to Top
---

Silhouette Cameo – Making Your First Cut


Silhouette Cameo – How to Choose Cut Settings


Silhouette Cameo – Glass Etching Tutorial


Silhouette Cameo – Chalkboard Chalk Art Tutorial


Silhouette Cameo – Monogram Shadowbox Tutorial


Silhouette Cameo – Project Share, Show and Tell

Return to Top
US Warranty 1 year limited warranty on defects in materials and workmanship.
Extended US Warranty: Free 5-Year Warranty
Non-US Warranty: 30 days parts and labor
Included Accessories
• Silhouette electronic cutting tool
• Silhouette Studio® software for Windows XP/Vista/7 and Mac® OS X 10.5.8 and higher
• 51 exclusive cuttable designs
• Power cable, USB cable
• 12" cutting mat
• Cutting blade
• $10 gift card to the Silhouette Online Store
• Basic Instruction Guide
Return to Top