50 Laura Ashley Designs built in, Can use any of Disney/Frozen designs on Brother's iBroidery.com website.
Click HERE to see Videos on new Brother Laura Ashley Isadore 5000 Sewing Embroidery Monogramming and Quilting Machine
Note: Brother NV4500D and Laura Ashley Isodore 5000 are the first machines in Brother sewing and embroidery machine line up to include 7x12" embroidery field hoop, automatic jump stitch thread cutting, and automatic electronic needle threading.
Named for Laura Ashley's beloved floral pattern, the Limited Edition Isodore™ Innov-ís 5000 can bring all of your creative cravings alive. The first member of the Laura Ashley family with embroidery capability, the Isodore™ offers premier embroidery, quilting and sewing features in one elegant, high performance machine. It boasts an array of included sewing stitches with virtually endless sewing and embroidery options with the My Custom Stitch™ and My Custom Design™ features, and the innovative Automatic Height Adjuster™ AHA® feature automatically adjusts for any fabric thickness leading to consistent stitch quality across uneven surfaces. You can even take your Isodore™ on the go!
The Laura Ashley Limited Edition Isodore™ Innov-is 5000 offers unparalleled quality, reliability and flexibility, while delivering an impressive range of sewing features. High-speed performance, intuitive technology, versatile functions and beautiful built-in decorative stitches. Sophisticated sewers will feel empowered by the potential of creative tools offered in the Isodore™. Designed, engineered and developed by sewing enthusiasts...just like you.
531 Stitches Included- 487 Built-in, 44 on CD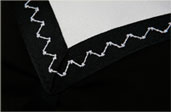 Your creativity can run free with the 531 included stitches in the Isodore™. An impressive assortment of sewing, quilting, utility and decorative stitches, including 16 buttonhole styles and three sewing lettering fonts, will help you add a special finish to all your creations. For ease, the machine's built-in stitches are saved by category and can be easily selected with the touch of a button on the LCD display.
My Custom Stitch™ Feature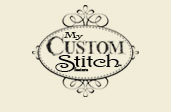 Feeling inspired? Create your own unique sewing stitch using the My Custom Stitch™ feature on the touch screen LCD display and save it to one of the 20 memory pockets for later use. This incredible feature will allow you to expand your stitch library with a virtually unlimited number of personalized stitches for years to come!
Stitch Editing Feature and Combining Stitch Patterns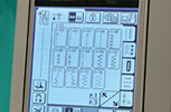 Find a stitch that's close to what you want but not quite perfect? Simply use the stitch editing feature on the LCD screen to adjust the width, height, density and size of many of the machine's included stitches.
Combine or mirror image stitches to create your own unique patterns and then save them to the machine's memory or to your computer via the included USB cable.
Computer Connectivity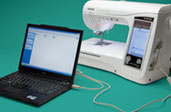 Keep your machine up-to-date for years to come by simply connecting it to your computer with the included cable. Follow on-screen instructions to download free machine updates or to save your customized stitches directly to your computer.
7-Point Feed Dogs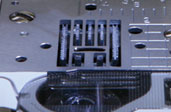 Stitch with minimal fabric guiding and achieve perfectly formed stitches with the wide-set 7-point feed dogs that allow for smooth and easy feeding of almost every material.
Advanced Needle Threading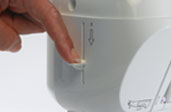 The advanced system eliminates hand threading by pushing the thread through the eye of the needle with the press of a lever. Perfect threading, every time, even when you can't see the eye of the needle!
Multiple Thread Cutting Operations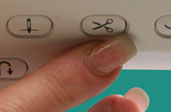 Use the on-board scissor button or pre-program the machine with the LCD screen to cut the threads and pull them to the back for a more professional look. Threads are instantly reset for the next sewing operation.
Super Bright LED Work Lights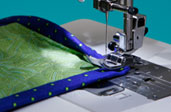 The super bright, independent lighting in the needle and work area helps reduce eye strain and brighten the details of any project.
Multi-Directional Sewing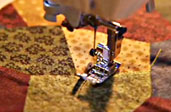 An exciting feature which allows you to unleash your creative spirit! Sew straight in eight different directions, including sideways left or right, which eliminates pivoting of material, and in four directions with zig zag.
Quick-Set™ Bobbin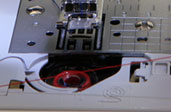 Just drop in a full bobbin, pull the thread through the marked path and start sewing.
Large LCD Touch Screen Display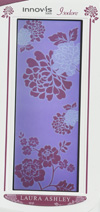 Use the super bright 8.5" x 3.75" vivid color touch screen to manage all your sewing, quilting and embroidery functions.
• View and edit your designs and stitches
• Change the screen's background color to see your design in a different setting
• Select, edit, create and save stitches
• Access quick reference stitch guides and help screens
Back-to-Beginning Feature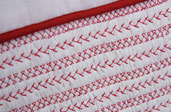 Helpful for building combinations of stitches, this feature allows you to finish a segment and restart your pattern at the first stitch of a design when you resume sewing.
Sew with Embroidery Unit in Place
A great time-saver and allows for more precision. Simply switch to sewing with the touch of a button.
Basting Function
Stitch with confidence. Apply a basting stitch when sewing your garment and quilting projects to hold the fabric in place
US Warranty 25 Years Head, 6 Years Electrical, 2 Years Parts, 2 Years Labor
Non-US Warranty: 30 days parts and labor
Specifications
My Custom Design™ and My Custom Stitch™ Features

531 built-in sewing stitches (including 44 on CD), 416 built-in embroidery designs including 50 Laura Ashley European floral designs, 17 embroidery lettering fonts and 3 sewing lettering fonts.

Automatic Height Adjuster™ (AHA) feature

Large 12" x 7" Embroidery Area

Pivoting Function and Back-to-Beginning Key

Dual USB Ports and Built-in Embroidery Card Slot

Super bright LED work lights

Large 8.5" x 3.75" LCD touch screen display

Included Bobbin Work and Cicular Attachment

Sewing Stitches:
Built-in Decorative Stitches Yes
Built-in embroidery lettering fonts 17
Built-in Buttonhole styles 15 one-step and 1 four-step
Built-in Sewing Stitches (includes buttonhole styles) 531 (487 built-in and 44 on CD)
Quilting stitch functions Yes
Heirloom stitch functions Yes
Maximum Embroidery Speed (stitches per minute) 1000
Stitch Length Up to 5.0mm
Stitch Attributes Mirror, twin, multi-directional, side cutter, satin stitch regulator
Stitch Width Up to 7.0mm
Reinforcement Function Manual⁄programmable
Utility stitch functions Yes
My Custom Stitch Feature (Create and save your own decorative stitches) Yes
Quilting Yes

Embroidery Patterns:
Built-in Decorative Embroidery Designs Yes
Embroidery Rotation 1 degree, 10 degree, or 90 degree increments
Built-in Border Function & Design Yes
Trial Position/Layout Adjustment Yes
Monogramming Fonts Yes
Frame Patterns 10 shapes / 12 patterns
Back to Beginning of a Stitch Design Yes
My Custom Design Yes
Media Recognition USB, USB mouse, memory card, stick
Embroidery File Formats: .PES and .DST embroidery data files are compatible with this machine.

Screen/Software back to top
On-Screen Editing Yes
Display Control Panel large 8.5" x 3.75" color LCD touch screen display
Compatible with PE-Design/PED Basic Yes
Design Memory Yes (sewing⁄embroidery)
Compatible Media (requires separate purchase) Secure Digital (SD) Card, Compact Flash, Memory Stick, Smart Media, Multi Media Card (MMC) XD-Picture Card and USB Floppy Disk Drive (USB Flash Memory), USB CD-ROM, CD-R, CD-RW drives -(reading only) Floppy Drive
Embroidery Data Formats dst(tajima), pes(PE-Design&trad;), phc(actual machine format), pmu(utility)
USB Update Capabilities Yes
Stitch Selection Yes
On-Screen Help Yes⁄video

Carton Contents:
Accessory Storage Yes
Included Accessory Feet Yes
In the box Cables, sewing notions, tools, manual
Embroidery Size 12" x 7"
Foot Controller Yes with retractable cord
Included Embroidery Hoops 7" x 12", 5" x 7", 4" x 4", 1" x 2.5"


Needle/Thread Feature
Bobbin winding system Independent bobbin winding system
Thread Trimming System between jump stitches Yes
Pivoting Yes
Needle Plate Measurements Yes
Bobbin Top (horizontal)⁄Drop-in Quick-Set™
Needle Threading System Automatic push button
Needle Up/Needle Down Programmed by user
Thread Sensors Upper⁄Lower
Upper Thread Tension System for perfect stitches on any fabric Automatic
Needle Positions 15
Thread Cutter Button Yes
# of needles 1 with twin needle capability


Machine Features
Drop Feed Function Yes, mechanical/slide lever
USB Ports Yes
Resume Function (This function goes back to the last exact stitch before the machine was turned off) Yes
LCD Touch Control Panel Super large, color, high resolution 8.3"x3.1"
Automatic Height Adjuster™ AHA™ Feature Yes
Maximum Sewing Speed (stitch per minute) 1000
Free Arm Yes
Presser Foot Attachment Snap-on
Superior Feed Dog System 7-point
Presser Foot Pressure Yes
Automatic Presser Foot Lifter Yes
Presser Foot Height Adjustment Yes
Sewing Workspace 4.5" x 8.2"
Super Bright Work Area Yes
Sewing with Embroidery Arm Attached Yes
Maximum Embroidery Field 12" x 7"
Knee - lifter Yes

Other:
Warranty 25 year limited warranty
UPC Code 012502630463
Machine Weight 59 lbs
Shipping Dimensions 26" L x 23" W x 23" H
Shipping Weight 70 lbs
UL/CSA Listed

Take your sewing and quilting to a loftier level. Enjoy virtually effortless creativity with 460 included stitches- 430 built-in and 30 on a CD. Or, expand your muse with virtually unlimited custom stitch possibilities. Impart the ultimate in finesse and flair to your creations with the Laura Ashley® Limited Edition Innov-ís NX2000 from Brother™.


See You Tube Videos on Brother Laura Ashley NV5000 Isodore sewing, quilting and embroidery machine


Bundle & Save
Get additional savings when you purchase any of these items along with this product.