Quickly get to those tight spots like collars and cuffs without rotating the iron or yourself. Speeds up larger jobs like tablecloths or curtains. Iron in any direction.
Panasonic 360° FreeStyle Cordless Iron with Charging Base and Carrying Case
Natural. Easy. Convenient.
Quickly get to those tight spots like collars and cuffs without rotating the iron or yourself. Speeds up larger jobs like tablecloths or curtains. Iron in any direction with precision, ease and speed.


This lightweight cordless 360 Freestyle Iron by Panasonic comes in its own heat- resistant carrying case for easy traveling to quilt retreats or on trips!
It has a detachable water tank, with a built-in, lifetime anti-calcium build-up cartridge, so you can use tap water. It features a double eliptical sole plate (points on both ends) trademarked by Panasonic, automatic- shut-off feature,(after 10 minutes) electronic temperature control, and anti-drip system.
It even steams in the vertical position. Won the Good Housekeeping Seal of Approval Iron heats up in 1 minute to maximum (392 degree) temperature, after removing from base- you have 2 minutes, 30 seconds of ironing at set temp, before iron begins to cool You may iron for a full 6 minutes before the iron reaches low.
Every time iron is replaced on base, it reheats. Base features an auto-wind cord reel. This iron is perfect for quilters especially for applique methods. Also features adjustable steam, spray mist and jet of steam for tough wrinkles or self-cleaning.
Detachable water tank holds 4 ounces.

Power source 120V 60 Hz

Dimensions: 5-1/8" x 3-15/16" x 8-11/16" and weighs only 4.4 lbs!

1500 Watt Power Consumption.

Customers should call Panasonic directly with warranty issues: 1-800-405-0652 or email to panacare@us.panasonic.com


Lightweight cordless iron

Heat-resistant carrying case

Detachable water tank

Lifetime anti-calcium build up cartridge

Tap water can be used

Double pointed, stainless steel soleplate

"Stay Clean" Steam vents circumventing iron base

Steams in the vertical and horizontal positions

Anti-Drip System

Low, medium, high temps

Electronic temperature control

Adjustable steam settings

Heats to desired temperature in 1.5 minutes

2.5 minutes of set temperature for ironing

6 foot retractable cord on docking station

Won the Good Housekeeping Seal of Approval

Up to 25% faster ironing

Purple Color Options are currently on Backorder
US Warranty 1 year limited warranty on defects in materials and workmanship.
Extended US Warranty: Extended Warranty Available
Non-US Warranty: 30 days parts and labor
Specifications
Technical Information
3-Way Auto Shut Off

Automatic Shut Off after 10 Minutes

4 fl oz Reservoir Capacity

Anti-calcium System

Cordless

Spray Mist

High, Medium, Low Temperature Settings

Minimum Temperature: 176°F (80°C)

Maximum Temperature: 392°F (200°C)

Stainless Steel Sole Plate

Self-clean, Stay-clean Vents

Anti-drip

Adjustable Steam

Vertical Steam

Steam or Dry Ironing

Controls/Indicators
Status Indicators:

Temperature Ready Indicator Light
Controls:

Fabric Dial

Temperature Dial

Dry / Steam Selector

Adjustable Steam Amount Selector

Extra Burst, Jet-of-Steam Button

Cool Water Spray or Mist Button

Power Description:

Input Voltage: 110 V AC

Input Current: 12.50 A

Power Consumption: 1500 W

Physical Characteristics:

Color: Gray Reservoir

Color: Silver

Height: 5.1"

Width: 3.9"

Depth: 8.7"

Weight (Approximate): 5 lb

Panasonic NI-WL600. You know what I hate most about ironing? The cord that gets in the way, the water that sputters out when you were only trying for steam and the length of time most irons take to heat up and the amount of time it takes to actually do the ironing.

Other Images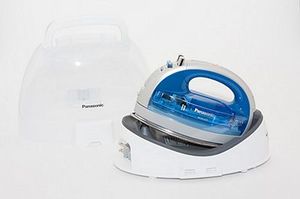 Blue Option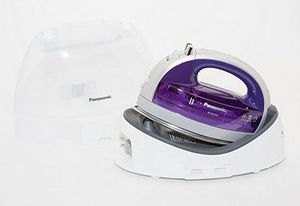 Purple Option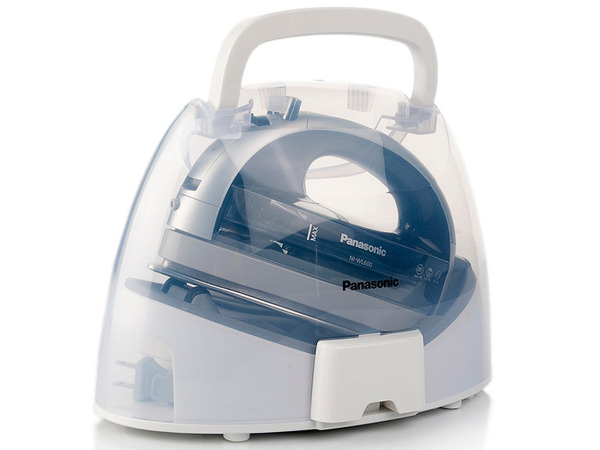 Handy slip over clearview cover carrying case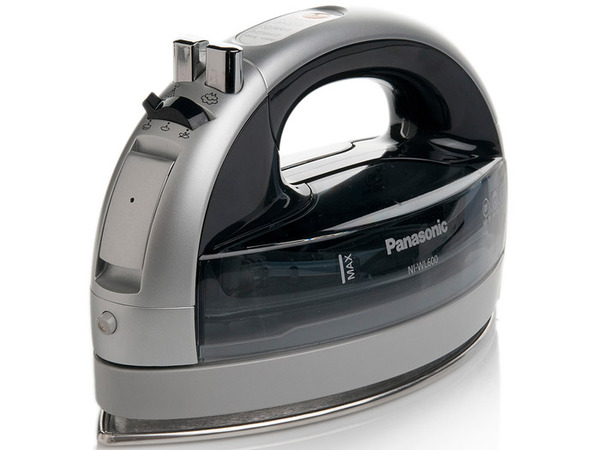 Ergonomic handle for easy forward and reverse ironing movements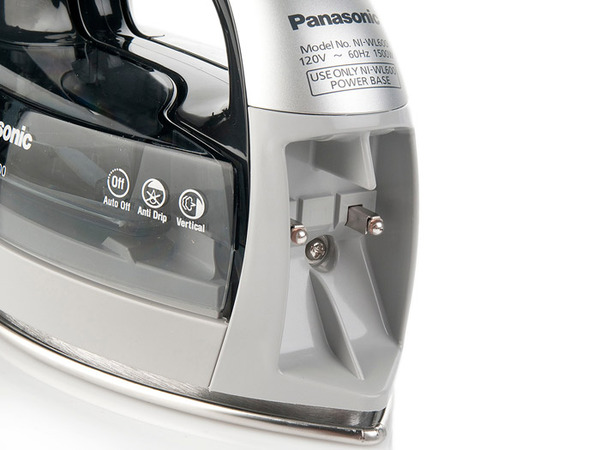 Spray mist nozzle in front of water tank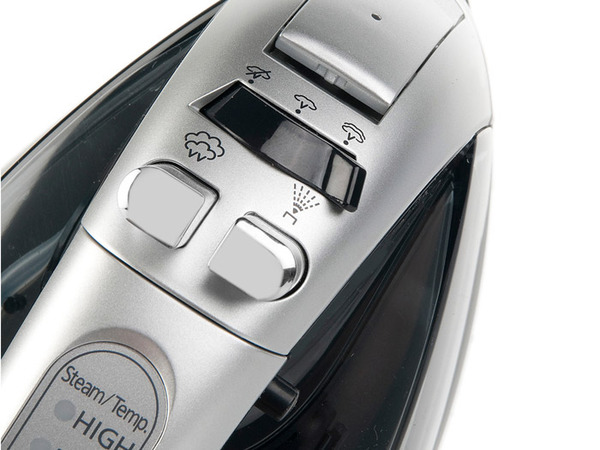 Steam and Spray thumb buttons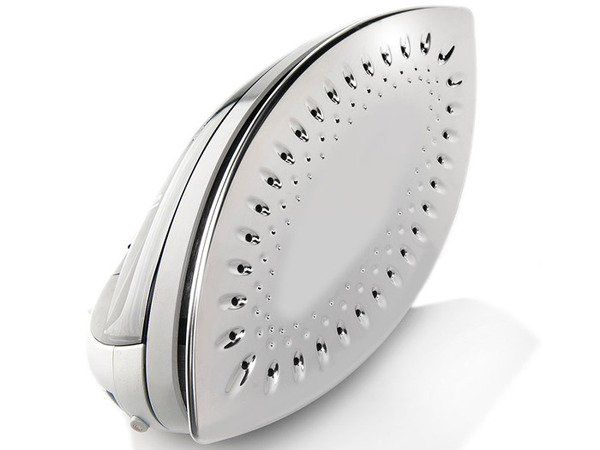 Curved on both ends to allow movement in any direction. Contains a series of round indications that trap pockets of air between the soleplate and the fabric that lets the iron glide smoothly for crease-free results.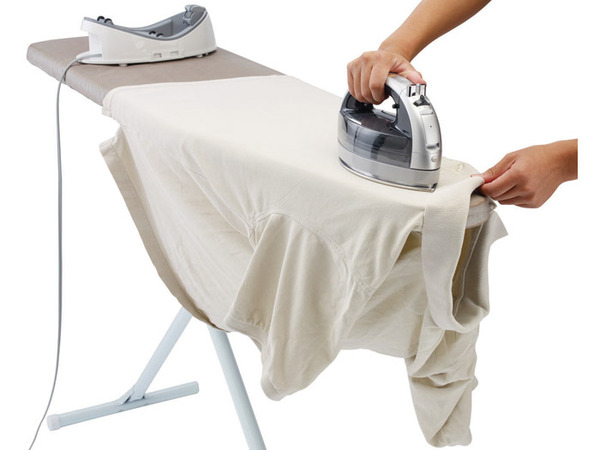 Use ironing board or extension tray to keep home base charger close at hand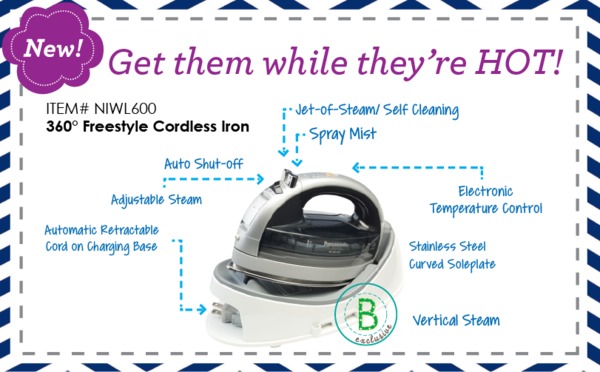 Diagram of parts and operation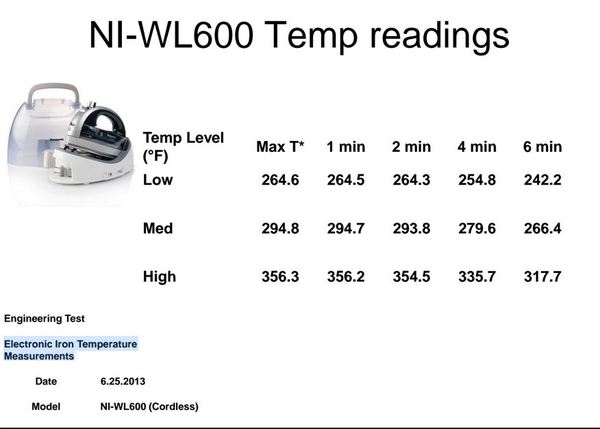 Temperature range from 265 to 318 degrees F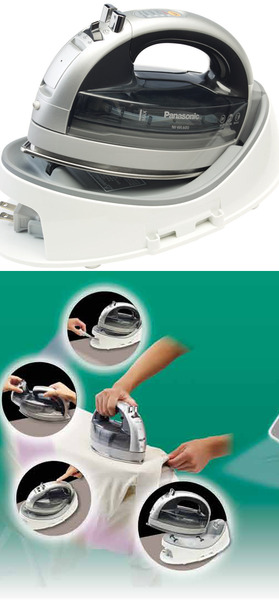 Panasonic 360 Freestyle Cordless Iron
Brenda S, Mount Olive IL
My husband had already purchased this same item from you for me and I've told everyone how easy it is to iron clothes with I cord in my was and is also wonderful to use for quilting. I bought this one as a gift for my mother who had a shoulder replacement done and has told me how her iron is heavy snd the cord gets in her way. She really likes how lightweight it is and said it reminds her of the old hot iron her mom used when she was little.


Bundle & Save
Get additional savings when you purchase any of these items along with this product.