Last One! Includes 5 Styles of 1-Step Buttonholes, Alphabet Lettering FONT, Programmable Needle Stop Up Down, Speed Limit Control, Auto Needle Threader, 11 Presser Feet, Hard Case Cover, DVD, 17 Pounds, DC Motor, (Same as DC5100, 115215) with PINK Hand Wheel.
Navigation
Product Description
Product Manuals
Product Specifications
Product Accessories
Save up to $220 more on purchase of extra accessories: 25 Bobbins, 100 Organ Needles, Starter Kit, Deluxe Carrying Case, Arrow Table and Chair, Clauss 8" Metal Scissors Made in Italy, plus 10 Year Extended Parts and Labor Warranty, See under Recommended Accessories below
---
An Introduction to the Kenmore 19233 Sewing Machine


For a superb quilting experience - combines the convenience of computerized technology with all the features you need for quilting, heirloom sewing and home deco-sewing. This machine is essentially a clone of the DC5100, renowned for its stylish yet powerful capabilities:


215 stitch functions from 167 built-in stitches, including alphabet lettering monograms

5 styles of computerized 1 step auto-size buttonholes

Backlit LCD with sensor-touch keypad

3 of one-touch function buttons (needle up/down, auto lock stitch, reverse stitch)

Design your own stitch repeat feature - create combinations of up to 50 patterns

Jam-proof magnetic horizontal bobbin system

7 piece metal feed dog system to effortlessly feed fabric of any thickness

More than 45 quilting stitches, including blanket stitches

Mega-wide adjustable stitch width (7mm)

15 straight stitch needle positions, from left to center to right

Built-in monograms font

Easy to read backlit LCD with sensor-touch keypad

6-Second threading

Automatic needle disengage for bobbin winding

Stay Sharp thread cutter leaves tails long enough to resume sewing with ease

Sturdy aluminum frame

Heavy duty motor

Drop feed for free motion work including outline quilting

Free arm for sewing pants legs, sleeves and cuffs

Clear bobbin cover for easy bobbin viewing

Built-in needle threader

Speed control

Hard Case Cover

Snap On Presser Feet

Locking Stitch Button

Speed control slider

Easy reverse button

Memory capability up to 50 patterns

Auto-declutch handwheel for bobbin winding

Extra high presser foot lift

Backlit LCD screen with touchpad for easy navigation

Horizontal full rotary hook bobbin system

7mm maximum stitch width

5mm maximum stitch length


US Warranty 10 Years Mechanical, 1 Year Electrical, 90 Days Service labor on defects in materials and workmanship.
Extended US Warranty: Extended Warranty Available
Non-US Warranty: 30 days parts and labor
Specifications
---
Dimensions
16.9"x7.2"x11.6"

17.1 lbs

Product Overview:

Monogram: Yes

Color

Color Family: White

Included with Item

Instructions: Printed owner's manual in English, Spanish & French

Lighting

Light(s): Power on light

Stitching System

Number of Built-In Stitches: 167

Number of Stitch Functions: 215

Number of Styles: 5

Stitch Width Control: Adjustable up to 7.0mm

Threading System

Bobbin Type: Horizontal (top loading, drop-in bobbin)

Needle Bar Position: Adjustable

Number of Needle Positions: 15

Tension Control: Manual

Feeding System

Feed Dog: 7-piece drop feed dog system

Feet Type Included: Buttonhole

Foot Fixing Type: Snap on/off

Number of Feet Included: 10

Presser Foot System: Low bar

Pressure Adjustment: Fixed

Stronger DC Direct Current Motor

Computerized Sewing Machine

Horizontal full rotary hook

Free arm / flat bed convertible

Hinged face cover

Built in accessory storage

Retractile type carry handle

8.5kg

Maximum speed 820 spm

7 piece feed dog

Magnetic full rotary hook

94 stitches plus one space key

5 one-step buttonholes

66 monogram block letters plus space key

LCD screen with backlight

Memorized needle up/down

Auto lock button

Reverse stitch button

Auto stop buttonhole

Memory function up to 50 memory patterns

English/Spanish/French language selection

Indicator Beep

Electronic sewing speed control lever

Krypton bulb

Stretch stitch adjustment dial

Buttonhole pitch adjustment dial

7mm maximum stitch width

5mm maximum stitch length

10 direct selection keys and 3 select modes for stitch selection

Automatic thread tension control

Auto declutch bobbin winding

Drop feed dog lever

Snap on presser feet

Built in needle threader

Built-in thread cutter

Horizontal spool pin
If you have been asking yourself, "What sewing machine should I purchase?", "What brand of sewing machine is good for beginner?", "What is a good sewing machine?", "Where should I buy a sewing machine?", "How do you know what sewing machine to purchase?", then you should watch this video.
Included Accessories
---
Presser feet: Zigzag foot, satin stitch foot, zipper foot, automatic buttonhole foot, overedge foot, blind hem foot, overcast foot, darning foot

Hard cover, bobbins, needles, large and small spool caps, screwdriver, seam ripper, felt, additional spool pin, light bulb, lint brush, quilting guide.

Blind Hem Stitch Foot G

Overedge Foot with 3 Wires M

Zipper Foot Left or Right Needle Position E

Zigzag Foot A with Stabilizer Button (on Machine)

Straight Stitch Foot Center Needle Position H

Satin Stitch Foot F

Overcasting Foot with Brush C

Automatic Buttonhole Foot R

Free motion quilting darning foot P

Set of Needles

Screwdriver

Lint Brush

Bobbins

Seam Ripper

Large and Small Spool Cap Retainer Holder

Additional Spool Pin

Felt

Spool Base

Twin needle

Additional spool pin

Quilt guide bar

Large and small spool caps with spool stand

Screwdriver

Seam ripper

Light Bulb

Power cord with Foot Control

Instruction Manual Included

Instructional DVD Video Included and Online

Hard Protective Case Cover
Other Images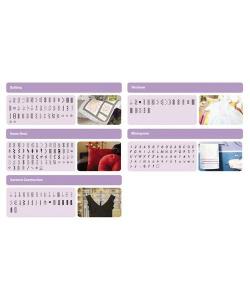 167 stitches and bi-directional blanket stitches, including an alphabet and 5 one-step buttonholes provide all the stitches you need!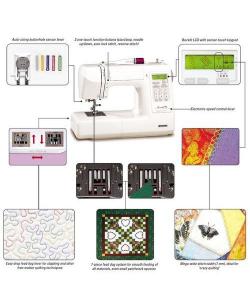 1 Step Auto Size Buttonholes, Buttons for Start Stop, Needle Up Down, Lock Stitch, Reverse. Backlit LCD Touchpad, Drop Feed for Free Motion Quilting, Speed Limit Control on Board, 7 Piece Metal Feed Dogs, 7mm Wide Stitch Width.
Vianey R, Denver CO
I absolutely love my sewing machine , it's the discontinued Kenmore for $700. I have already sewn 2 baby dresses and working on more projects. Thank you so much for the speedy delivery.
Diane, Anniston, Al
My number 3 Kenmore sewing machine. Couldn't find a machine of another brand that I liked. Looked for a long time. I love Kenmore and I love this sewing machine. Sews beautifully and it is quiet. It has so many stiches I haven't tried them all yet. Looking forward to using this machine for a long time, keeping my old ones also.
Denny, Lake Tahoe CA
This machine is perfect for me, a guy who hasn't used a modern machine before. I really like the hand speed control, needle threader, plenty of stitches and alpha numeric features. I have only used it for practice stitches and repairing a few basic garments but it has no problem with heavy and light material. I researched literally for two weeks before making this purchase, comparing Juki, Brother, Janome. Then I realized it was important to determine which factory made each model. This can be a challenge because most companies don't list this you have to ask a tech. I guess not too many guys sew, because the literature talks about seamstress's and the pink accents. Just kidding, for the features, pressed feet included and price I would buy it with Hello Kitty decals on it. It also inspired confidence when John the owner and tech emailed back right away with helpful answers to my questions.
Rosemary, Indiana
I'm enjoying my new machine and use it about everyday. Thank you.
Jonathan, Texas
Fantastic job! Specially the shipping, it got here so fast I was shock! =)
Sally, California
Have recommended this store to others.
Patricia, Wisconsin
Had no problems purchasing the sewing machine. Just need time to use it! :)
Brinda, Georgia
I was able to contact the company through email and received quick feedback. I had to have the sewing machine quickly in order to get an order out. The company sent the order out immediately and I had the machine in time to get my project completed.
Joseph, California
This is the first time that I ordered from your company, but after hearing some good comments from a Quilting Board forum, I decided to look you up. My Old Viking had just died and was looking for something to take to my next quilting retreat as a backup to my FeatherWeight. I am very, very pleased that I will be able to get parts from Jonome.
Elizabeth, North Dakota
I was very pleased with everything you did for me; it was all very good!
Kristie, Arizona
I've always loved your website because it is the only one I find on the internet that has all the complete brands listed and it has all the detailed information and reviews to help me decide what type of machine was right for my needs. I especially like the advice from your sewing techs, videos, and the prices you offer are the best anywhere. I found my Kenmore (Janome) for a steal at $269 with free shipping. I was impressed with your customer service and FAST delivery! This machine I cant rave enough about nor can I find enough time to sew all my new and exciting projects. Its SEW quiet, easy to use, and sews beautifully. Best of all your website tech describe the machine as a well made heavy duty work horse and it was the best choice for me. It sewed through 8 layers of quilting batting/fabric without a glitch! Thank you All Brands.
Cynthia, South Carolina
Haven't had the Kenmore 19233 long enough to know if it performs well -- I'm satisfied so far. Chose it over the Janome 8077 (7033 without the magnolia) because my research indicated it had the same "innards" but was a better value, as it had more stitches and accessories. Would not hesitate to order from AllBrands again.
Evelyn, Tennessee
Wonderful price on an excellent sewing machine. It's exactly what I wanted. I had purchased an upscale machine from a local vendor for $1700. It did not perform correctly and was an exercise in frustration. I returned it and purchased your product for $269. So far, am happy happy happy.
Johnny, North Carolina
I have to admit, After reading so many bad reviews about Allbrands, I was a little apprehensive about placing my order, and changed my mind about a half dozen times... But you delivered exactly what I wanted... Good Show! Thank you!
BrittanyS, Online Review





I got this sewing machine because I basically spend WAY too much on boutique clothing on my daughter who is 18 months and growing like a weed! So I took a few sewing classes, as well as what I remembered from my grandmother, and started using this. I use it at least 3 times a week and NOTHING has went wrong so far! I love this item so so so much I am giving it to my niece who is getting into sewing as well for her daughter, for Christmas! I know she is going to be so surprised, and I am even going to sneak in some fabric in there to get her started. This is great for all the moms who are wanting to save a few bucks, and not have to spend an arm and a leg on a sewing machine! I would totally recommend this to anyone that I know! This is such a great product, my money was well spent on this purchase, and my husband even agreed with me on this one for once! :) I think this would make a great Christmas present since Christmas is coming up! Also its really super easy to change threads in and out!
newwife, Online Review





Wow, i cannot say enough good things about the Kenmore 19233 Computerized Sewing Machine!! Using this machine it was the first time I'd ever used a computerized sewing machine, but I don't think i can ever go back!! This sewing machine has ALL the features a seamstress would need, wether novice or experienced. One of my favorite features (and don't laugh at me) is the button you push to tell the machine whether to leave the needle up or put it down when you stop sewing. I know it sounds silly, but this feature makes it SO easy to do 90 degree corners. Another great feature is that you don't have to do anything to the clutch when winding bobbins. You just stick the bobbin on there, and slide the holder over. No messing with releasing the clutch, etc. I am also a big fan of the clean bobbin plate! (The cover over the bobbin and bobbin holder.) No more guessing if your bobbin is about to run out- just glance at it and you'll know!!
TNGurl, Online Review





I LOVE my Kenmore machine... I've had it over 3 years. It's a work horse, I opted for the computerized machine over the more basic ones for all the stitch options which I really like but honestly haven't used much. LOL! I can though because I have them :) If you do use the more decorative stitches make sure to use stabilizer or your machine will jam up and eat your project... that's with any machine and decorative stitches if you ask me. I opted out on the warranty, I wanted to keep my machine close to home and didn't like the idea of having to have it shipped off and out of pocket for 2 to 3 weeks. I've had it cleaned once when it seemed to make a weird noise - took it to my local shop, cost about $100 to clean had it back within like 3 days and it was like new again. I can say I have not really had any problems at all from it. It sews great and the stitch quality is on par with higher end brands that I have seen. It's a hefty solid machine but not nearly as heavy as some of the higher end machines I've seen some of the other ladies bring to class. They break out the several thousand dollar extremely heavy needing it's own tote machines. This is light and easy enough to take to class. It's been reliable which worried me at first since it's computerized - I was afraid it might have Gremlins but so far none which is saying something these days! I have read it's made by the same people who make Janome another high end sewing machine brand. I purchased it for $349 on sale... they were running over $400 reg. price at that time about 3 yrs ago. The only thing and I mean only thing I'm not crazy about with this machine is trying to free motion quilt on it. I have free motion quilted some on my embroidery machine and it's smooth and does very well with it but for some reason I think it's tension issues Kenny just doesn't do a great job at it esp. making quick turns or small loops. So we came to a mutual understanding that I would use my other machine for that. It does make a really nice buttonholes even better than my embroidery machine in my opinion. That being said it's an outstanding machine esp. for the price I paid most other machines of this quality/features would run you $600 plus. If you don't need all these features then given my experience with this product I would think the machines with less features and a cheaper price would do a good job as well! I have recommended this machine to people!!!
Shirley , Online Review




I wanted a nice sewing machine that would last me for many years. I like the digital features offered on the Kenmore Machines. I purchased the Kenmore 385.19233 model which has the PINK spin wheel. I watched the video which helped to orient me to the features of the machine and then was able to use them. Since I am a novice at sewing, I really liked the simplicity of threading the machine, as well as the ease of changing the feet on the machine. I also really like the auto thread feature. This machine has several stich options which is nice. It also comes with a plastic cover which is nice for storage. I wanted an electronic machine as it offers a few more features than the the non electron machines yet it is still easy to use.
Colin, Michigan
i was very impressed with every step of my order. i would definately recommend allbrands.. i would not hesitate to shop here again...
Colleen, Wisconsin
I looked for THIS machine on the web for two YEARS! I bought it in 2000 and I love it, but my old machine is getting worn out. I was SO happy to see that you had it: you can't buy it at Sears anymore! Thank you, thank you, THANK YOU!
Rosie, Virginia
This was my first experience with your Allbrands. Your honesty in the write up of the product convinced me to purchase the sewing machine. I am so glad that I did. I absolutely love the way it sews. I wanted a machine with a straight stitch plate as an attachment and I got so much more. I thought it would be a couple of weeks before I got it but sewing machine came in time for me to complete my project. Thanks so much!
Sharon , Oklahoma
Great machine, my home was broken into2 yrs ago and this machine and my serger were stolen. Have not been able to find another until now. It did everything I needed. I am retiring in January and hope to save enough to buy this one
Dale, Ohio
Very pleased with all services and would recommend the store to others. The sewing machine is wonderful for any that might be interested in the product.
Mandie, Oregon
I have had this machine for several years and LOVE it. It has worked like a dream through Many quilts and several formal dresses and much much more! I would buy this machine again in a second!
Bundle & Save
Get additional savings when you purchase any of these items along with this product.