*FREE $100, 5 Year Nationwide Extended Warranty Enhancement: Repair Parts and Labor, Power Surg, Transfer Owner, No Lemon, Replace, Buyout%, Depreciation, for Non Commercial Use in the USA.
AllBrands is an Authorized Janome Dealer and Service Center for any repairs needed including warranty parts, electrical and labor. We give unlimited technical support by email, fax and phone. We service machines in our stores. Mass merchants do not have tech service or repair departments for your equipment. They are unable to help you directly, only referring any operational, mechanical or electronic questions back to the manufacturer instead of taking care of the problems themselves. Manufacturers and customers should expect that any problems you have will be taken care of by the dealer or merchant who sold you the equipment, not by just referring your questions back to the manufacturer.
Serious Speed, Seriously Professional.Uses Standard 15x1 Sewing Machine Needles, Additional sensor to prevent machine from starting with presser foot in up position
The fastest machine on the market coupled with amazing features makes this the perfect machine for quilt finishing and straight stitch sewing, and the perfect machine for your quilt frame.
Fast speeds and smart design make the 1600P-QC the perfect machine for sewing and quilting! You'll find everything you need to complete projects quickly and easily: Speeds of 1,600 stitches per minute make this the fastest machine on the market; nearly 9" x 6" to the right of the needle gives an extra wide work area; the side-loading bobbin allows for easy access, even from a quilt frame; the automatic thread cutter cuts top and bobbin thread at the push of a button; and the ergonomic knee lift offers a full range of adjustment so you can find the size that fits you.
High speed sewing: 800-1,600 spm

Simultaneous bobbin winding

Knee lift

Pressure indicator window

Auto thread cutter

Variable speed control

Side-loading, industrial rotary hook

Memorized needle up/down

Extra large 8.85" x 5.5" work area

Dual Lights

Industrial-type thread take-up lever

No oil holes in bed

Sealed bearings on shafts

Up to 11 lbs. of presser foot pressure

Industrial pretension threading

Thread diagram printed on machine front

Bobbin winding diagram printed on machine top

Liquid response foot control - no stalls

Synchronized thread tension lever

Variable stitch length up to 6mm

Metal attachment setting plate

Sleek design of home machine

US Warranty 25 years on parts, 5 years on electrical, 1 year on labor
Extended US Warranty: Free 5-Year Warranty
Non-US Warranty: 30 days parts and labor
Specifications
Speed control slider
Programmable Needle up/down
Foot pressure adjustment by dial with indicator
Extra-high presser foot lift-Lever: 6 mm (Extra lift: 12.7 mm)
Knee lifter: 8 mm
Darning plate included for free motion quilting
Independent Bobbin winder motor
Hinge type Presser foot (with shank)
Automatic thread cutter
Thread cutter (underneath face plate)
Remote thread cutter operation (via socket)
Built-in needle threader
Thread take up lever-Round hole for thread path
Vertical type (Fixed) Spool pin
Lamp Krypton lamps (x 2)
Knee lifter (adjustable type)
Electronic foot controller
Additional sensor to prevent machine from starting with presser foot in up position
Improved operating sound









Included Accessories
Bobbins

Lint Brush

Straight Stitch Foot

Hemmer Foot

Spool Cap

Spool Net

Needles 15x1

Spool Holder

Large Screwdriver

Small Screwdriver

Cloth Guide

Accessory Box

Oil

Knee Lifter
Other Images

Presser Foot Sensor
This unique sensor system will not allow you to start sewing with the presser foot in UP position.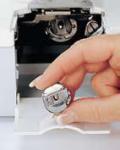 Side-Loading, Industrial Rotary Hook Bobbin
The side loading bobbin allows for easy access, even while the 1600P-QC is on a quilt frame.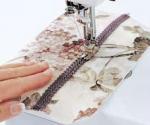 Super Pressure
The 1600P-QC provides up to 11 lbs of pressure from the presser foot. That's the greatest pressure available on the market today for a home straight stitch machine. Power through even the thickest layers of fabric without shifting.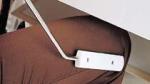 Ergonomic Knee Lift
Quilt for hours in comfort with our ergonomic knee lift. With a full range of adjustment from left to right, you can find the position that fits you best.
Bundle & Save
Get additional savings when you purchase any of these items along with this product.