On-Board Scheduling, Easy Clean Button, Captures Hair, Lint and Other Debris, Soft Cushion Polymer Bumper. Easy to use -- just press the "Clean" button and let Roomba do the dirty work
Moves in a back and forth cleaning pattern to apply elbow grease where it's needed most -- giving you the cleanest possible results
Includes a polymer bumper which provides a soft cushion between the robot and objects it touches to protect walls, furniture and other household items from bumps and scratches
Effectively captures and stores large quantities of hair, lint and other debris
Ships in Certified Frustration-Free Packaging
Extend iRobot's 1 year manufacturer warranty to 5 or 10 Year Parts and Labor Warranty Repair Service through BWG Bankers Warranty Group Insured Nationwide Agency. Check box under Recommended Accessories below and save 50% if you want to add peace of mind for 5 or 10 times longer than the manufacturer's warranty.
Popular Consumer Magazine States: "Robotic vacuums. These Jetsons-like machines aren't exactly cheap. But they let you take a hands-off approach to at least some of your vacuuming. The LG Hom-Bot Square LrV790R, $800, was the quietest of our two top picks and was very good at cleaning carpet and bare floors. The Roomba 760, $450, was a more diligent cleaner but made a bit more noise as it worked."
US Warranty 1 year limited warranty on defects in materials and workmanship.
Extended US Warranty: Extended Warranty Available
Non-US Warranty: 30 days parts and labor
Specifications
Roomba 760 combines the latest robotic and cleaning technologies to autonomously vacuum your home at the touch of a button. Using iAdapt™ Responsive Cleaning Technology, Roomba thoroughly vacuums the entire floor, including under furniture. Dual HEPA air filters stop fine dust from circulating in your home, leaving behind fresher air. And Roomba can be scheduled to clean when it's convenient for you, even when you're not home.


Let the robot do the dirty work.
Roomba uses a patented 3-stage cleaning process to vacuum your carpets, hardwood, tile and linoleum floors on its own, automatically adjusting to different floor surfaces as it moves through your home. Roomba 760's latest cleaning features include:

Advanced Cleaning Head: Designed with pet owners in mind, the new cleaning head provides superior performance for picking up pet hair, dirt, dust, allergens and more
AeroVac™ Series 2 Bin: Employs a powerful vacuum to vigorously pull debris and hair off brushes into the bin. The distributed air collection and clog-resistant design of the AeroVac Series 2 Bin optimizes vacuum effectiveness and dirt and hair packing efficiency.
Dual HEPA Air Filters: Capture dust particles as fine as 0.3 microns, limiting the recirculation of fine particles and leaving fresher and healthier air behind


Clean under the bed and other hard-to-reach areas.
Roomba provides comprehensive cleaning coverage – vacuuming in tight spots, under and around furniture and along baseboards. Roomba 760 features:

Persistent Pass Cleaning Method: Employs a back and forth cleaning pattern to apply elbow grease in areas where it senses excessive dirt


Every home is different.
Roomba maximizes cleaning by adapting to your unique household environment. iAdapt Technology monitors the cleaning environment more than 60 times per second, using multiple sensors (like cliff detection) and dozens of behaviors (including wall following) to clean your home. Just like you, it spends more time cleaning the dirtiest areas of your floor, making sure you get the cleanest possible results. Roomba 760 adapts to your home using:

Molded Soft-Touch Bumper: Cushions the contact made between Roomba's bumper and walls, furniture and other objects, protecting household items while it cleans
Dirt Detect™: Uses acoustic sensors to detect small particles and focus its cleaning effort


Less work for you.
Roomba knows which areas to clean – and those to avoid. Auto Virtual Wall® barriers emit an infrared beam that Roomba won't cross, keeping the robot in the rooms you want to clean and out of the ones you don't. Plus, Roomba charges itself, going back to its Home Base® to dock and recharge between cleanings. More 760 convenience features include:

Extended-Life Power Management: Uses sophisticated power management software to deliver up to 50% longer battery life than previous Roomba generations, ensuring hundreds of cleaning cycles under proper use
On-Board Scheduling: Cleans on a schedule that's convenient for you, up to 7 times per week
Carrying Handle: Includes a recessed carrying handle for easy one-handed transport room-to-room or between floors


What's In The Box:

1 iRobot Roomba 760
1 Rechargeable Battery with Extended-Life Power Management
1 Battery Charger (3-hour charge time)
1 Compact Self-Charging Home Base
2 Auto Virtual Walls (each requires 2 C batteries, not included)
1 Extra Filter
2 Brush Cleaning Tools
1 Remote Control
1 Instructional DVD
1-Year Manufacturer's Limited Warranty On Robot, 6-Month Manufacturer's Limited Warranty On Battery


Specifications:
Package Dimensions: 19 x 5 x 21.5 inches
Package Weight: 14.5 lbs.
Robot Dimensions: 13.9 inches in diameter, 3.6 inches in height
Robot Weight: 8.4 lbs.

The iRobot limited warranty shall not apply to failures or problems which are caused by products or equipment not authorized by iRobot Corporation.

Country of Origin:China




Other Images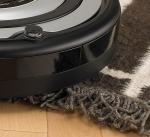 Won't get stuck on cords, rug fringe and tassels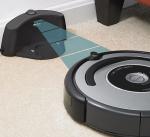 Automatically docks and recharges between cleanings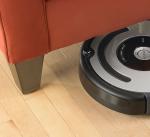 Vacuums under furniture and other hard-to-reach places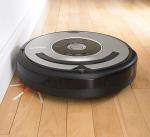 Cleans along wall edges and deep into corners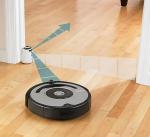 A virtual wall lighthouse directs roomba to clean one room entirely before moving to the next and creates an invisible barrier to off-limit areas
Bundle & Save
Get additional savings when you purchase any of these items along with this product.