Navigation
Product Description
Product Features
Product Videos
Product Comparison Chart
Product Projects
Product Accessories
---
ScanNCut® by Brother™.
The best thing to happen to crafting since—the scissors!
Behold the power of the world's first home and hobby cutting machine with a built-in scanner! This revolutionary machine, designed with the input of fifteen world-leading crafters, grants you the ability to scan almost anything you can get your hands on and place into the machine to cut out in complete 300 DPI. Take advantage of the whopping 840 built-in designs, including quilt and applique patterns. Exercise your creativity by enhancing them to your preference!

Compared to the Cricket™ and Silhouette™ Cameo, this machine is designed to work straight out of the box. No additional software or configuration required! And look forward to forthcoming downloadable upgrades—just like the rest of the top-of-the-line Brother machines.

Digital stencils and forms are at your fingertips with the powerful scanning tool, and with the built-in cutter, a new era of creative control will come to your projects. Scan virtually anything you can think of—magazine clippings, cherished photographs, a handmade drawing—and save it to your USB stick for future use. Alternatively, scan it to the machine to create virtually unlimited designs and save it to the machine's memory. Cartridges are a thing of the past! Amazing post-scanning features give you a full layout screen to calculate your options, and the editing capabilities of zoom size, cropping, unifying, group and combine, invert, duplicate, overlay, outline welding, and rotate in 1° increments. Furthermore, two mats are included—a low-tack mat for finer materials, and a standard mat for the rest.

Developed with the cutting-edge technology that Brother™ is known for around the world, this brilliant new device is truly an incredible innovation in electronic cutting machines.

ScanNCut® by Brother™.
See it. Scan it. Cut it. Create it.

---

12" Wide up to 24" Long, Scan N Cut BLUE, Free Standing Digital Scanner and Cutter, 300 DPI, Touch Screen, USB Port, 840 Designs, Font, Quilt Applique, Draw, Layout, Save, plus 5 Year Extended Parts and Labor Repair Warranty from AllBrands.

This is what ScanNCut owners have been waiting for! Canvas, the cloud based website for converting SVG files into ScanNCut FCM files, is now live. It is free and easy to register. With this web service, original cutting and drawing can be created. Download the data to a USB drive and transfer it to the ScanNCut. Use Google Chrome browser, since Firefox and Internet Explorer 10 or later is not supported.

Sign up for Scan N Cut Canvas today!
Create a Log In and Password

Why Buy the ScanNCut Machine? See it, Scan it, Cut it, Create it! The World's First Home and Hobby Cutting Machine with a Built-In Scanner

• It Helps Save Money! No design cartridges.
• It's Easy! No PC or software required.
• It Doesn't Use Dies! No more dies needed to cut paper and fabric.
• It's Revolutionary! 300 DPI built-in scanner.
• It's a Cut Above! Scan an image, photo or sketch, and then precisely cut the shapes or outlines you want.
• It Has Multi-uses! Use as a home scanner.

The ScanNCut by Brother. The world's first digital scanner, printer, cutter, all in one machine!
Includes $200 in Extras from Brother.

---
Click here for the full line-up of Scan 'N Cut videos!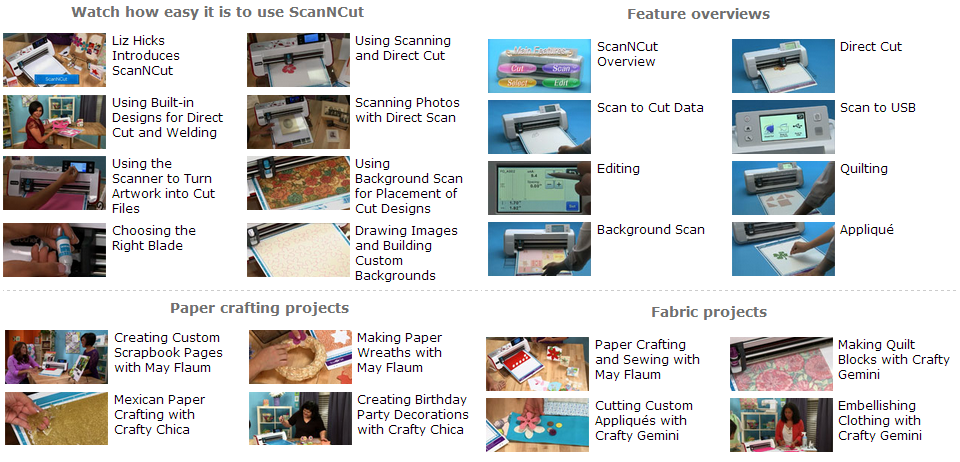 ---
Scan-to-Cut
Take any design, any drawing or print. After scanning the chosen image, choose either to save the design to the machine's memory, or to a portable USB stick. Feel confidence in the 300 DPI—the standard for digital material, and well above the 72 DPI for print. Find or draw it, scan it, save it. It's just that easy!


Direct-to-Cut
Scan in an image 300 DPI built-in scanner, and with a single, simple pass, the machine will effortlessly cut out your design. Successfully complete in less than ninety seconds. That's faster than loading a standard computer!




Pen Draw
Automatically draw in a selected scanned or on-memory design onto a fabric or material you've chosen. Quilters will love the ability to select the seam allowance, cutting out the variety of fabric pieces you will be combining for your project.




Fabric Cut
While using the Fabric Cut feature, there's no need for stabilizer. The built-in, adjustable knife is easy to set for your project, giving you a variety of fabric edges and thicknesses.




---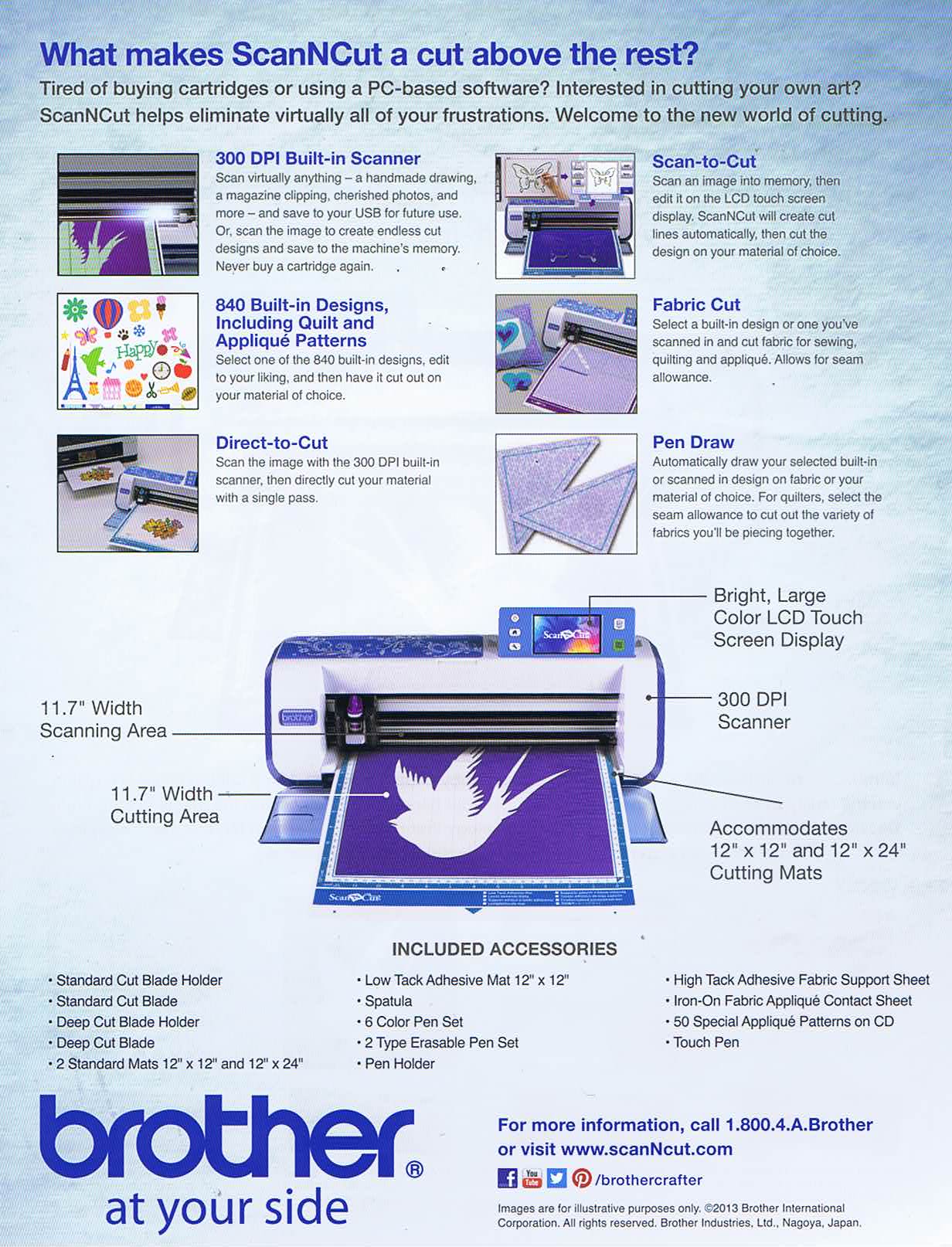 ---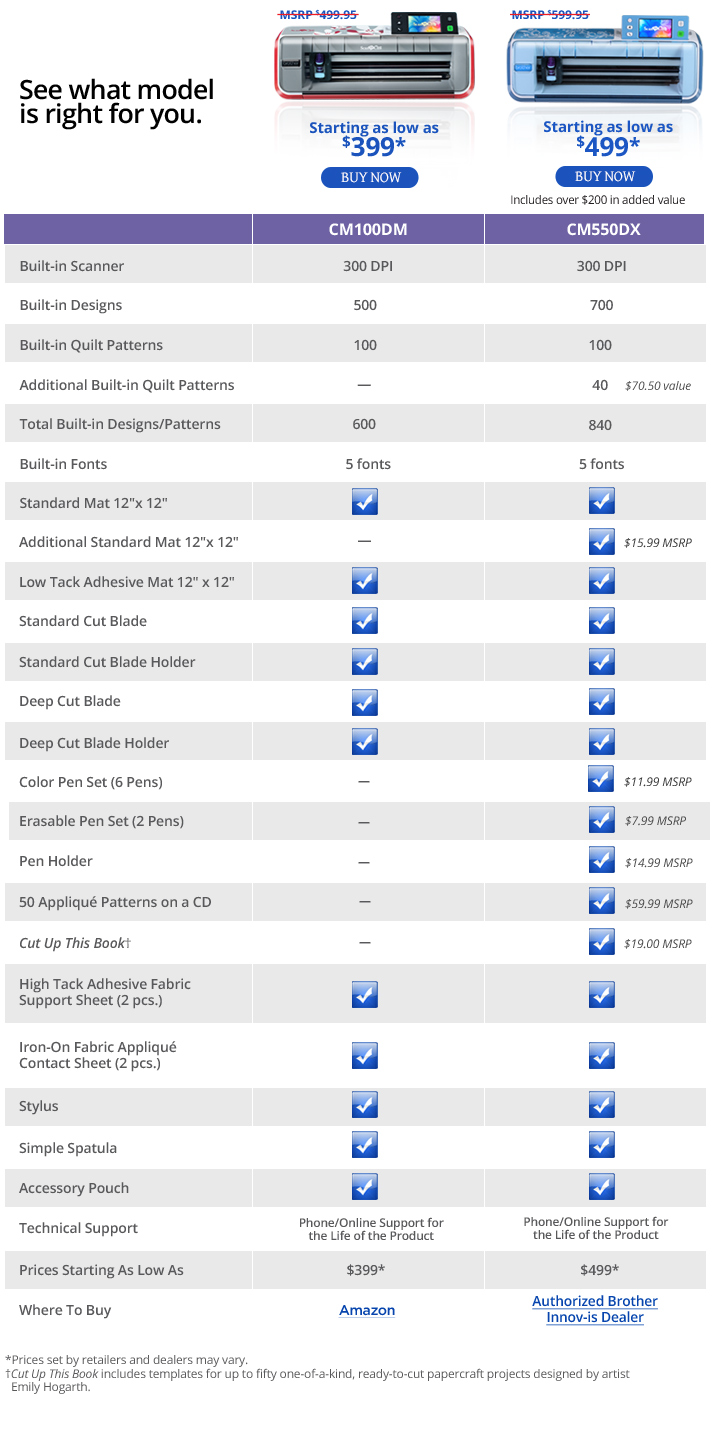 ---
Projects
Each of this pictures is a separate project that can be easily done with the revolutionary ScanNCut™. Just click on a picture to see the instructions, or right-click and choose "Save Link As..." to save them to your computer. It's as simple as that!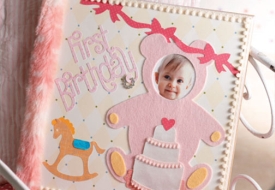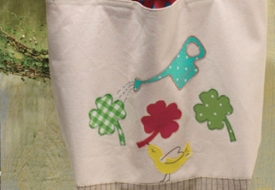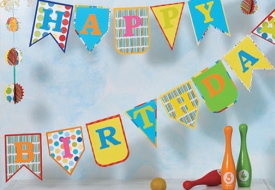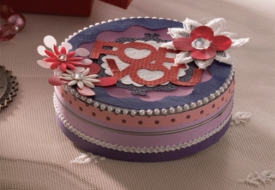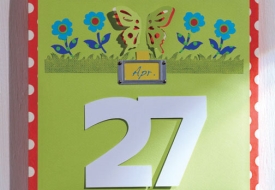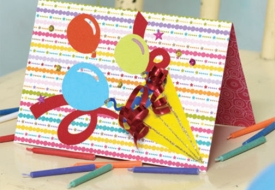 Appliqué Cutting with the Brother ScanNCut
George Moore shows you how to use Brother's ScanNCut scanning & cutting machine to create the perfect applique cut-outs in this very informative video:
Attention all ScanNCut users:
ScanNCutCanvas allows conversion of SVG files to FCM file format (ScanNCut cutting file format)
Click Here to learn more about converting existing SVG files to the format for the Scan N Cut machine. With this web service, original cutting and drawing can be created. Download the data to a memory stick and transfer it to the ScanNCut machine. Creating personalized craft projects has just become more fun!
US Warranty 1 year limited warranty on defects in materials and workmanship.
Extended US Warranty: Free 5-Year Warranty
Non-US Warranty: 30 days parts and labor
Included Accessories
Standard cut blade holder

Standard cut blade

Deep cut blade holder

Deep cut blade

2 standard mats- 12" x 12" (1 additional)

2 Iron-on fabric applique contact sheets (1 additional)

High Low tack adhesive fabric support sheet mat, 2 pieces (1 additional)

Simple Spatula

6 color pen set

2 type erasable pen set

Pen holder

50 special applique patterns on CD

Instructional project "Cut Up This Book" Clip Art

Touch pen

Stylus

High Tack Adhesive Fabric Support Sheet (2pcs)
Other Images
Fabric Cut
Select a built-in design or one you've scanned in and cut fabric for sewing, quilting and appliqué. Allows for seam allowance.
Pen Draw
Automatically draw your selected built-in or scanned in design on fabric or your material of choice. For quilters, select the seam allowance to cut out the variety of fabrics you'll be piecing together.
Scan-to-Cut
Scan an image into memory, then edit it on the LCD display. ScanNCut will create cut lines automatically, then cut the design on your material of choice.
Teresa R, Holly Springs NC
Thank you so much! I purchased my brother pr650 from your Baton Rouge store 1 year ago. I have family in Baton Rouge, and it was worth the drive to buy from you rather than my local dealer in nc. I was so excited to be in the store and was talking to everyone while shopping, it may have been my fault that they forgot to give me the book (Cut It Up for Scan N Cut). PS! I am so thankful for the help that Rae at the Baton Rouge store has given me over the year when I've had questions with my embroidery machine! She has been a lifesaver!! Teresa R