Introducing the CleanMate QQ2 Basic
CleanMate QQ2 is your personal robot cleaner that sweep and vacuum for you. It can easily handle various surfaces including carpet, hardwood tile and linoleum. It can also go underneath the beds and other hard-to-reach places to clean dirt, dust and pet hair while simultaneously killing bacteria and deodorizing with its ultraviolet light. With Cliff Sensing technology built-in, CleanMate intelligently avoid stairs and ledges. CleanMate can work ceaselessly up to 70 minutes on a single charge.
The main difference between QQ2 and QQ2L models is panel display.
Note: Please refer to the FAQ tab for questions and additional information.
Main features:
• User friendly LCD panel displays unit operation status
• Display running time data
• Automatically returns to dock for self-recharging when low on battery power
• Resumes cleaning after battery recharge completion
• Auto-off feature conserves power when unit is not in use and being recharging
• Compact size remote control which is embedded into upper cover
• 3 1/2 hours quick battery charging
• UV light provides disinfection
• Photo sensor detects stairs to avoid falling down
• Stop automatically and making warning beeping when wheel gets stuck
• Easy roller brush removal for cleaning
• Debris level is visible via dust bin window
• Five-step repetitive rotation movement provides the most effective way to clean your rooms
• Timer for cleaning time setting
• Built-in slot to put fragrance for odors removal
• Three washable filters to reduce cost of ownership
• Move out from underneath furniture (dark area) when it is low on power or has ended its
cleaning job
---
Extended Features
• With the rolling brushes and the strong vacuum entry, it is suitable for use on any normal floors except plush and long fur carpet.
• Attached ultraviolet tube can generate ozon to provide disinfection.
• With photo sensors, it can detect the stairs to avoid falling down.
• It will stop automatically and keep making a sound to alert you when it gets stuck.
• A five-step repetitive rotation movement can guarantee the most effective way to fully cover all of your room.
• To be more flexible, you can use separate mode to split the five-step movement from sequential to independent type.
---
Product Downloads
Q22 Product Manual for Download
---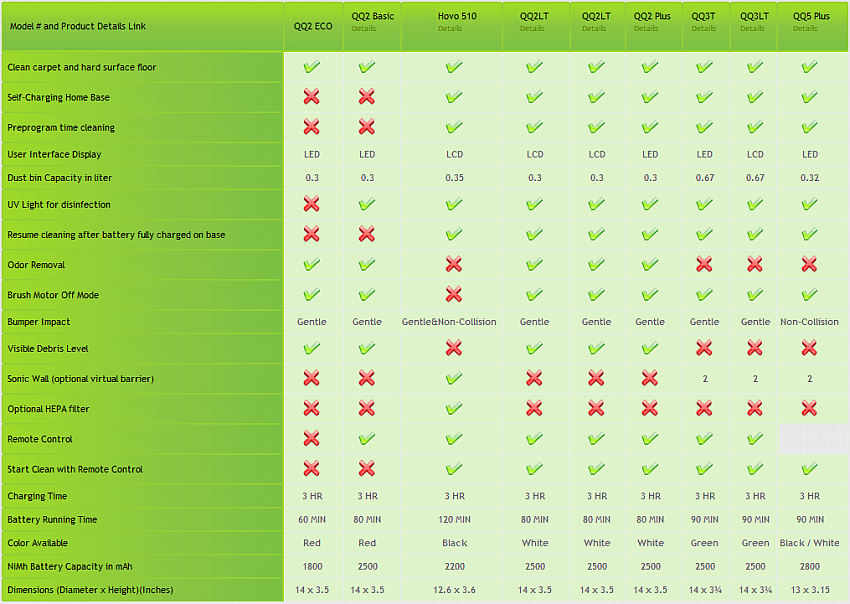 US Warranty 1 year limited warranty on defects in materials and workmanship.
Extended US Warranty: Extended Warranty Available
Non-US Warranty: 30 days parts and labor
Specifications
• NiMH 2500 mAh battery: 500+ recharging cycle
• Noise level: 80dB at distance of 20cm
• Suction capability: Vacuum fan speed 5.2 meter/second
• Capacity of dust bin: 0.3 liter
• Cleaning capability: 30 minutes at area of 4.8m x 3.2m
• Unit Dimension: 14"x3.6"
• Box Dimension: 22"(L)x6"(W)x17"(H)
• Shipping weight: 13 Lbs

As the implementation is kind of tricky, please
refer to Infinuvo's page here
, which answers the following and more:
• What do I get inside the CleanMate QQ-2 retail package?
• What are the additional functions on QQ-2 than QQ-1 model?
• How long does CleanMate QQ-2 run on a single battery charge?
• How long does it take to recharge NiMH battery on QQ-2?
• How does QQ-2 find charging base?
• Where do I put charging base and what is the set up procedure so QQ-2 can do recharging?
• Willl QQ-2 continue to do vacuuming after battery is recharged?
• What is the energy saving feature on QQ-2 model?
• What is the purpose of CleanMate remote control unit?
• What type of batteries does the CleanMateQQ-2 use?
• How long does it take to recharge the battery?
• What should I do if battery is not recharged fully? (very short run-time after battery just recharged)
• What should I do if QQ-2 cannot find charging base? Can I rechargeable battery manually?
• Should QQ-2 remain at charging base after battery is fully charged?
• What is the warranty period for CleanMates QQ-2 and product registration?
• Where can I get QQ-2 user mamual?
• Does QQ-2 have virtual wall like device to block vacuuming area?
• How to charge the battery correctly?
• The CleanMate does not pick up anything?
Bundle & Save
Get additional savings when you purchase any of these items along with this product.