Introducing the Infinuvo Hovo 510
Hovo 510 is the latest model of Infinuvo multi-function robotic vacuum cleaner with strong cleaning power. It comes with a user friendly interface to easily perform the following functions:
1. Just push one button to do AUTO cleaning, SPOT cleaning or mopping
2. Handy remote control unit with LCD display to control cleaner operations, movements plus cleaning and power it On/Off
3. Easy to set up pre-programmed schedule with remote control to do cleaning any time you want
4. When battery power is low, it will return to charging station and re-charge its battery automatically
5. Two movement speeds and easy to read error code on remote to indicate abnormal conditions
6. Soft-touched and non-collision obstacle detection to protect furniture in your home
Note: Please refer to the FAQ tab for questions and additional information.
Main features:
• side brush will clean along wall edges
• use remote control to direct IQX510 to clean dirty area easily
• spot cleaning mode will clean small dirty area just with one push button
• easy to remove and clean dust bin when it is full
• easy to remove and clean roller brushes
• easy to clean or replace air filter to keep unit with good suction power • it cleans hardwood, tile, linoleum and carpet floors
• will not fall downstairs or drop-off step via cliff detection sensors
• unit with low profile height will allow it to clean under furniture, bed or cabinet
• long running time (up to 2 hours) after fully recharge high capacity battery
• low noise operation
• quick search and find charging station with intelligent design
• use remote control to locate unit where about
• no moving bumper for longer life unit usage
---
Product Downloads
Hovo 510 Product Manual for Download
---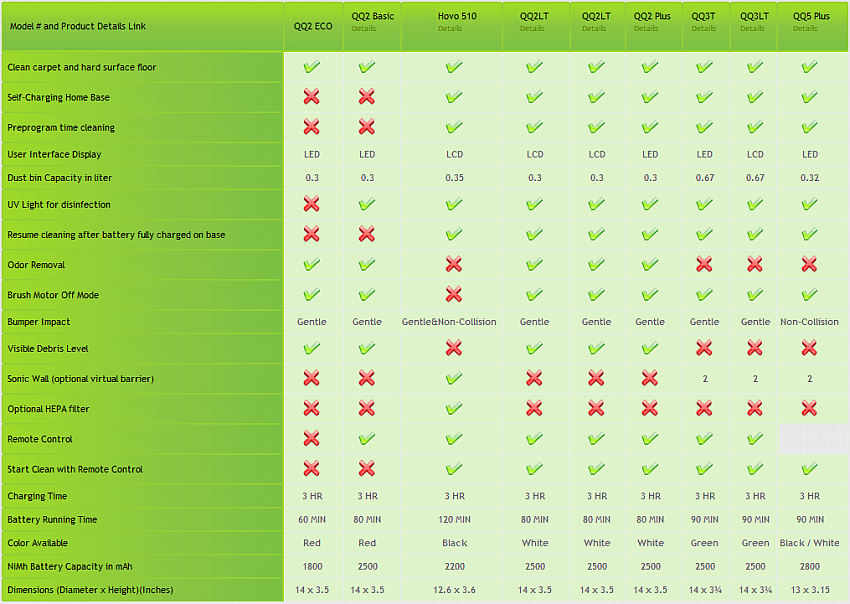 US Warranty 1 year limited warranty on defects in materials and workmanship.
Extended US Warranty: Extended Warranty Available
Non-US Warranty: 30 days parts and labor
Included Accessories
• Remote control
• Charging station
• Adapter
• Virtual blocker
• User manual
• Trailing bar with mopping pad
• Moping pad
• Dust brush
• Side brush
• Filter
• Rechargeable battery
As the implementation is kind of tricky, please
refer to Infinuvo's page here
, which answers the following and more:
• What are the main features and what items are included inside package?
• Why Hovo unit top case is dull and not glossy?
• How do I set scheduler functions?
• Will Hovo continue to do vacuuming after battery is recharged?
• Can Hovo mop the floor and how to install mopping pad?
• Should Hovo remain at charging base in order for scheduler to work?
• What is the warranty period for Hovo?
• Where can I get Hovo User Manual (you can use PDF reviewer to enlarge font for easy reading)?
• Does Hovo have virtual wall like device to block vacuuming area?
• How to charge the battery correctly?
• Where to place Self-Charging Station to make it easier for the Hovo to find it?
• How does Hovo search for Self-Charging Station?
• Can I move charging station to different location and not lost time setting?
• How to set up clock and scheduler setting on charging station?
• How to detect when the dust bin is full and when to empty debris inside dust bin?
• What is the purpose of two moving speeds? Why unit gets Er02 error when running on my carpet?
• What is spot cleaning? Can I use remote control to do spot cleaning?
• Is Hovo good to clean thicker carpets? Can it go over area rugs with tassels and if gets stuck in reverse and move on?
• Is Hovo good to climb up from hardwood floor to thicker carpets?
• Is Hovo good to clean hair stuck on main roller brush?
• Does Hovo have UV lamp to kill germs like other QQ2 models?
• How to remove battery out?
• How to test two moving wheels, roller brushes and UV lamp condition?
• If your unit is moving on circles even on AUTO mode, then check two wheels rotation speed.
• Why unit stop on my carpet floor with 3 blue lights flasing?
• I push remote control button but sometimes it is not working?
• Why blue charging light is flashing after unit idling for 2-3 days?
Bundle & Save
Get additional savings when you purchase any of these items along with this product.