*6 Extras! Brother iBroidery.com Free Monthly Designs, Creative DRAWings My Editor Sizer Rotate Merg and Array Editing Software, Wilcom Truesizer Format Conversion to Brother .pes Software for USB, DIME Thread Color Conversion Software to and from 15 Brands, 21 Exquisite Stabilizer Samples, Designs in Machine Embroidery Magazines Offer,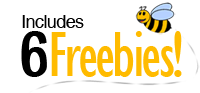 AllBrands is a Brother Authorized Dealer and ASC Authorized Service Center for any repairs including warranty parts, electrical and labor. We give unlimited technical support by email, fax and phone. We service machines in our stores and/or refer to your nearest ASC Brother Authorized Factory Service and Warranty Centers nationwide. Mass merchants do not have tech service or repair departments for your equipment. They are unable to help you directly, only referring any operational, mechanical or electronic questions back to the manufacturer instead of taking care of the problems themselves. Manufacturers and customers should expect that any problems you have will be taken care of by the dealer or merchant who sold you the equipment, not by just referring your questions back to the manufacturer.
Embroider the magic of Disney onto all of your projects with the PE540D embroidery-only machine! With 35 built-in designs from the Disney collection, you'll love watching your projects come to life as you embroider your favorite characters onto the 4" x 4" embroidery field. Plus, you can find more Disney embroidery downloads available for additional purchase at iBroidery.com- exclusively for Brother customers! With 120 frame pattern combinations, you'll also have the ability to add a fun frame around your embroidery design to help take it to the next level. Make room for Mickey and the whole gang! The PE540D is perfect for the embroidery lover in you.
---
Welcome to the world of truly affordable embroidery, with the exciting new PE500 embroidery machine from Brother! The feature-rich, easy-to-use PE500 embroidery-only machine comes with top-of-the-line features, typically found in more expensive machines, which help make embroidery fun and easy. Whether you are a sewer interested in trying your hand at embroidery for the first time, a crafter looking for a new challenge, or an advanced embroiderer looking for a unit to carry to a make & take, the PE500 is perfect for you! Use it to recycle clothing by adding new, fashionable embellishments! Turn everyday pillows and blankets into customized gifts for friends and family.
With the PE500, the options are virtually limitless.
New product coming in at end of September. Brother's most affordable embroidery machine ever!
4"x4" embroidery area - Ample work space for virtually any project

Built-in designs - 70 designs, 5 font styles for lettering and monogramming, and 120 border and frame design pattern combinations

Easy-to-use, backlit LCD touch screen display - Access and edit built-in designs, view tutorials, and more

Easy threading - The automatic needle threader threads the needle with the press of a button

Computer connectivity - Import designs and download machine updates from Brother. Computer Connectivity, USB Port & Cable to Transfer Designs from Your Computer, or to Update the Main PC Board to Latest Version number with Free Downloads from BrotherSolutions.com website.

iBroidery.com compatible - Enjoy access to ibroidery.com, with over 5,000 designs for individual purchase

Wide range of accessories, including 3 spools of embroidery thread and 3 medium-weight stabilizer sheets.

The Brother PE540 Embroidery-Only Machine Overview. Embroider the magic of Disney onto all of your projects with the PE540D embroidery-only machine! With features such as 105 built-in embroidery designs, including 35 designs featuring Disney characters, a 4" x 4" embroidery,1.4" x 2.7" back-lit LCD touch screen display and the ability to embroider designs at up to 400 stitches per minute, you'll love this machine.



---
Project Videos
---
Project Downloads
Brochure on New Brother PE500 Embroidery Machine
Operation Manual Instruction Book on New Brother PE500 Embroidery Machine
Quick Start Reference Guide on New Brother PE500 Embroidery Machine
Windows 98SE Operating System Drivers to use for New Brother PE500 Embroidery Machine
---
US Warranty 25 Year Head, 6 Year Electronic Parts, 1 Year Labor
Non-US Warranty: 30 days parts and labor
Specifications
Basic Features:
LCD Size (Horizontal x Vertical) inches: 2.7 x 1.4

Display (Number of Colors): Monochrome

Stitch Select: Touch Panel

Screensaver: No

Opening Screen: Yes

On-Screen Help: Yes

Built-in Languages: Yes

On-Screen Editing: Yes

Lighting: 1 LED

Number of Needles: 1

Needle Threading System: Advanced

Thread Tension: Manual

Easy Bobbin Winding: Yes

Adjustable Bobbin Winding Speed: Yes

Thread Sensor: Upper and Bobbin

Thread Sensor On/Off: No

Automatic Thread Cutter: Yes

Quick Set™ Bobbin: Yes

Full USB: No

Computer Connectivity with Update Capability: Yes

Mouse Capability by USB: No

Media Type: Embroidery Card

Embroidery Features

Maximum Embroidery Area (X x Y): 4" x 4"

Maximum Embroidery Speed (stitches per minute): 400

Built-in Embroidery Designs (non-license): 70

Built-in Frame Designs: 10 Shapes x 12 Stitch Patterns

Trial Position/Layout Function: Yes

Pattern Rotating: 1, 10, or 90 Degrees

Compatible with Brother Embroidery Software: Yes

Software Upgrades: Yes

iBroidery®.com - Ready: Yes

Embroidery File Formats: .PES and .DST embroidery data files are compatible with this machine.

Carton Contents

Accessory Storage: Yes

Carrying Case: No

Included Accessory Feet: Embroidery foot

Table: No

Other Included Accessories: 3 spools embroidery thread, 3 sheets of medium-weight stabilizer, embroidery arm, accessory bag with seam ripper, needle set, cleaning brush, screwdrivers (2), touch pen, spool caps (3), scissors, embroidery bobbin thread, bobbins (3), USB cable, power cord, English/Spanish operation manual

Included Embroidery Hoops: 1 (4" x 4") Additional hoops may be available, please see Optional Accessories

Other

UPC Code: 012502631361

Machine Dimensions (H x W x D): 10.94" x 6.89" x 15.55"

Machine Weight: 18.1 lbs

Shipping Dimensions (H x W x D): 15.15" x 17.71" x 20.27"

Shipping Weight: 22.5 lbs

UL/CSA Listed: Yes, 110v
Included Accessories
(1) Embroidery foot

(1) 4" x 4" Embroidery hoop

(1) Embroidery arm unit

(1) Accessory bag

(1) Needle set

(2) Screwdrivers

(1) Touch pen

(3) Spool caps

(1) Scissors

(3) Bobbins

(1) USB Cable

(1) Power cord

(1) English/Spanish operation manual

Optional accessories at additional charge

Embroidery hoops:

Large 6 ¾" x 4"

Small 2 x 1 ½"

110 Piece embroidery thread set

BES3 Embroidery lettering software

PE Design 10 Embroidery design and digitizing software and upgrade

PE Design Next Personal embroidery design software system

Bobbins
Other Images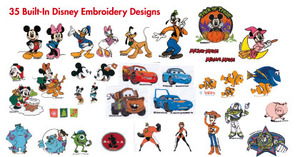 35 Built in Disney Mickey Mouse & Friends Embroidery Designs
70 Built in Decorative Designs including 26 Script Alphabet Lettering Characters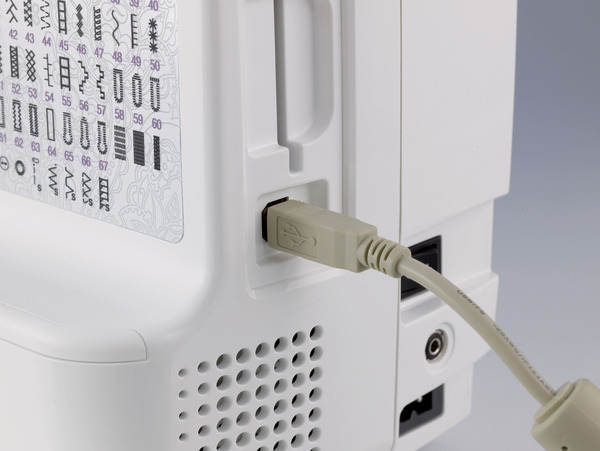 Computer Connectivity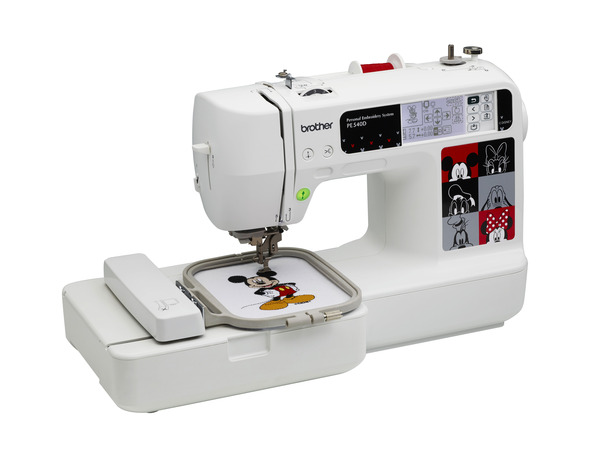 4x4" Standard Hoop can be upgraded with optional 4x6.5" Multi Position Hoop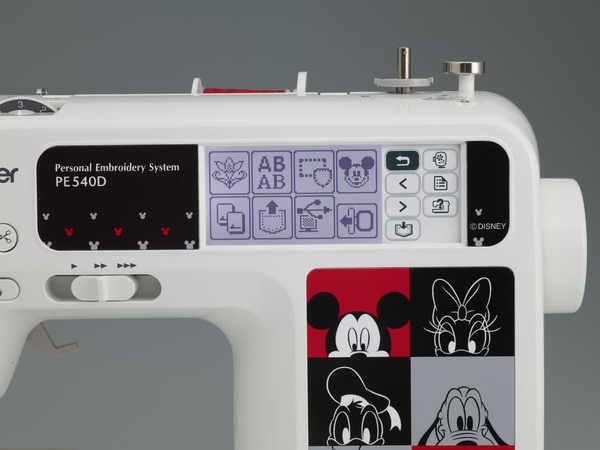 LCD Screen for Stitch Selection and Editing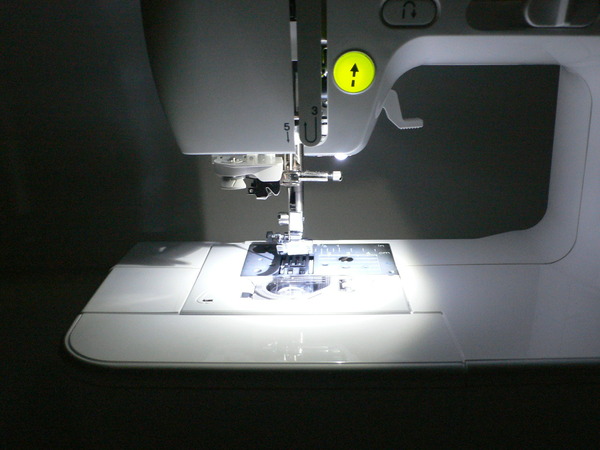 Brother Runway Lighting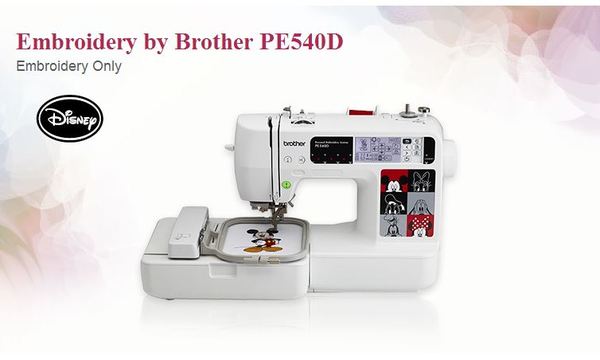 Brother PE540D Embroidery Only Machine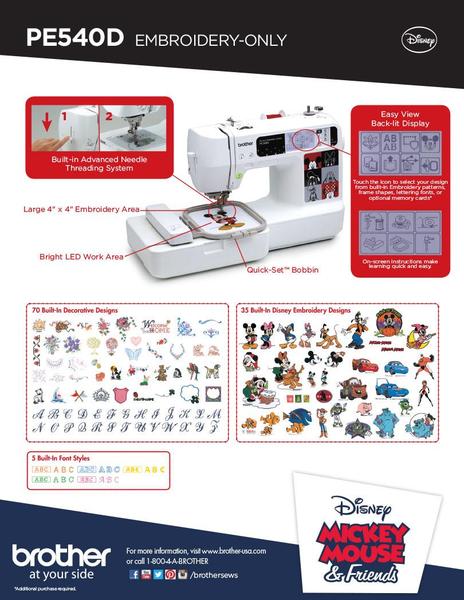 70 built in designs plus 35 Disney designs. Unlimited import designs.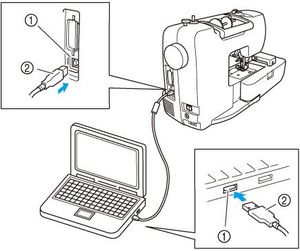 How to transfer .pes files to embroidery machine.
I was wondering if you could help me with an issue concerning my brother pe500 embroidery machine and my monogram wizard plus software? I make the image on my computer and then download it to my machine, the screen displays the message of "transporting from usb" and it shows in the memory but if the image isn't shown in the screen I can't find it. Does this make sense to you?

It could be one of two things. Even though a design may be within the 4x4 parameter, it may have to many stitches for the machine memory.

1) You may be sending a design that has more stitch data than the machine can accept approximately 50,000, or the design may be slightly too large for the 4x4 hoop and it looks like it is within the parameters, but really isn't. The stitch data is in the message.

2) Save your embroidery file in Tajima (.dst) format. The Brother PE500 will read .pes and.dst formats
Bundle & Save
Get additional savings when you purchase any of these items along with this product.