The Brother Duetta 2 4750D is a combination sewing and embroidery machine.7-point feed dogs 7x12 embroidery area with disney pixar designs and my custom stitch sewing stitch
Purchase between 10/20-10/30 to receive 0% APR for 60 Months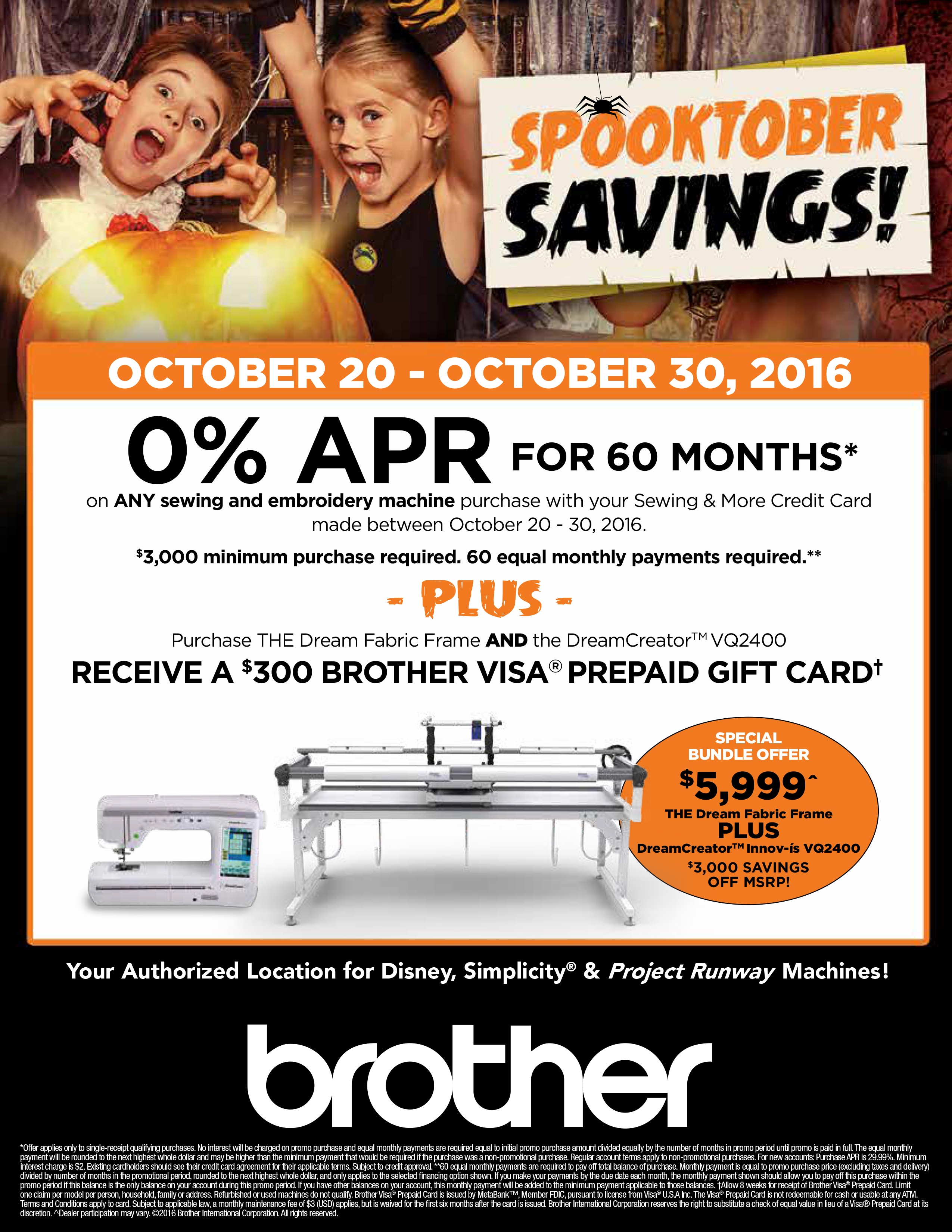 Let your creativity explode with the enhanced features found in the exciting new Duetta® 2 Innov-ís 4750D. This machine does it all: Sewing, Quilting, and Embroidery, and is jam packed with features. Sewers will take garment construction to new heights with the 7-point feed dogs that smoothly and easily feed almost every material, and the My Custom Stitch™ feature, which allows you to create personalized stitches. Quilters will delight in the large workspace and range of accessories that make quilting fun and easy. Embroiderers will delight in the large 7" x 12"embroidery area, one of the largest available to home embroiderers. Plus, enjoy the included ELS® Embroidery Lettering Software, Bobbin Case for Bobbin Work and the Perfect Placement Kit for added creativity. Duetta® 2 is a dream come true for the person that loves to do it all, and do it well.. Take advantage of all of the features this machine has to offer:
On Board Controls
Start/Stop Button
Speed Controller
Needle Position Key (Up/Down)
Presser Foot Pressure Adjustment
Presser Foot Leveling
Automatic Presser Foot Lifter
Automatic Thread Cutter:
Leave those scissors behind. The automatic thread cutter trims the end of your stitch with the push of a button leaving a nicely trimmed seam.
New Enhanced 8.9" Diagonal Bright LCD Touch Screen Display:
Simply touch to screen to select stitches, embroidery designs, tutorials and even view instructional movies! The zoom tool allows you to see your designs with increased detail
*The Brother Exclusive Sewing Advisor: View the recommended sewing settings in full resolution. It's like a having your own personal sewing advisor!
Automatic Needle Threading System:
"Squint Free" With the touch of a button thread be ready to sew with the needle automatically pulled through the eye of the needle with great precision.
Dual USB Ports:
Connect to your computer to the machine via the USB Cable for importing and exporting designs or performing machine upgrades. Use the USB Stick slot to import and export designs directly from your USB Memory Stick.
Super bright LED work lights:
: The bright independent lighting in the needle and work area help reduce eye strain and brightens the details of any project using 5 LED lights.
Features:
Sew with Embroidery Unit in Place:
Switch to the sewing function without having to remove your embroidery unit. This is a great time saver, and gives an expanded work surface.
Quick Set Top Drop in Bobbin Automatic Height Adjuster™ AHA® feature:
The Duetta 2 automatically adjusts the foot pressure to achieve precisely formed stitches on varying fabric thickness. This feature helps ensure consiststen stitch length on all fabric thickness by keeping the presser foor pressure consistent regardless of fabric thickness. This results in uniform stitch quality across uneven surfaces.
Pivot Function:
Stitch Crisp corners, this is a great feature for quilters.
On-Screen Editing
Sewing:
My Custom Stitch Feature
Missing a stitch? Unlikely, but if you are feeling creative, create your own stitches through the touch screen using the My Custom Stitch Feature.
Embroidery:
Space Reduction among Embroidery Alphabets
Embroidery Curving Text on Screen
Embroidery Pattern Rotating by 1, 10, or 90 Degrees
Embroidery Drag and Drop Editing
Quilting Features:
Knee Lifter
Feed Dog
Side Feeding
Pivot Function
Drop Feed/Free Motion
Free Motion Quilting Foot
Included Quilting Feet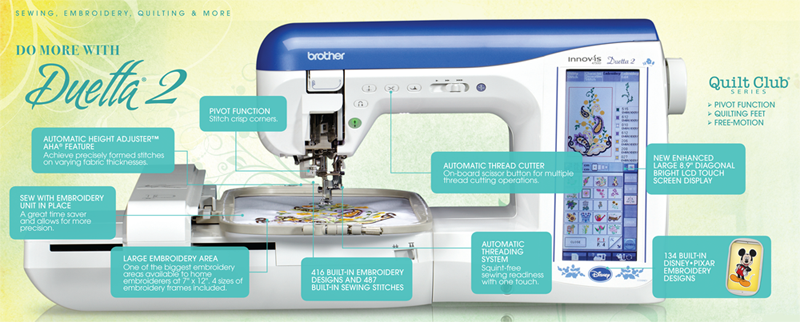 Click Here to View the Brother Duetta 2 Brochure(.pdf)
See the New Expanded Manufacturer's Warranty Below. Allbrands is an authorized Dealer and Service Center:
US Warranty 25 Years Head, 6 Years Electrical, 2 Years Parts, 2 Years Labor
Non-US Warranty: 30 days parts and labor
Included Accessories
Included Specialty Bobbin Case for Bobbin Work

Included Perfect Placement Kit – $49.99 value!

Included ELS® Embroidery Lettering Software – $119.95 value

Standard Presser Feet Included with Machine: 14

Knee Lifter: Yes

Accessory Storage: Yes

Carrying Case: Hard Case ⁄ embroidery arm

Included Accessory Feet:
-Buttonhole Foot
-Embroidery Foot
-Overcasting Foot
-Monogramming Foot
-Zipper Foot
-Zigzag Foot
-Blind Stitch Foot
-Button Fitting Foot
-Walking Foot
-Side Cutter Foot
-Free-Motion Quilting Foot
-Free-Motion Open Toe Quilting Foot
-Free-Motion Echo Quilting Foot
-Straight Stitch Foot

Table: Optional (additional purchase required)
Other Included Accessories:
-Seam ripper
-Bobbins (10)
-Needle set
-Twin needle
-Ball point needle set
-Scissors
-Chalk pencil
-Cleaning brush
-Eyelet punch
-Screwdriver (large)
-Screwdriver (small)
-Spool cap (small)
-Spool cap (medium)
-Spool cap (large)
-Vertical spool pin
-Spool felt
-Disc-shaped screwdriver
-Spool net (2)
-Embroidery needle plate cover

Included Embroidery Hoops:
-1" x 2.5"
-4" x 4"
-5" x 7"
-7" x 12"
Additional hoops may be available; see Optional Accessories
Foot Controller: Yes

Bundle & Save
Get additional savings when you purchase any of these items along with this product.