The Embroiderer's Compass is an embroiderer's reference tool that shows recommendations for appropriate stabilizer, needle and technique. The unique wheel design lets you dial up your fabric and view the best matches. Designed by embroidery expert and author Deborah Jones, the wheel is a handy reference for any embroiderer.

The Embroiderer's Compass is the embroiderer's guide to successful embroidery on a wide range of fabric types in a handy wheel design. Place the pointer on any fabric type and the recommended stabilizer and needle types are displayed in corresponding windows. There's even a window that displays embroidery expert Deborah Jones' recommendations for working with each fabric type. The Embroiderer's Compass is the simple solution to save time and money by getting the right stabilizer and needle combinations the first time, using an expert's recommendations for a wide variety of materials.

Getting it correct can be difficult—this tool makes it easy. Locate your fabric type and the compass guides you to the recommended stabilizer and needle selections. Includes additional tips to get your best embroidery results on any fabric type—even leather and vinyl.
Place the pointer on fabric type or difficult garment on the outer wheel
Recommended stabilizer and needle types are displayed in corresponding windows
Developed by embroidery expert Deborah Jones. 8-1/2" diameter
Specifications
The Embroiderer's Compass is an embroiderer's reference tool that shows recommendations for appropriate stabilizer, needle and technique. The unique wheel design lets you dial up your fabric and view the best matches. Designed by embroidery expert and author Deborah Jones, the wheel is a handy reference for any embroiderer.

Other Images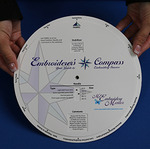 embroiderer's guide to successful embroidery on a wide range of fabric types in a handy wheel design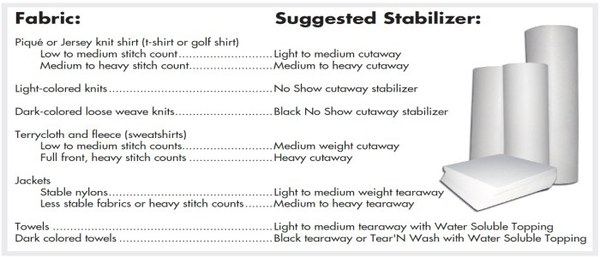 Fabrics and Suggested Stabilizers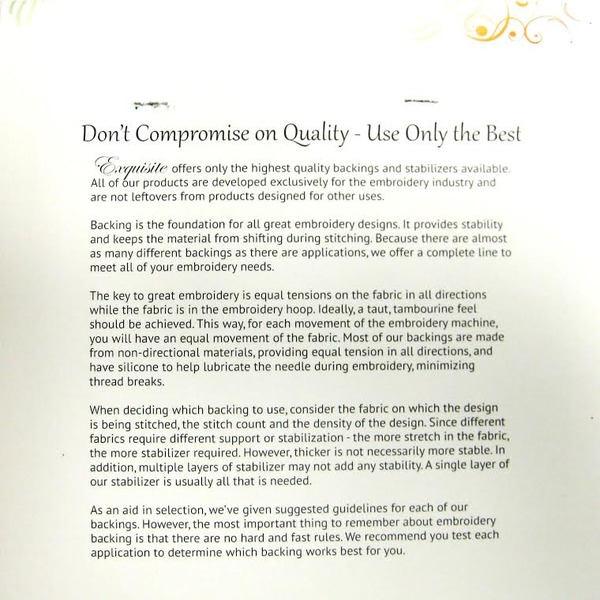 Don't Compromise on Quality. Use Only the Best.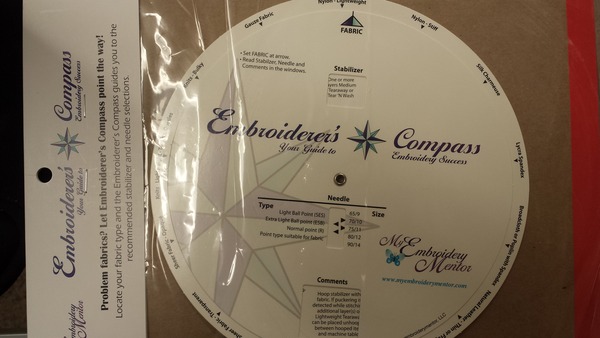 Embroiderer's Compass The Guide Using The Right Stabilizer

East to select needle and stabilizer for your fabrics
Bonnie S, Greenbush ME
Will definitely purchase from you again...

Danna G, Kawkawlin MI
I love shopping Allbrands. Shipped as advertised , packaged good, and I received on time! I am very happy with the embroidery compass. What a great quick reference to go to!