Also Includes

INCLUDED: Westalee Ruler Quilt 40x60" PDF on CD 51Pg 45 Designs by Janet Collins

INCLUDED: Westalee Ruler Quilt 40x60 Ebook 51Pages 45Designs Janet Collins
This set includes:
• (1) Westalee 1/2" Free-Motion Quilting Ruler Foot,
• (1) 7" Arc Template that makes a 12" circle (good to use in 6" or smaller quilt squares)
• (1) Stable Tape Strip
• (1) Adjustment Guide
Domestic Quilting Ruler Foot allows you to free motion quilt on any home sewing machine with the templates provided, or try the Introductory Ruler Template Sets under Recommended Accessories below.
Note: If you are using this foot with a Kenmore 158. Super High Bar shank you will need to purchase the Clip On High to Low Shank Adapter
Here
Attention Bernina Owners:
The Westalee foot requires a shank adapter for use with any Bernina machine. The part number required for most models is the Bernina 032710.70.00 #77 Short Adapter.
Released January 2015, this foot makes the impossible possible on any domestic sewing machine. The style of foot varies depending on your machine we currently have 5 different styles based on the 3500 different machines in the market today.
Simply provide your Brand and Model number of your sewing machine when ordering, and Sew Steady will send the correct rulers for your machine's shank style.
Ruler Thickness:
Low Shank: 3mm Ruler Thickness
High Shank 4-5mm Ruler Thickness
This kit is not available for Longarms: 6mm Ruler Thickness
Sew Steady recommends the "Large" size and above extension tables for doing ruler work.
Westalee Ruler Foot for Domestic Machines.
Westalee Design manufactures more than 300 Rulers, Templates and Specialty Tools for Patchwork and Quilting, so who better placed to make a Ruler Foot for Domestic Sewing Machines. This video shows how to fit the new foot and talks about rulers. Domestic Machines have a small clearance between the Presser Foot Bar and the Needle Plate.
Quilting Templates and Rulers from Westalee in Australia coming soon
These new products allow Free Motion Quilters to do ruler work with on home machines which has been missing in the industry. We have 5 different styles of feet and 3 thicknesses of optional ruler templates that vary based on the shank height.
Definition of 12" Arc: Arc is cut from a 12" Circle so it's not 12" long but closer to 6" in actual length.
Arc is also sold in sampler set. 12" Arc is also known as a Curve template and can be purchased in a variety of sizes.
Specifications
Domestic Quilting Ruler Foot allows you to free motion quilt on any domestic sewing machine with the template provided, or try the Introductory Ruler Template Set below. Released January 2015, this foot makes the impossible possible on any domestic sewing machine. The style of foot varies depending on your machine we currently have 5 different styles based on the 3500 different machines in the market today.
How to Determine Shank Size for Ruler Foot, Template Thickness
These Charts Take a Long Time to Load. Please be Patient.
Other Images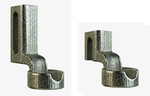 High Shank or Low Shank Ruler Foot with slot for height adjustment so that fabrics will not ride up and down with the needle.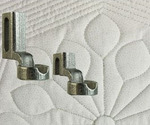 Adjustable height ruler foot according to quilt sandwich thickness, allows for fluid fabric movement under the foot.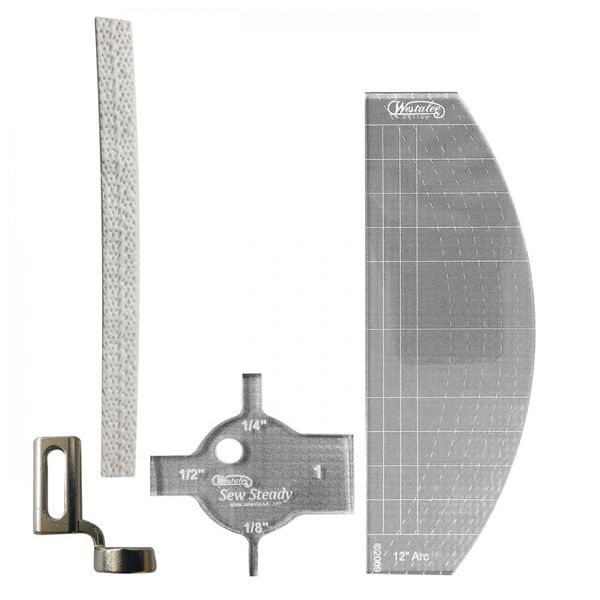 Westalee WFPKGNEW Ruler Foot Starter Kit, 1/2" Free-Motion Quilting Ruler Foot Included, 12" Arc
Linda W, Hendersonville TN
It has been a short time ago when I bought this ruler foot kit. I have spent a little time actually using the products as though I am still learning and takes time. I am in the process of buying more templates online because I believe I will enjoy using this process of quilting..

M Souser, WY
I received the CD today in the mail. Thank you for your quick response to my request. I am looking forward to learning how to use the quilting foot and ruler I purchased, and adding additional templates to my collection. Thanks Again for Great Service!

Francoise G, Drummondville Quebec Canada
It is the second time I order from Allbrands and I am very satisfied. Many thank's!

Paula J, Bath ME
Great email communication. I didn't get the free cd or ebook offered with my quilting ruler, so I sent an email. The company was very quick to respond with a link to download it. I'll be back! Paula J

Leslie S, Forest City NC
YOU did excellent work. I called about a week after placing the order and requested that shipment be delayed because of a spur-of-the-minute trip. You were able to talk to the manufacturer and they delayed shipment. I received my order yesterday and put it together today. It was a great value with all the downloads, etc. I did have a problem as the ruler slid UNDER the ruler foot. I spoke with Westalee and they are sending the right height foot along with a return label for the foot I received. I look forward to getting more rulers once I have the right foot and can set up my machine to practice with the one template that was in the starter kit. You'll be hearing from me in the future for more orders. Thanks

Linda M, Palm Harbor FL
I used the ruler foot for the first time yesterday. It was easy to set up and worked beautifully for the quilt border.

Kathy A, Dayton TX
I have not tried the objects that were sent, but as soon as my sewing room is finished I plan on finishing a few quilts with the templates

Jane L, Miami FL
Product was high quality and Shipment was a day earlier than expected. I will definitely check their Web site for my next sewing needs.

Margueritta K, Orlando FL
I always check with your site first. You beat the "event" special price, again. And the product was delivered so quickly!

Patricia E, Schaumburg IL
Sewing Machine arrived in excellent condition within days after placing order. Extension Table and Ruler/Template kit took a little longer but also arrived in excellent condition. I am very happy with entire order. Thank you!

Margie B, Grants Pass OR
Thank you for your good service.

Robin B, Alexandria MN
Wonderful service and fast shipping. Will definitely be a reapeat customer!

Joyce C, Facebook
It is such fun to order from this site: good product selection, good prices and pleasant representatives. I just had a delightful social engagement with Bonnie and although I like the convenience of ordering online, I'll order by phone when I need cheering up. :)

Judy B, Rohnert CA
Customer service answering questions was excellent. Product was everything I hoped for. Thank you

Josephine S, Virginia Beach VA
I received the product promptly but the wrong size foot was enclosed with the correct ruler. After a call to All Brands I forwarded a picture who in turn forwarded it to the shipper who called me. They realized the mistake and sent the correct foot as well as a label to return the incorrect foot to them.

Elizabeth L, Brusly LA
Thank you for suggestions on this purchase.

Pamela H, Aitkin MN
I was totally satisfied with my experience. I sent a lot of time at the site and found it very easy to navigate. It would be nice, though, if there was a separate category for the Westalee products that would allow a shopper to see all of the products at once without continued re-searching. I probably would have purchased more items if it would have been easier to compare choices.

Lynita B, Bonifay FL
Sold me when one of your reps. called to make sure of my machine brand because it was not in your system. Walked me through measuring for the product I ordered.. Very happy...

Barbara B, Piedmont SC
Great company /website will definitely order from again!

Susan H, Sugar Valley GA
I was happily surprised when my order arrived so promptly. Thank you!

Ann L, Ft. Wayne IN
Great customer service. I will continue to do my business with Allbrands, just wish your store was closer!

Sharie B, Quitman LA
Comments: Somehow the computer system had a glitch and my order didn't go thru. I called back to your company this afternoon and spoke with Bonnie. She so graciously assisted me in completing the orders. I am looking forward to receiving the Westalee ruler foot and Feathers assortment. Thanks again to Bonnie ! I ordered a serger many years ago from Allbrands and was pleased with service, shipping etc at that time also.

Mary W, Raeford NC
I am looking forward to receiving the table and ruler foot. I have received the cruise control, haven't had a chance to use it but it is here. Thank you Barbara for keeping me informed on the shipping of all items. I will be ordering again from AlBrands because of the good customer service. So thanks to all of you for helping.

Elaine M, Birmingham MI
A mistake was made with a part. I called your company. Your rep was professional, friendly and so helpful. The return was easy and the new part came quickly. It's great to do business with nice people.

Melinda S, Silsbee TX
The shipment was delayed, but because of back order issues, not any fault of All-Brands. I was kept apprised of the status of my order and alerted when it was sent. I'm very pleased with how they handled my order!

Sandra H, Holt MI
I was pleasantly surprised by the speed in which I received my order, especially the custom item. When it arrived so quickly, I was skeptical that the item would actually fit, but it fits perfectly and I love it. I am very pleased with the items I purchased. Thank you!

Bertha W, New Carrolton MD
I did not use your customer service. I've ordered many items from Allbrands, and have always been extremely satisfied.

Marsha L, Jefferson City MO
I am very pleased thank you I would recommend you to a friend

Kathy B , Savannah TX
I was very pleased with my shopping experience with your company and have already recommended it to several of my friends. I will continue to shop using your site. Thanks

Carol S, Alexandria KY
I was looking for Westalee free motion quilting foot but didn't know if it would fit my 21 year old Singer. So I contacted your company via email and received a quick response that it would fit my machine. I immediately placed my order and received my order within couple of days. The price and the templates were the best prices I found along with your company providing excellent customer service.

Laura Z, Elmira NY
I was extremely impressed with the manner in which the items were packed. Taping each item inside the box insured that they would arrive without damage. Thank you for doing that.

Marilyn A, St. Cloud MN
I was thrilled you had so many of the templates offered along with the ruler foot. I have not yet had a chance to try them out, but I've watched a bunch of videos on their use. I'm anxious to try them out.

Becky S. Wilder, California
Just received my foot and 2 Ruler Templates and they are so easy to use. I love them and would recommend them to anyone that would like to do more free motion work.