Cuts 10 Layers up to 15" Width, Use All 350 Accuquilt Go and Baby Dies with optional Adapters under Recommended Accessories below, 3Yr Warranty! Weighs 32Lbs
*Synchrony 6 Months No Interest Financing, Equal Monthly Pay plus any applicable taxes. . Apply online. Transaction Code 106
GE will advise you of your maximum amount or full credit that you can use towards purchase.
Quick Overview Features:
New Foldable Design

Easy storage

Move your cutter more easily

Introducing the Studio 2 Fabric Cutter. This premier fabric cutter is now foldable for easier storage and is designed to be tough enough to handle the amazing amount of quilting done in quilt shops, fabric craft retail stores as well as the homes of experienced and prolific quilters. As dependable as it is precise, the Studio 2 Fabric Cutter makes quick work of cutting up to 10 layers of fabric for a variety of quilting and fabric
arts projects.

Download the Studio 2 Instruction Manual [click to download]

Already own a Studio Cutter?
You don't have to buy a new machine. Transform it into a Studio 2 with the new Studio 2 Conversion Kit (50451)





Fabric Cutter Includes:

Studio 2 Fabric Cutter

Studio Die Tray - 15 1/4" x 19 5/8" (406900)

One Giant Cutting Plastic 14 1/2" x 18" (60005)

Instruction Manual [Click Here to Download]

Cutter Specifications:

Dimensions: With Sides Down: 30 1/4"W x 24 3/4"L x 8 3/4"H (76.8 cm x 28 cm x 22.2 cm) (including handle), 30 1/4"W x 21"L x 8 3/4"H (not including handle)

Dimensions: With Sides Up:: 24 3/4"W x 11"L x 14 3/4"H (62.9 cm x 28 cm x 37.5 cm) (including handle), 21"W x 11"L x 14 3/4"H (not including handle)

Machine weight: 32 lbs (14.5 kg)

Boxed weight: 42 lbs (19.1 kg)

Accomodates AccuQuilt giant and super giant dies

Features and Benefits:

Foldable for easier storage

Up to 90% faster than rotary fabric cutters or scissors.

The steel roller never needs replacing and withstands years of die cutting use.

Dies cut into reuseable sheets of cutting plastic that provide hundreds of uses.

Hand-operated fabric die cutting system

Steel-rule dies to quickly and accurately cut shapes for quilting and fabric crafts

Hundreds of shapes to choose from: classic designs, circles, hexagons, flowers, strips, rag quilt shapes, quilt block sets and many more

Cut all types of fabrics: cotton, batiks, flannel, fleece, wool, denim and even leather

Dies never need sharpening

NOTE: No lubrication is necessary; all bearings are sealed.


Lay die flat inside tray with FOAM SIDE UP. Layer die, fabric and cutting plastic. For most accurate cuts, place fabric on the lengthwise grain.

To conserve fabric, cover only shape to be cut, not entire die board.

Push tray, die, fabric and plastic firmly against roller.

Turn handle in direction you want die to go. Roll through cutter.

Remove cutting plastic and perfectly cut shapes. Occasionally, threads may need to be snipped where cutting blades meet on the die. Repeat process from opposite direction.

Storage: Store Studio dies in AccuQuilt die storage cases or storage racks.

Care & Maintenance: Cutter For best results, always keep your Studio 2 fabric cutter clean and lint free. To clean the fabric cutter inside and out, use a soft dry cloth. Avoid abrasives, solvents and spray cleaners. If necessary, wipe with a damp cloth, then polish with a dry cloth. Use canned air to clear lint from roller area. The steel roller never needs replacing and withstands years of die cutting use. Please note: Some assembly is required when first setting up your Studio 2 Fabric Cutter.

Care & Maintenance: Dies Use adhesive roller to clean lint and thread from dies. After each use, remove any threads imbedded between blades and foam. It's normal for threads to get caught where blades meet in a die. Remove with tweezers or die pick (55105). Die blades never need to be sharpened.

Warranty: AccuQuilt Studio 2 Fabric Cutters have a three (3) year guarantee. If you experience any defects in material or workmanship, simply notify AccuQuilt and we will repair or replace the fabric cutter at no charge. All fabric cutter die trays and cutting plastic are consumable parts and are not covered by the warranty. Replace trays annually depending on use. All Studio dies are guaranteed for one year.
US Warranty 3 Year Warranty
Non-US Warranty: 30 days parts and labor
Specifications
Studio Fabric Chart:
Chart below is the recommend number of fabric layers; actual number of fabric layers will vary depending on fabric type and thickness.
| | |
| --- | --- |
| Fabric | # of Layers |
| Cotton | 8 - 10 |
| Cotton with Fusible Web | 4 - 6 |
| Batiks | 8 - 10 |
| Fleece | 4 - 6 |
| Flannel | 4 |
| Denim | 2 - 4 |
| Leather | 2 |
| Wool | 4 |
| Batting | 4 - 6 |
| Felt | 4 |
| Silk | 8 - 10 |
| Satin | 8 - 10 |
Studio Fabric Cutter 50450Dimensions:
With Sides Down: 30 1/4"W x 24 3/4"L x 8 3/4"H (includes handle), 30 1/4"W x 21"L x 8 3/4"H (without handle)

With Sides Up: 24 3/4"W x 11"L x 14 3/4"H (includes handle), 21"W x 11"L x 14 3/4"H (without handle)

Item Weight: 32 lbs. (14.5 kg)

Boxed Weight: 42 lbs. (19.1 kg)

Portable: No

Fabric Layers Cut: Up to 10 layers of cotton fabric at a time

Number of Compatible Dies: Over 350 Studio dies + Over 200 GO! Dies (with GO! Die Adapter for Studio)

Warranty: Limited Three Year Warranty

Brand: AccuQuilt
Other Images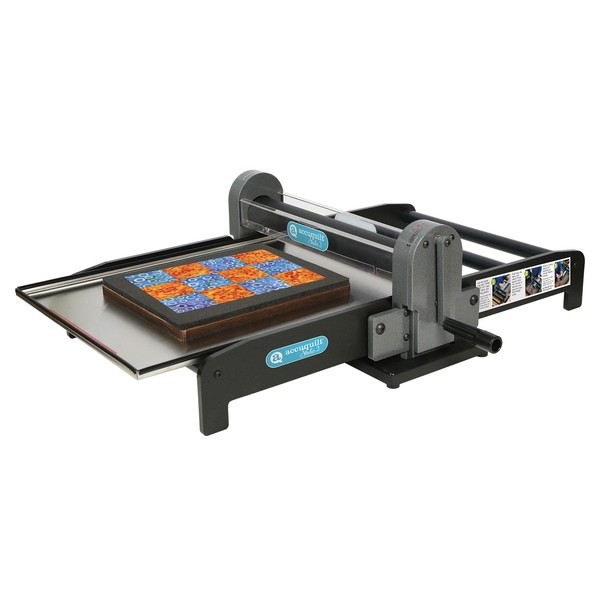 Studio 2 Fabric Cutter (50450) - shown with sides down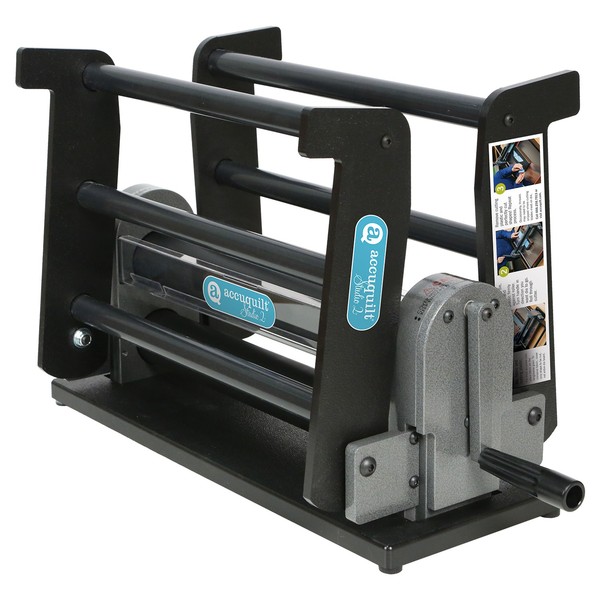 Studio 2 Fabric Cutter (50450) - shown with sides up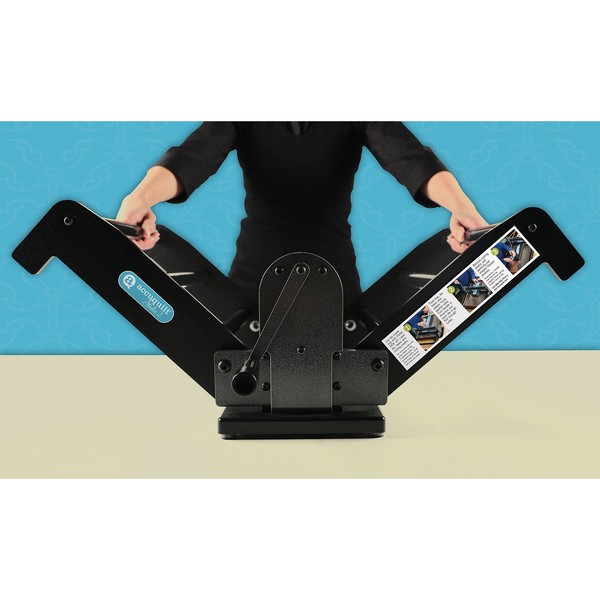 Studio 2 Fabric Cutter (50450) - shown with sides up
Studio 2 Fabric Cutter (50450)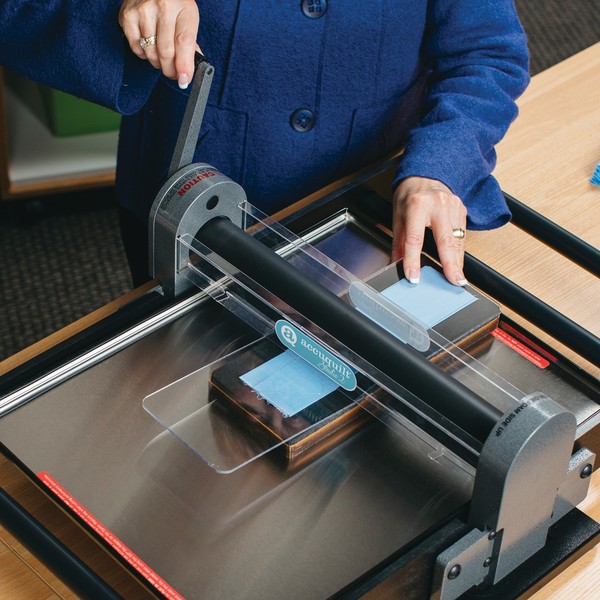 Studio 2 Fabric Cutter (50450)
Studio 2 Fabric Cutter (50450)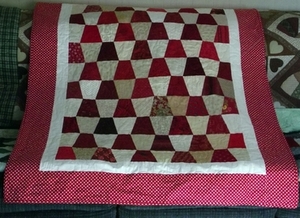 Projects Created with this Product. 4.5" Tumbler Quilt