Fits all Zigzag Sewing Machines using the interchangable adapters, included

Bernina sewing machines require a Bernina low shank adapter

Sew napkin edges, applique, invisible applique, topstitching, edge stitching, pintucking

Known as the COUCHING FOOT however, our Pearls N Piping foot also couches cording - be sure to check it out too!
The Sequins N Ribbon sewing machine presser foot, was invented for a fashion designer allowing her to sew down sequins without damaging the needle or sequins. It changed the entire sewing industry when it suddenly made it so all zig zag sewing machines could now sew down pre-strung sequins! The Sequins N Ribbon sewing machine presser foot also guides sewing trims and notions like ribbons, ric rac and braided trims to any Home Decorating sewing project, or wearable art project in seconds! Sewing elastic with the Sequins N Ribbon sewing machine presser foot is so simple even a 4 year old can sew it down with ease! The Sequins N Ribbon foot is featured with a specially engineered base that hold elastic down so tightly you will never-ever need to pull the elastic from behind the presser foot as you sew it down! Great for Fold Over Elastic when sewing Diaper Covers, using even a straight stitch!

The Sequins N Ribbon foot has a ¼ inch guide that feeds any flat trim for you-so your hands are free to guide the fabric. Sewing sequins has never been easier! Sew around in swirling designs with ease and don't even bother stabilizing the fabric. This amazing sewing machine presser foot does not cause spreading of the fabric. This allows anyone to sew sequins onto even bridal veils.

The Sequins N Ribbon foot is specially engineered to not flip or fold over the sequins so you can sew rows side by side to create your own sequined appliques.

The patented adjustable guide on the Sequins N Ribbon sewing machine presser foot allows you to adjust all sewing trims over to your sewing machine needle. Sewing machines are not capable of changing needle positions when the zigzag stictch pattern is selected so having a guide adjust to any location is one of the wonderful features of this amazing sewing machine presser foot!



The trims are always flat on the fabric under the needle so you do not have to hold the trims AT ALL! An absolute must for crazy quilters or wearable art designers.

Making costumes for Halloween or for Renaissance Festival is much more enjoyable when

Couching down yarns of any size and type is another wonderful feature of the Sequins N Ribbon sewing machine presser foot.

Because of the different widths and types of yarns and the fact that our foot has a guide specifically for 1/4" wide sewing trims, you will also want to purchase our Accessory Guides for your Sequins 'N Ribbon foot.

How to embellish a T-shirt with Clare Rowley on ITS SEW EASY TV SHOW 612 3. Watch and learn how Clare Rowley Inventor of the Creative Feet www.creativefeet.com teaches you how to transform a men's T-shirt into a woman's blouce suitable for fine dining! You'll love to learn how easy it is to change the neckline by cutting it into any shape using the Stick And Rinse stabilizer that Clare also invented! Be amazed as Clare attaches rhinestones using the Pearls N Piping foot she invented for a woman that had crippled hands. Pearls N Piping is featured on Craftsy class Stupendous Stitching, by Carol Ann Waugh. You'll be shocked to see her finish the Raw Edge of the garment with ease using the Satinedge foot she invented for a Blind sewer over 27 years ago! You'll love seeing how easy it is to add lace to a garment and then to make it even more glamorous by adding pre-strung sequins to the shirt..Visit http://www.itsseweasytv.com/ and search for SHOW 612 to receive the written instructions and pattern. Go to http://www.creativefeet.com/products/... to purchased the Stick and Rinse Tape size roll of stabilizer.




See You Tube Videos on Creative Feet
Specifications
Sequins 'N Ribbon Techniques
Ribbon Double Needle
1/4 inch Ribbon-Double Needle
3/8 inch Ribbon-Double Needle
1/4 inch Ribbon
Decorative Stitch
Sewing 1/8 inch RicRac
Sewing 1/4 inch RicRac
Sewing 3/8 inch RicRac
Twisted RicRac
1/8 inch Decorative Flat Braids
1/4 inch Decorative Flat Braids
3/8 inch Decorative Flat Braids
2.0mm Sequins-Zigzag Stitch
6.0mm Sequins-Zigzag Stitch
2.0mm Sequins-Straight Stitch
6.0mm Sequins-Straight Stitch
12mm Sequins-Straight Stitch
6.0mm Stretchable Sequins
Couching With Yarns
(normal to knobby yarns)
1/8 inch Elastic
1/4 inch Elastic
1 inch Elastic
Round Elastic-Stretch Smocking

Sequins N Ribbon foot. is sold with a 1/4 inch wide guide. In order to sew narrower and wider sewing trims as shown in this list you will need to also purchase the Accessory Guide Set of attachment guides.

_________

The Sequins 'N Ribbon foot can also applique' using yarn to cover the edge of the fabric using the Accessory Guides and no stabilizer is needed!

_________

CELTIC quilts can be created without using fusible fabric bias tubing.

ATTACHING THE CREATIVE FEET TO YOUR MACHINE
If your machine has snap on feet:

Try to snap our foot onto your machine.
If it doesn't snap on to your machine's snap on adapter, you will remove your machine's adapter and place our adapter on the machine in it's place.
If your machine is a Bernina machine go to this page of our site to learn more about your machine's options.
If your machine has feet that screw on, you will select from one of our adapters (the one closest in length) and snap it on to our foot then screw it on just as you currently do.
If you have an industrial sewing machine, you will most likely use our HIGH (B) shank. Your machine must have the screw to attach the foot on to the machine on the left hand side.
We can modify by special order only our feet with your supplied shank for some Industrial sewing machines. Please email us to get the details.

For PFAFF MACHINES AND OTHERS THAT HAVE THE EVEN-FEED WALKING FOOT FEATURE

Push down on the mechanism and release it. (It will slide up and out of the way.)
Loosen and remove your machine's snap on adapter. (screw is located on the left side of it.)
RE-START the screw that held it on to your machine.
Slide our (c) shank (smallest one) from inside the kit up and under the screw.
Tighten screw using a screw driver.
Slide the foot that you want to use under the slot on the snap on shank and push down on top of our (c) shank if the bar doesn't cause the foot to snao on.
To remove the foot, push down on the foot on one side and it will drop off.

Clare Rowley's Creative Feet sewing machine feet fit all sewing machines with a zigzag stitch, even industrial sewing machines. Satinedge, designed for a blind sewer, Pearls N Piping, designed for a woman with severe arthritus & Sequins N Ribbon, designed for a fashion designer have been selling world-wide for 25 years!

Clare Rowley's Octi-Hoops make Free-Motion Quilting and Free Motion Embroidery child's play! Be sure to ask your local sewing retailer about our products.

Manufactured in the USA

Creative Feet, do over 88 different techniques, are easy to use and have been featured on Sewing T.V. shows such as: It's Sew Easy, Creative Living with Sheryl Borden, Sewing with Nancy, Sew Perfect, America Sews, Kaye's Quilting Friends, Quilt in a Day, Home ShoppingNetwork/HSN.

They are also listed as the 'feet to use' in over 150 different books and publications like the sewing for dummies series and on www.craftsy.com by Carol Ann Waugh and her Stupendous Stitching book. We offer embroidery stabilizers and teach you when to use them for sewing and quilting like the amazing Stick and Rinse!
Other Images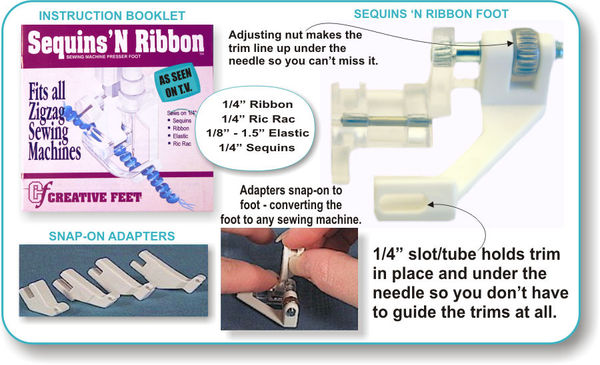 What is included:

Snap On Shank Adapters

Screw On Adapter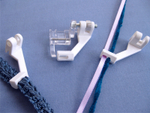 Because of the different widths and types of yarns and the fact that our foot has a guide specifically for 1/4" wide sewing trims, you will also want to purchase our Accessory Guides for your Sequins 'N Ribbon foot.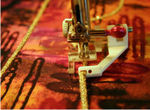 Sequins 'N Ribbon Foot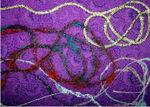 Small Sequins or Ribbon applications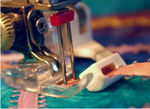 Smail Ribbon or Sequin Applications.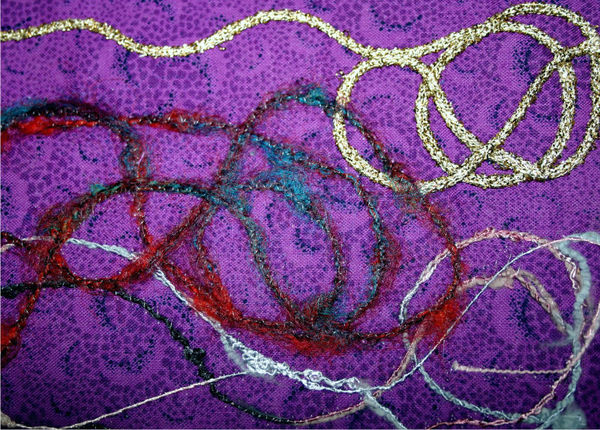 Couching with yarn using the Sequins N Ribbon foot.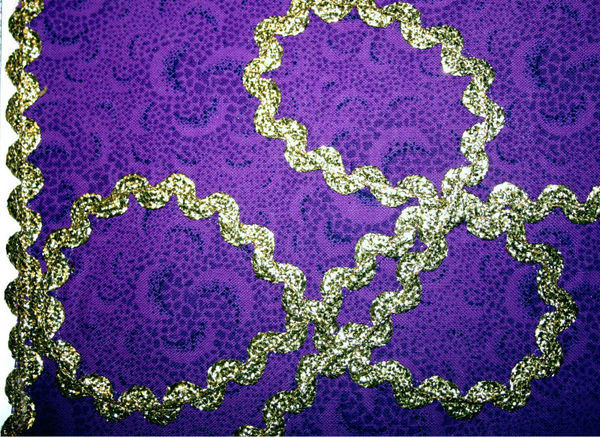 1/4" Rick Rac sewn down with the Sequin and Ribbon foot.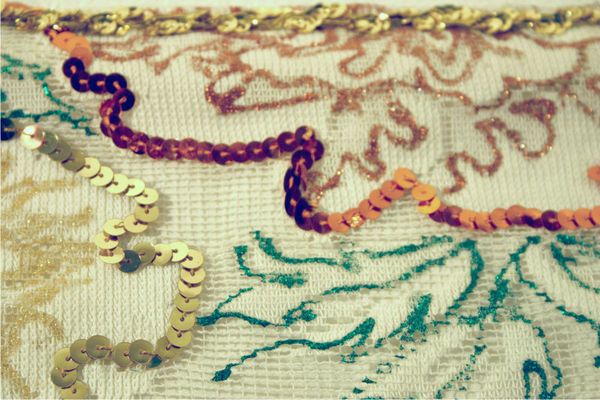 Sequins sewn to lace with Sequin N Ribbon foot.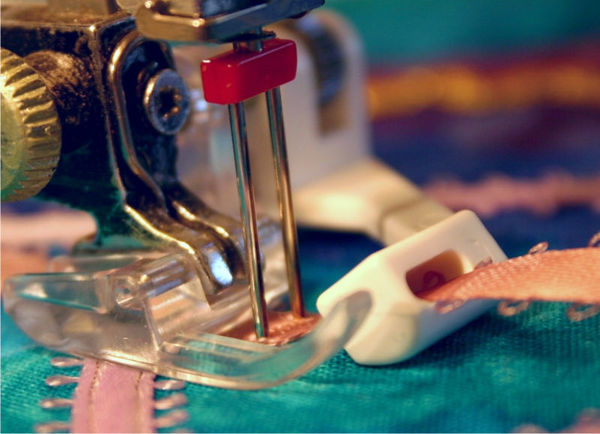 Sewing ribbon down in one step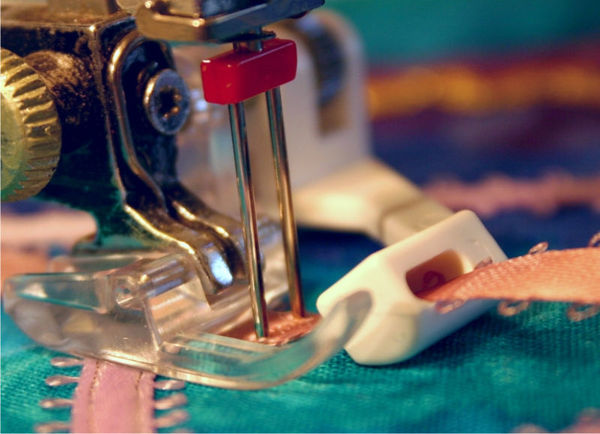 Sewing ribbon down in one step with double needle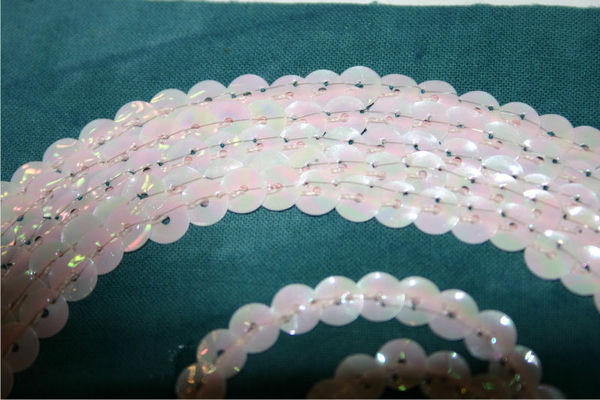 Sew pre-strung sequins down