Update for Android Tablet!
The Best Value Computerized Quilter
Butler is an easy-to-use computer control that turns your quilting machine into a QUILTING MACHINE! For Quilters looking to quilt with confidence and ease, simply press GO and let Butler quilt simple to complex patterns with perfection. Quilt smoothly, quickly and effortlessly!
The Butler Computerized Quilter is designed to attach onto just about ANY MACHINE on the market today. See below for our complete compatibility list.
Computerize Any Machine
- Easy to install with full tech and dealer support
-up to 10" Android Tablet with touchscreen interface
- Pre-loaded with 300+ blocks and pantos
- Wifi enabled for tech support, educational videos and pattern downloads
- Record feature for free-motion quilting
- Flip, scale, repeat and rotate
- Advanced quilting features
- Plus so much more...
QuiltEZ "Getting Started" Livestream demonstrationSupported Machine Brands:
A-1

ABM Innova

APQS

Baby Lock

Gammill

Handi Quilter

Juki

Nolting

Supported Quilting Frame:

APQS – Bliss Frame

APQS – Standard Carriage Frame

Gammill – Breeze Frame

Gammill Standard Frame

Grace – Majestic Frame

Grace – Pinnacle Frame

Grace I-Quilt Frame

HandiQuilter – Studio Frame

Hinterberg – Stretch Frame

Hinterberg – Summit Frame

Janome – Freedom Frame

Juki-Standard-Frame

Martelli – Standard Frame

Nolting – Standard Frame

PFAFF – (Wood) Frame

PFAFF – Imperial Frame (Inspira)

Tin Lizzie – Falcon (Wood) Frame

Tin Lizzie – Hailey Quilt Frame

Tin Lizzie – Pheonix Frame

A-1 Symphony Frame

A1- Original Metal Frame

Baby Lock- Momentum

Baby Lock- Pearl Frame

HandiQuilter- Clamp Frame

HandiQuilter- Gallery Frame

Innova- Original Frame
Extended US Warranty: Extended Warranty Available
Specifications
WHAT IS ADDED TO MY MACHINE?
7″ Standard, or Optional 10″ Color Touch Screen Display
Enjoy an easy-to-use, high-resolution touch display.
Computer Motion Control
The Black Motor Box attaches to your carriage. It houses an internal computer and our servo-controlled motors with the power to guide your quilting machine.
Frame and Carriage Belts
Our durable timing belts will be installed onto your carriage and frame, guiding your machine. Use the motor box lever to quickly disengage the belts and be ready for free motion quilting in no time.
Perfect Stitch Compatible
Butler connects Seamlessly with the Perfect Stitch Regulator. (*Perfect Stitch Regulator not included with Butler) note: Perfect Stitch is not required to use Butler on your quilting machine. Butler will attach onto ANY quilting machine on the market, regardless of the machine's stitch regulator.
The 7" Linux Option
The 7 inch tablet gives you many of the features and functionality of Butler at an affordable price.
Quilting Program Only
The Linux display Comes only with the essential software to get you quilting as soon as possible.
Pantos and Quilt Blocks
Define the height and width of where you would like to stitch your pantograph and/or quilt block patterns by defining "pattern boxes" on the butler display.
Affordably Priced
Purchasing only the essentials of butler with the 7 inch tablet saves you money.
Compatible with nearly every machine
Regardless of which display you choose, Butler is compatible with nearly every machine on the market.
General Specs
Pattern Editing: Rotate, mirror, scale, repeat, nest, auto-scale

Multiple Patterns & Custom Shape Quilt Blocks: Create custom shaped blocks and insert multiple patterns

7" Color Touchscreen Interface: Drop down menus, highlighted text, menu icons, file previews, stitch preview

Thread Break Recovery: Easily re-start at an exact point in your pattern if needed

Locks - Horizontal and Vertical: Sew perfectly straight lines and crosshatch by locking the carriage vertically or horizontally

Free Motion Recording: Record your free motion quilting and convert it into a saved pattern

Upgradeable & Updateable: Always stay up-to-date with new features

Smooth Gliding Belts: Glide through your stitches with ease no matter the speed or stitch length

Quick Release Belts: Easily disengage the guiding belts by releasing the belt levers

Emergency Stop: Obstruction to its movement, like bunched fabric or foreign objects, stops the machine

USB and SD Memory Card Drives: Import patterns from the internet or your computer, save and or export your patterns

Free Patterns: Butler comes with over 150 free patterns



10" Android Option


The Android tablet gives you all the functionality of the 7 inch display, along with the quilting industries latest advances.

The Power of Android
The Android Tablet gives you all the features of an android device. Access the Google Play store, Browse the internet, or even watch YouTube videos all from your quilting machine.

Powerful Editing Features
Along with the ability to rotate, autosize, and repeat patterns, Butler also includes a crop feature, perfect for applique patterns. You can also see a birds-eye view of all your to-be-stitched patterns, select which patterns you would like to run.

*Wifi Enabled
Wireless internet lets you access popular sites, like YouTube, Pandora, E-mail and others, all right from your quilting machine. You'll also be able to install software updates at the push of a button. We are the only system on the market to be able to QUICKLY update over WiFi.

Compatible with nearly every machine
Regardless of which display you choose, Butler is compatible with nearly every machine on the market.



Optional Android Tablet Specs



Structure - Material: Plastic

Weight: 350g

Dimensions: 235*140*10mm

Display - Display Size: 10.1 nch

Panel Type: TN screen HD

Resolution: 1024×600

Touch Panel Type: Capacitive, Multi-touch 5 points

System - Processor Rockchip: 3168, Cortex A9, 1.2GHz

RAM: 1G DDR3

Operation System: Google Android 4.1.1

Storage drive(optional): 8GB Nand Flash

G-Sensor: Built-in

Camera: Front 0.3 MP, Back 2.0 MP

Languages: Multi-Languages

Microphone: Built-in

Speaker: 1Wx 1 8ohm built-in speaker

I/O ports: SD Card - Micro SD Card(Up to 32GB) x1

SIM Card: NO

USB port: 1* Micro USB port

HDMI output: yes

Earphone jack: 3.5mm

DC jack: Built-in

Communication: Wifi-802.11b/g/n

3G / GPS/ Bluetooth: External 3G

Mutimedia: Adobe Flash/HTML5 - Support 11.X/HTML5

Video format: Max 1920*1080 pixels 1080P/ 3D/ Blue-ray Video output; DAT,MPG,VOB,TS /AVI, MKV, MP4, MOV, 3GP / RM, RMVB / WEBM / WMV, ASF / FLV

Audio format: MP3, WMA, MP2, OGG, AAC

Photo format: JPEG, GIF, BMP, PNG

Ebook format: TXT,Epub,PDF,Word,Excel,Powerpoint

Power & Battery: AC adapter 5V
2A

Battery: Rechargeable Polymer Battery, 3.7 V, 4000mAh

WiFi browsing: 5 hours

Accessories: AC adapter 1x

USB cable: 1x

User Manual: 1x

HDMI cable: HDMI Not Supported
Other Images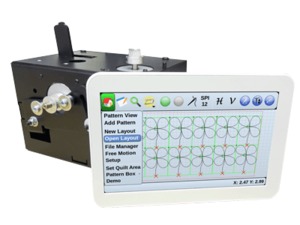 Color Touch Screen Tablet included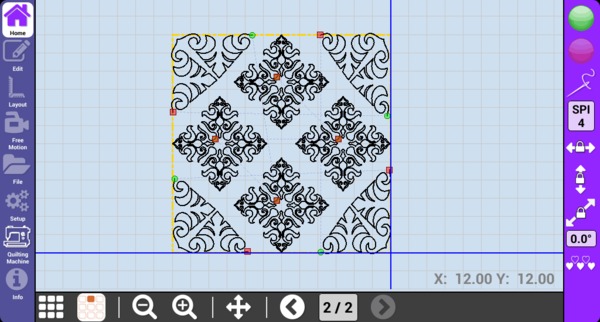 Expand from one pattern repeat to all over quilting.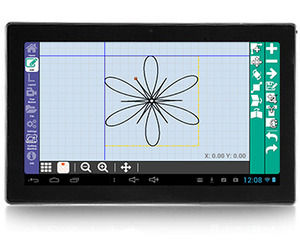 edit designs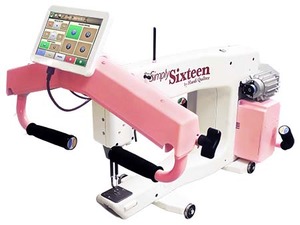 Butler installed on a longarm quilting machine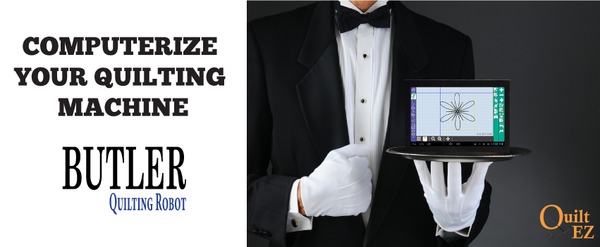 Isn't it about time you had your own Butler? Now is the PERFECT TIME to upgrade your machine for full-service computerized quilting. We will work with your local dealer or tech to get you all set up OR you can ship your machine to the Quilt EZ factory for an on-site install.
Bundle & Save
Get additional savings when you purchase any of these items along with this product.