Pearls 'N Piping™ Foot Frees your hands to guide the fabric.Sew all three layers in just one pass when inserting piping into a seam. Deep channel guides trims for precise application. Attach beads, rhinestones, and decorative cords with a nylon monofilament thread. Use Lingerie/Bobbin Thread in the bobbin to make corded pintucks. Fits all zigzag sewing machines. Includes assorted shank adaptors and instructions
Fits all zigzag sewing machines using the interchangable adapters, included

Bernina sewing machines require a Bernina low shank adapter

Sews on 1/8" & 1/4" pearls, piping, rhinestones, decorative cords and corded pintucks

Couching cording down has never been easier than with this sewing foot and it fits all sewing machines that have a zigzag stitch! Pearls 'N Piping™ sewing machine presser foot was originally invented by Clare Rowley, for a woman with Rheumatoid arthritis and will guide all of your round 1/16" to 1/4" trims for you, so you can guide your fabric and create heirlooms to cherish for a lifetime.
If that isn't enough, it allows you to make pillows with single or multiple rows of piping, add beads to the edge of the piping for a one-of-a-kind expensive look. Make wedding gowns or veils for the bride in your life. She doesn't have to know how much money you saved! This foot is also fantastic for sewing in zippers and also gathers your fabrics for perfect ruffles 5 different ways!

NO OTHER foot for sewing piping has the same tunnel design making it capable of sewing just about every round trim made! No other foot can do what this foot can.

*Bernina machines that use long shank style feet will need a low shank adapter for the feet to attach to your machine.

The Pearls 'N Piping foot has a large tunnel that guides any 1/16" to 1/4" wide round trim. You can sew beads effortlessly, because you never have to hold your trim. Simply guide your fabric to create beautiful embellishments! Use Creative Feet's invisible threads for a clean look.

Piping was once a frustrating chore, with this foot the piping can't move away form the foot so it is fun! In fact sewing piping is so easy, you'll be tempted to sew multiple rows, maybe even add beads on the edge!

Wedding veils are extremely expensive, save hundreds of dollars by making your own beaded veils. You'll be shocked at how easy it is to sew them on to the very edge of the toole.

Sew all kinds of pre-strung Rhinestones onto any fabric with Ease! You can sew in any direction you like with just about any round trim!

Pearls 'N Piping Techniques

Satin Stitch Beaded Appliqué
Satin Stitch Multiple Trims
Beaded Edges
Beaded Bridal Veils
Beaded Ribbon
Multiple Rows Of Trim
Sewing Rhinestones
Invisible and normal Zippers
Inlayed Beading
Piping
Double Piping
Corded Piping
Beaded Piping
Narrow Piping
Decorative Cords
Large Metallic Cord
Create Your own Cord
Automatic Gathering
Gathering With Thread
Crossing Over Beads
3-D Satin Stitching

Specifications
ATTACHING THE CREATIVE FEET TO YOUR MACHINE
If your machine has snap on feet:
Try to snap our foot onto your machine.
If it doesn't snap on to your machine's snap on adapter, you will remove your machine's adapter and place our adapter on the machine in it's place.
If your machine is a Bernina machine go to this page of our site to learn more about your machine's options.
If your machine has feet that screw on, you will select from one of our adapters (the one closest in length) and snap it on to our foot then screw it on just as you currently do.
If you have an industrial sewing machine, you will most likely use our HIGH (B) shank. Your machine must have the screw to attach the foot on to the machine on the left hand side.
We can modify by special order only our feet with your supplied shank for some Industrial sewing machines. Please email us to get the details.
PFAFF MACHINES AND OTHERS THAT HAVE THE EVEN-FEED WALKING FOOT FEATURE
Push down on the mechanism and release it. (It will slide up and out of the way.)
Loosen and remove your machine's snap on adapter. (screw is located on the left side of it.)
RE-START the screw that held it on to your machine.
Slide our (c) shank (smallest one) from inside the kit up and under the screw.
Tighten screw using a screw driver.
Slide the foot that you want to use under the slot on the snap on shank and push down on top of our (c) shank if the bar doesn't cause the foot to snao on.
To remove the foot, push down on the foot on one side and it will drop off.
How to embellish a T-shirt with Clare Rowley on ITS SEW EASY TV SHOW 612 3. Watch and learn how Clare Rowley Inventor of the Creative Feet www.creativefeet.com teaches you how to transform a men's T-shirt into a woman's blouce suitable for fine dining! You'll love to learn how easy it is to change the neckline by cutting it into any shape using the Stick And Rinse stabilizer that Clare also invented! Be amazed as Clare attaches rhinestones using the Pearls N Piping foot she invented for a woman Creative Feet - Pearls and Piping Episode- 20.
Published on Aug 7, 2017
I've been asked by a lot of you to film what I do at a show and this is the first of several videos showing you just that! This is just a little sample of what my Pearls & Piping foot can do! Be sure to pick up my Instructional DVD/USB and my Workbook to learn much more about this foot and the other 2 Creative Feet! I invented this foot when I was only 20 for a woman that had beaded too many wedding dresses. Her hands were crippled so badly she couldn't extend her fingers. That is why this foot guides so well and it received a patent in several countries. As always, Made in the USA!
See You Tube Videos on Creative Feet
Other Images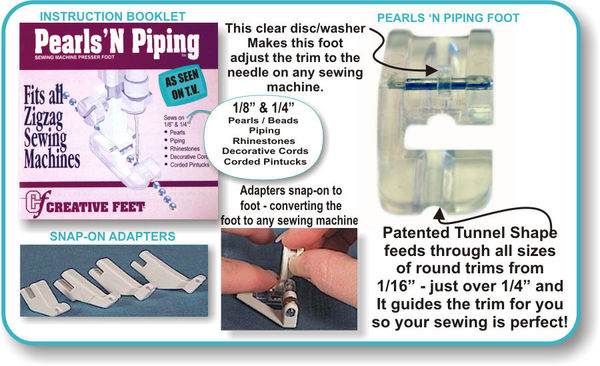 Included with Pearl's N Piping foot.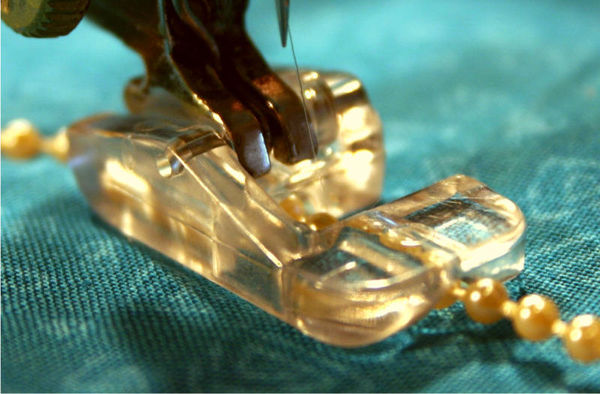 Sewing down beads or pearls.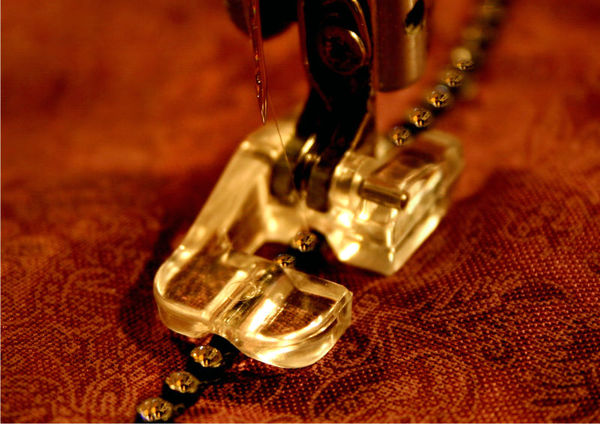 Sewing down rhinestones using the Pearl N Piping Foot.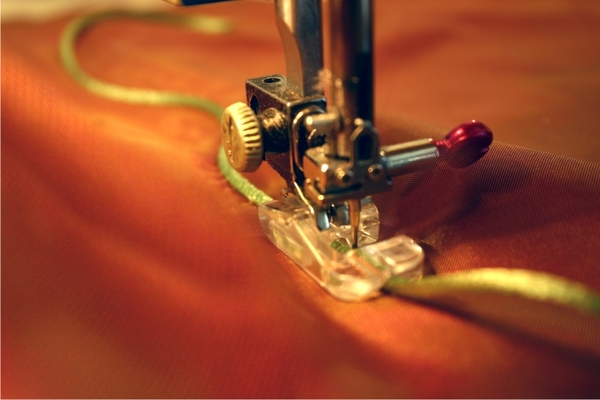 Sewing down Rat-tail cording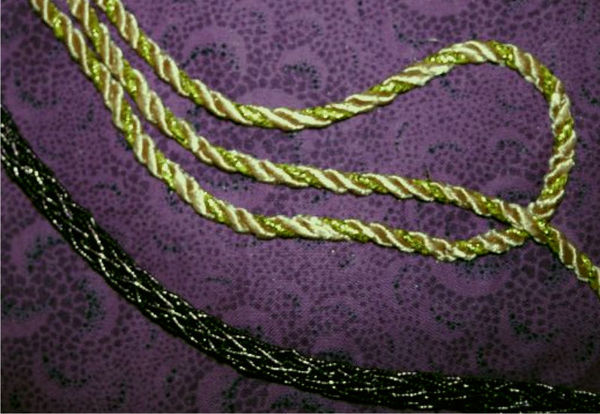 Decorative braids sewn down using Pearl's N Piping foot.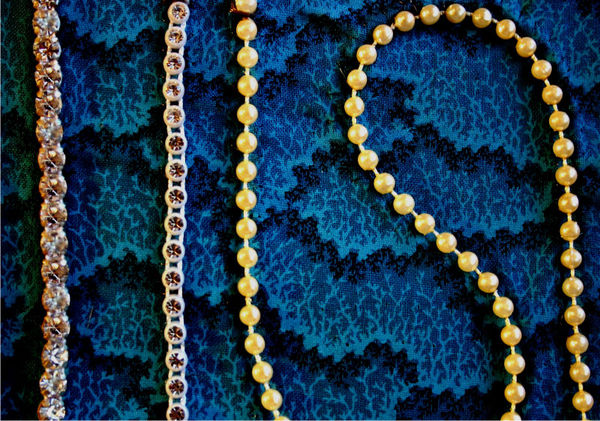 Pearls and rhinestones sewn down using Pearl's N Piping foot.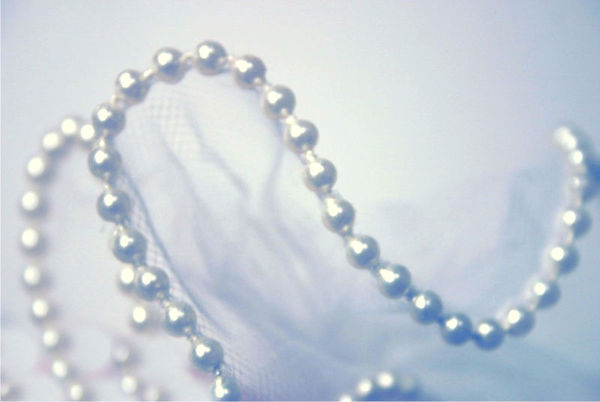 beaded bridal veils easily sewn with Pearl's N Piping foot.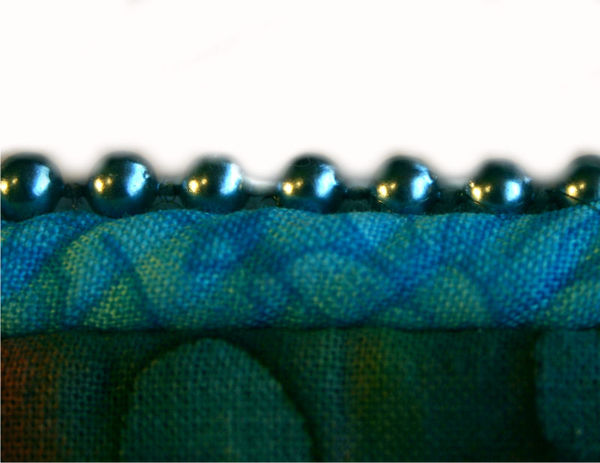 Beaded piping sewn using the Pearl's N Piping foot.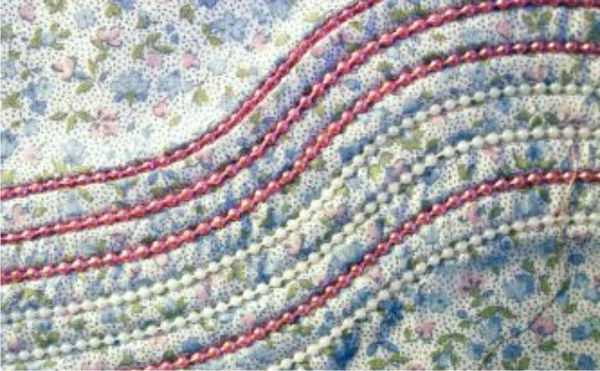 Inlaid beading sewn using the Pearl's N Piping foot.

Snap On Shanks included.

High Shank B Adapter included.