* Synchrony 18 Months No Interest Financing at Equal Monthly Pay plus any applicable taxes. Apply online. Transaction Code 118
Synchrony will advise you of your maximum amount or full credit that you can use towards purchase.
Grace GQ Frame Work Area Dimensions:
60" Crib
120" King
(plan for 3-4 inches of working space on each side of your fabric)
Grace GQ FrameBasic Features:
Sets up in 5' and 10'

Back Table & Lower Shelf Included

4 Bungee Cords Included

Steel Fabri-Fast Rails

4-rail Design

Grace GQ FrameAvailable Options TBA:

2' Extension

Idler Rail

Here is the shipping information for the main boxes:
Box 1: 82 lbs (34" x 32" x 7)
Box 2: 83 lbs (64" x 23" x 4)

Optional:

2 Ft Ext: 36 lbs (32" x 21" x 5")

Idler Rail: 14 lbs (62" x 4" x 4


Note: Sure Stitch Length Regulator shown in picture is optional along with the alternative Quilters Cruise Control Stitch Length Regulator.


Manufacturer's US warranty 5 years parts, 90 days labor on defects in materials and workmanship.
Non-US Warranty: To view the warranty for this combo, please view specific warranty information on the individual product pages.
Other Images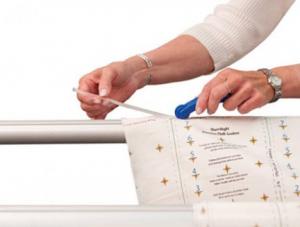 Fabri-Fast Rails
The rails on this frame include the Fabri-Fast fabric attachment system for easy fabric installation without the need for tacks, ties or tape. It's as easy as sliding the fabric into the rail slot with the provided Fabri-Fast tool. Fabric is held securely in the slot by a Fabri-Fast tube.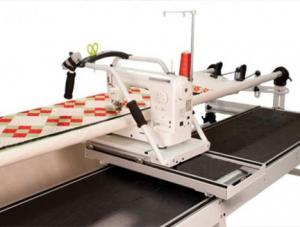 Professional Series Carriage
The Professional Series carriage has a smooth and precise movement that is perfect for intricate stitching.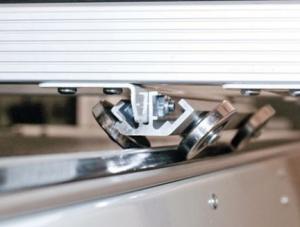 Dual-Wheel Track
This dual-wheel track and ball bearing system provide smoother movement and precision.
Why does my needle thread break on freemotion when straight stitch sewing is fine.
For freemotion quilting on a frame, please try Schmetz Size 16 Denim needles, A&E Signature cotton quilting thread, fabric pressure gauge at 1/2 way (down or up on the window gauge),and make sure the quilt is down flat against the flatbed of the machine so fabric won't ride up and down on the needle (flagging). Also run the machine faster and move the fabric slower, so the needle won't bend in the fabric. Also feel for any needle burrs on the rotary hook, needle plate or bobbin case that might catch thread. Burrs can be polished off with Crocus cloth from the hardware stores. Please advise what works or doesn't work for you. John Douthat, Owner & Tech